How to Find Death Stranding Collector's Edition in Stock
If you're interested in buying the the Death Stranding Collector's Edition for $200, you'll want to keep your eyes on stock as we push toward the game's release.
Metal Gear series creator Hideo Kojima's next game finally has a release date and Death Stranding is heading to the PS4 on November 8th.
Now that it has a release date, retailers are selling several versions of the game. The list includes a standard edition, a Special Edition, a Digital Deluxe Edition, and an extremely expensive Collector's Edition aimed at the game's biggest fans.
The Collector's Edition comes with several bonus items including a full-sized BB Pod Statue, Ludens Keychain, BRIDGES Cargo Case, and more. Of course, these items come at an additional cost.
The Death Stranding Collector's Edition bundle is $200 which is more than triple the cost of the standard version of the game. It's a big investment, but it looks like some people are willing to make it.
You can buy the Collector's Edition at retailers like Amazon, Best Buy,  GameStop, NewEgg, and Walmart. Death Stranding is a highly anticipated game and there's a chance the Collector's Edition is hard to find ahead of the release date. There's also a chance it sells out.
If you don't want to pay more than $200 for the bundle and want the game ASAP, you should pre-order. If you can't afford to buy it right now, but don't want to pay $200+, you need to keep tabs on stock as we push on through the year.
In this guide we'll help you do that.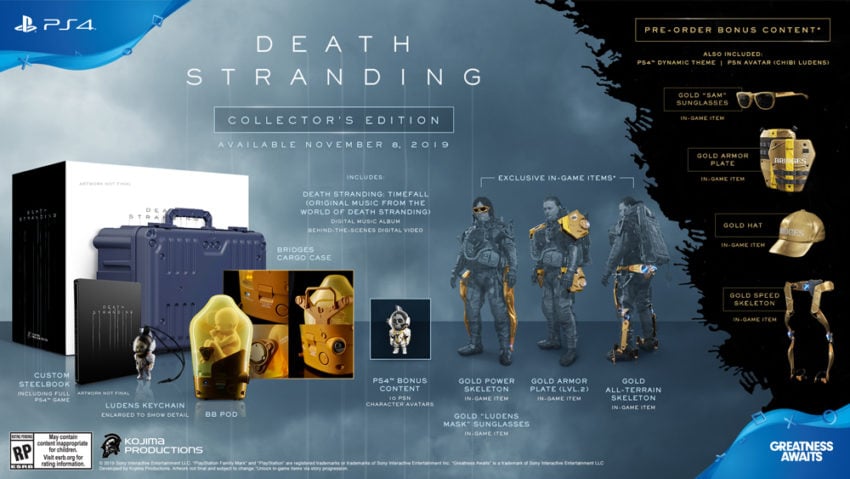 How to Find Death Stranding Collector's Edition in Stock
One option is to track the stock manually. Head to the bundle's page at Amazon, Best Buy, GameStop, or your favorite retailer and bookmark it. You might even want to add a shortcut in your browser for easy access.
That said, we highly recommend using a tracking site like NowInStock or Zoolert to do the heavy lifting. These sites allow you to easily track the stock without having to visit retail websites.
First head on over to NowInStock's Death Stranding page (or the Zooalert page if you prefer to use it). This page shows the bundle's stock history at various retailers and it updates every few minutes giving you a look at the current status.
If you don't want to open up your browser every time you want to check for stock, you can set up an alert that will send you an email, text or browser notification whenever stock is available. Here's how to do it:
Register for a free account at NowInStock.
Check your inbox for a verification email and click the correct link to verify.
Go back to the Death Stranding NowInStock page.
Click Add/Manage alerts in the right corner of the screen.
Add an item to track it.
Once you add the correct item, you'll get a little menu where you can select to get text, email and Browser alerts. These are free unless you get carrier text message charges.
You can also check sites like eBay and Craigslist for the Collector's Edition, but you probably won't be able to find it for less than $200 through a re-seller before launch.
If you don't regularly check, you might wind up having to pay resellers a hefty fee for the bundle.
We're already seeing the Collector's Edition show up on eBay for $300+.
3 Reasons to Pre-Order Death Stranding & 4 Reasons to Wait
Pre-Order For Bonuses
If you buy a copy of Death Stranding before its release date you get some nice bonuses with your pre-order.
Death Stranding pre-orders come with a Chibi Ludens PSN Avatar, the Death Stranding Dynamic Theme, and some in-game items that will unlock as you progress through the game.
These bonus items include the Gold "Sam" Sunglasses, a Gold Hat, a Gold Speed Skeleton, and a Gold Armor Plate.
These are cosmetic items, but they're appealing to those of you who like to customize your characters or PSN account.
If you want access to these, you can pre-order any version of Death Stranding.

As an Amazon Associate I earn from qualifying purchases.