How to Fix Bad iOS 12 Beta Battery Life
iOS 12 beta testers are dealing with a wide range of issues including abnormal battery drain. Fixing battery life issues can be tricky, but this guide will take you through some potential remedies for bad iOS 12 beta battery life problems.
Severe battery drain is a common side effect of new software, particularly unfinished software like iOS 12. Weird battery issues can popup at any time.
If you start running into bad iOS 12 battery life, your first instinct might be to drop back down to iOS 11, especially if you were having a good experience on iOS 11.4 or below. That's certainly an option, but some of you might want to continue testing iOS 12 and its new features. If you fall into that camp, you'll want to try a few fixes before admitting defeat.
Today we want to take you through some potential (there's no guarantee they'll work for you and your device) remedies for iOS 12 beta battery life issues. Battery life issues can be tricky to fix, but the fixes we've listed here have been proven to work and they could help stabilize your device.
Restart Your Device
The first thing to try, especially if you haven't done it in awhile, is a quick restart of your iPhone, iPad, or iPod touch. Power your device down, wait a minute, and power it back on. This might sound too easy, but an occasional reboot can have a positive impact on your device's performance.
Check Your Apps
If a restart doesn't squash your battery life troubles, the next thing to look at is your apps. Applications and services have a tendency to go haywire on pre-release software like iOS 12 beta so there's a chance Facebook or another app is chewing through your charge.
Fortunately, checking your apps for abnormal battery drain is extremely easy on iOS 12. Here's what you need to do in order to get a handle on your apps:
Go to the Settings app.
Select Battery.
Head into the Battery Usage tool. This useful tool will show you the apps eating up your battery life and when they're doing so.
If you use an application a lot, it'll obviously drain more battery than an app you don't use. However, if you see something out of the ordinary, you'll want to investigate further.
If you see an app eating up an abnormal amount of battery, you should try deleting that app from your device to see if that improves your device's battery life.
If it's an essential application, and you can't delete it from your device, we recommend downloading the latest updates to see if that resolves the issue
Disable Widgets
You can find widgets all over iOS 12. If you have a ton of widgets active, that could the (or one of) the source of your battery life issues.
If you think you can manage without widgets, try disabling them to see if that improves your device's battery life. Here's how to do this:
Swipe to the right while you're on your device's home screen.
Scroll all the way to bottom of your widgets and select Edit.
If you're on the right screen you should see a list of your apps and services. These are you widgets and you might notice that some of them are active.
To deactivate a widget, you simply:
Tap the red circle with the white line.
Tap Remove.
First you'll want to disable the widgets you never use. If the problem is still happening, you'll want to return to this screen and either use trial and error or disable all of them and check your battery life.
You can always reenable them if you determine they aren't the source of your battery life issues.
Use Low Power Mode
If you aren't familiar with iOS' Low Power Mode, you should be.
Low Power Mode is an extremely useful tool that will limit certain functions on your phone to conserve battery life. iOS will prompt you to use it once your device hits 20%, but you might want to use it more liberally if your device starts exhibiting severe battery loss.
Here's how to enable Low Power Mode on your phone:
Head into Settings.
Select Battery.
Tap Low Power Mode
Toggle it On whenever you need it.
If you don't want to head into Settings every time, you can also add it to your device's Control Center. Control Center is the menu that pops up when you pull up from the bottom of the screen or pull down from the top right of the screen on the iPhone X.
Here's how to add a Low Power Mode shortcut to Control Center:
Head into Settings.
Tap Control Center.
Select Customize Controls.
Find Low Power mode in the list and tap the green "+" symbol.
Now when you go into Control Center, you'll notice a little battery meter symbol. Tap that symbol to turn Low Power Mode on or off.
Use Airplane Mode
If you start experiencing rapid battery loss on your device you should try putting your iPhone or iPad into Airplane Mode to kill all of your connections.
You can find the Airplane Mode toggle at the very top of the Settings app and you can also find it in the Control Center menu in the top left corner. It's the airplane symbol.
Toggling Airplane Mode on will kill Wi-Fi, Bluetooth, and other connections, but it will help you conserve battery life.
We recommend turning Airplane Mode on when you're using your device in poor service areas. If your device is struggling to pull down a connection, it'll work hard. And when your device is working hard, it's depleting the battery. In some cases, rapidly.
Manage Your Display
Your display could be killing your battery so you'll want to do a better job managing it (if you aren't doing so already) while using the iOS 12 beta.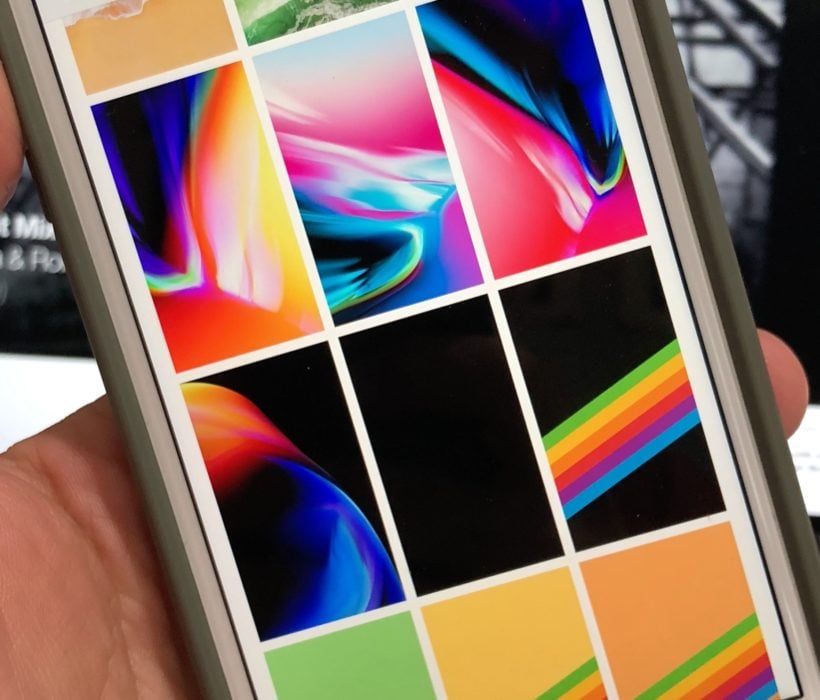 Your device's sensors work to read the lighting in your environment and will adjust the screen automatically to suite your needs. These sensors will often get it right, but in some cases your screen might be way too bright for your needs. If your screen is bright for no reason, you're losing some precious percentage points.
Try manually managing your screen brightness by turning off auto-brightness. To do this you simply:
Go into Settings.
Tap General.
Go into Accessibility.
Tap Display Accommodations.
Toggle Auto-Brightness Off.
Once you turn Auto Brightness off, you'll need to adjust your display brightness manually. This is extremely easy to do. You can either go into Settings > Display & Brightness and toggle the slider there or you can pull up Control Center and toggle it there.
In Control Center, the brightness toggle is the slider on the right hand side that features the sun-looking symbol.
Turn Off Raise to Wake
If you don't need your display to turn on every time you pickup your phone, try turning off your device's Raise to Wake feature. It could save you a few percentage points.
Head into your Settings app.
Go to Display & Brightness.
Toggle the Raise to Wake function off.
Reset All Settings
If you're up for a little work, you can also try resetting your device's settings back to their defaults to see if that helps improve battery life on iOS 12 beta.
This step will take a little more time than most because it'll cause your device to forget known Wi-Fi networks and Bluetooth connections. Make sure you write down your passwords before you do this.
Go Settings.
Go to General.
Scroll and tap Reset.
Tap Reset All Settings and then enter your passcode if one is enabled.
Depending on your device and setup, this could take a little bit to complete. Once it's complete, you'll need reestablish your connections and check your battery life.
Download the Latest iOS 12 Beta
Make sure you keep up with Apple's beta releases. If a new iOS 12 beta is available, try installing it to see if it smooths out your battery life performance.
Apple will release new betas once every other week and once a week once we get closer to the final release this fall. If you can't find a manual fix for your issues, there's a chance the new version will work wonders for your device and its performance.
Get a Battery Case or Battery Bank
If you're willing to spend a little money to improve iOS 12 beta battery life, consider buying a battery case or battery bank to use throughout the beta process.
If you don't know where to start, we've got a list of the best iPhone X cases and best iPhone 8 cases to help you get started. If you don't want to slap a bulky case onto your iPhone, you should consider buying a battery bank.
If you're unfamiliar, battery banks are small, portable power sources. For example, the RAVPower battery pack can provide six full iPhone charges.
There are a ton of options out there, but RAV's device, Mophie's powerstation plus mini and the Anker Powercore 20100 are a few of the best.
5 Reasons Not to Install iOS 12.4 Beta & 3 Reasons You Should
Install the iOS 12.4 Beta to Help Improve iOS 12.4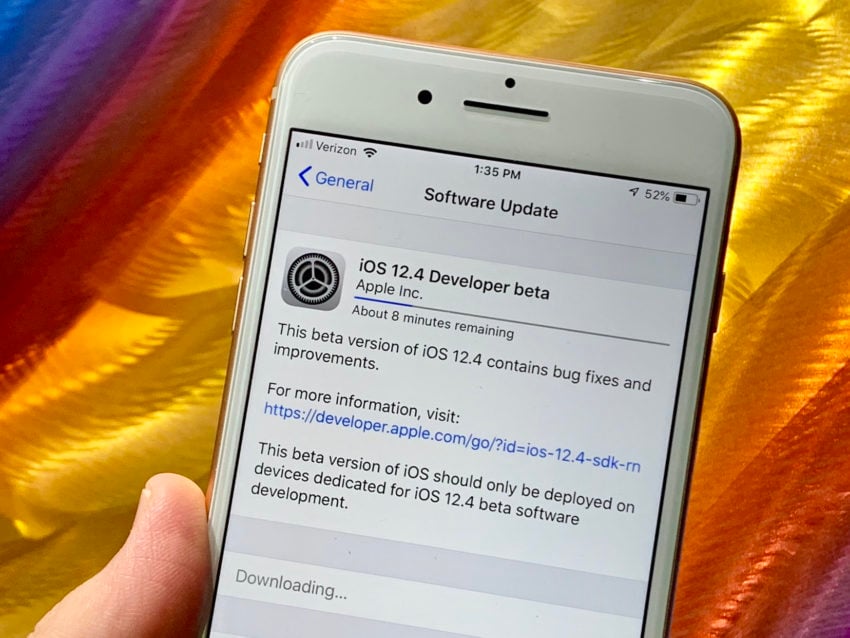 Your testing could help Apple improve the final version of iOS 12.4.
Using pre-release software on your device could lead to problems, but your testing could Apple squash bugs and deliver better all-around performance.
If you decide to download the beta and you find an issue on board, make sure you report it to Apple. This way, its engineers can get to work on a fix.
Apple will likely release several more betas before the official release and there's a chance your efforts will lead to a fix in a future release.
If you're sick and tired of dealing with iOS bugs and performance issues on your mobile devices, give the iOS 12.4 beta a try.

As an Amazon Associate I earn from qualifying purchases.