How to Fix Bad OnePlus 7 Pro Battery Life
Now that OnePlus' latest phone is available we're starting to see complaints about bad OnePlus 7 Pro battery life. It's an impressive device with a beautiful screen and lots of horsepower. However, the battery is only so big. If your phone isn't lasting as long as expected, here are 10+ tips to fix battery life.
You don't need to read the manual or browse the OnePlus forum for hours to find answers. We have solutions to all the most common issues or complaints.
While this phone gets pretty decent battery life, even with the huge 6.67-inch screen, it's not great and some will eventually run into issues. So, if you're having problems, bad battery life or just want your OnePlus 7 Pro to last a little longer, here are some things to change and try.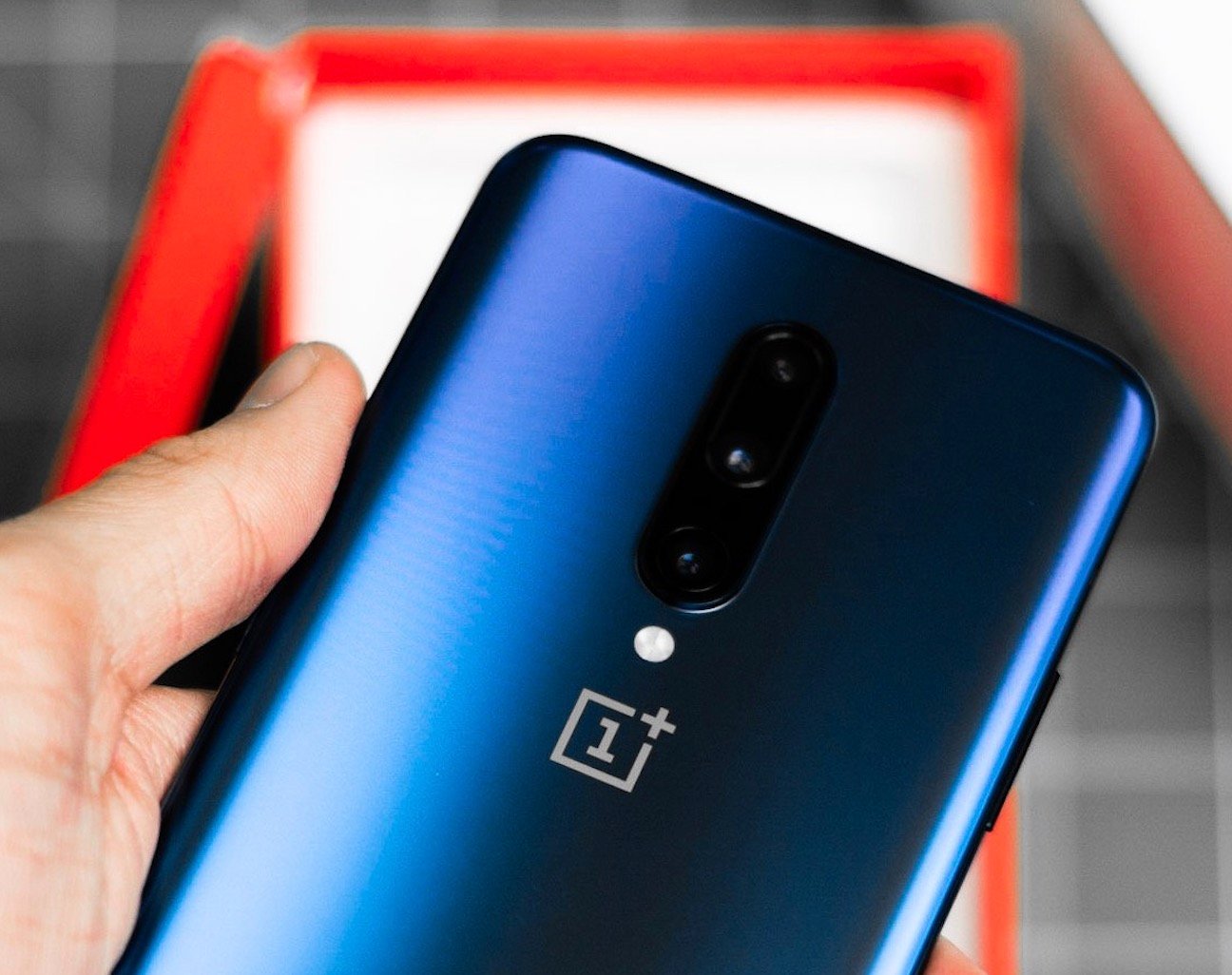 Basically, you'll want to know about these tips, tricks, secret settings to change, or options and controls that will improve your experience and battery life.
Read: Best OnePlus 7 Pro Cases
Before we begin, make sure you're running the latest OxygenOS update from OnePlus. At the time of writing, that's OxygenOS 9.5 which added lots of new features for the 7 Pro, battery optimization, camera tricks and more. Go to Settings > About Phone > Check for updates.
Find Apps Eating Up Your Battery
Our first step to help you solve any battery problems or draining situation is finding the culprit. To find what's actually draining all of your juice.  This can be an app that came pre-installed or something you downloaded from the Google Play Store. Sometimes apps just don't work right, go rogue after an update, or misbehave.
Your phone will send you a notification if an app is using an abnormal amount of battery, so watch out for those alerts. Then, if you use an app a lot, obviously it'll drain your battery. That said, some situations occur where an app uses more than it should, and that's what we're looking for. Head to Settings > Battery > and tap the battery icon. This shows you a full breakdown of apps and their battery usage.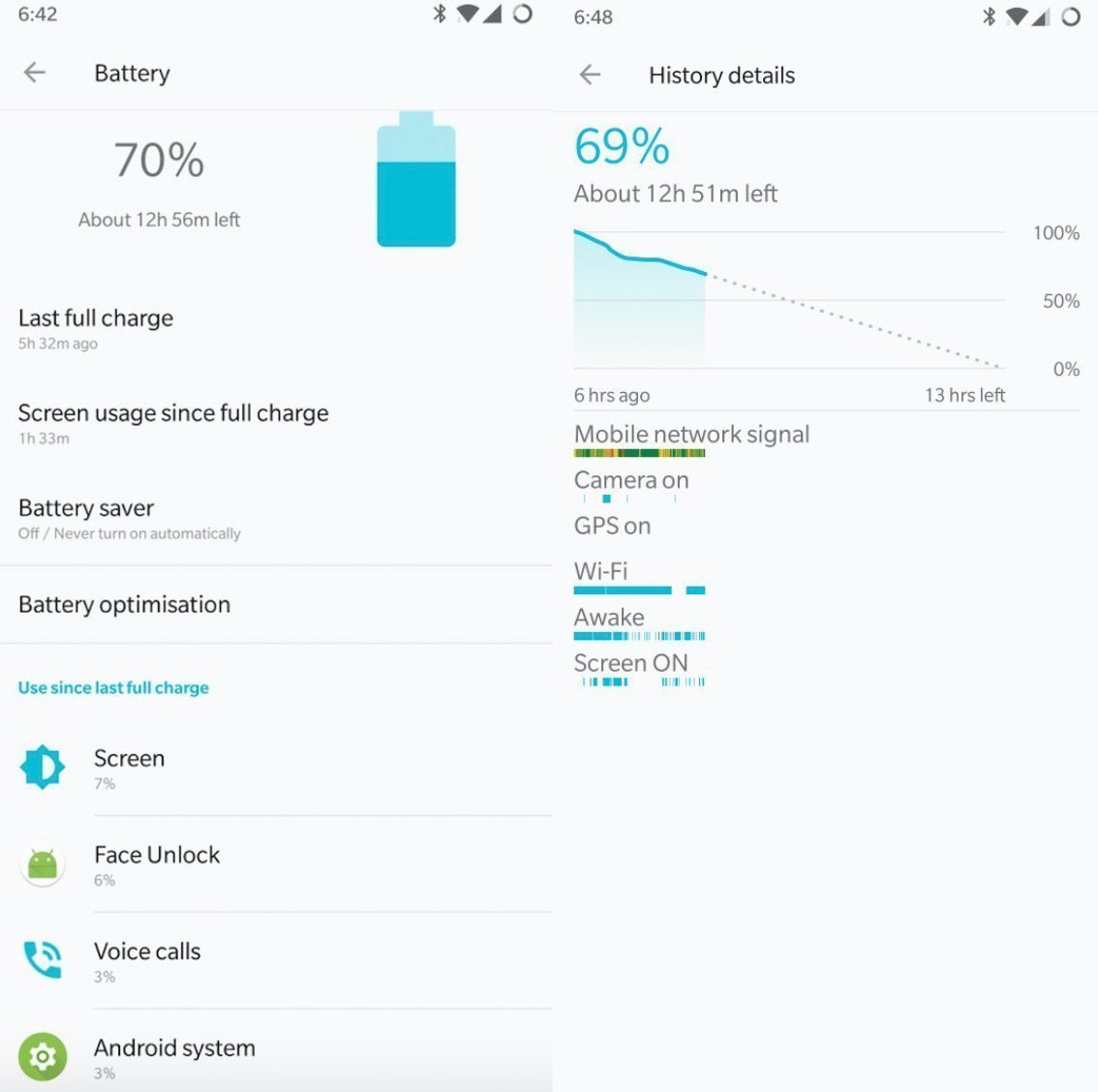 You want to see Screen (or Display), Android System, or Android OS at the top of this battery usage list. If other random apps you aren't using are near the top, something's wrong. Click the app and select "Force Stop" or uninstall it to prevent further issues. Take advantage of this menu in settings to help find misbehaving apps.
Additionally, we're seeing both positive and negative reports on battery life at the forums but will keep an eye out for more information.
Reboot Your OnePlus 7 Pro
Giving your phone a fresh start overall every few days is a great idea in general, but this will also fix or curb any problems with battery life before they get out of hand. If your phone (or an app) is acting up or draining the battery, reboot your phone. This is often the easiest and fastest way to stop a pesky problem.
Whether you want to give your phone a fresh start for the day or you noticed the battery draining too fast, give it a quick reboot. Long-press the power button and select reboot, or manually reboot it.
Face & Fingerprint Screen Unlock
We saw complaints about the Face Unlock draining the battery super fast on older device, but that's no longer a problem on the OnePlus 7 Pro, or we're not seeing reports of it. However, the new in-display fingerprint scanner could be. The screen glows at 100% brightness in a small area to scan your fingerprint. It's a feature you'll love, but it could also be shaving minutes or more off your daily use.
Basically, keep an eye out for Face Unlock and Screen Unlock in the battery usage menu we mentioned earlier. If they're using too much juice, try a different unlock method. Some mentioned the fingerprint sensor going off in a pocket, turning the screen up bright, and slowly draining the battery.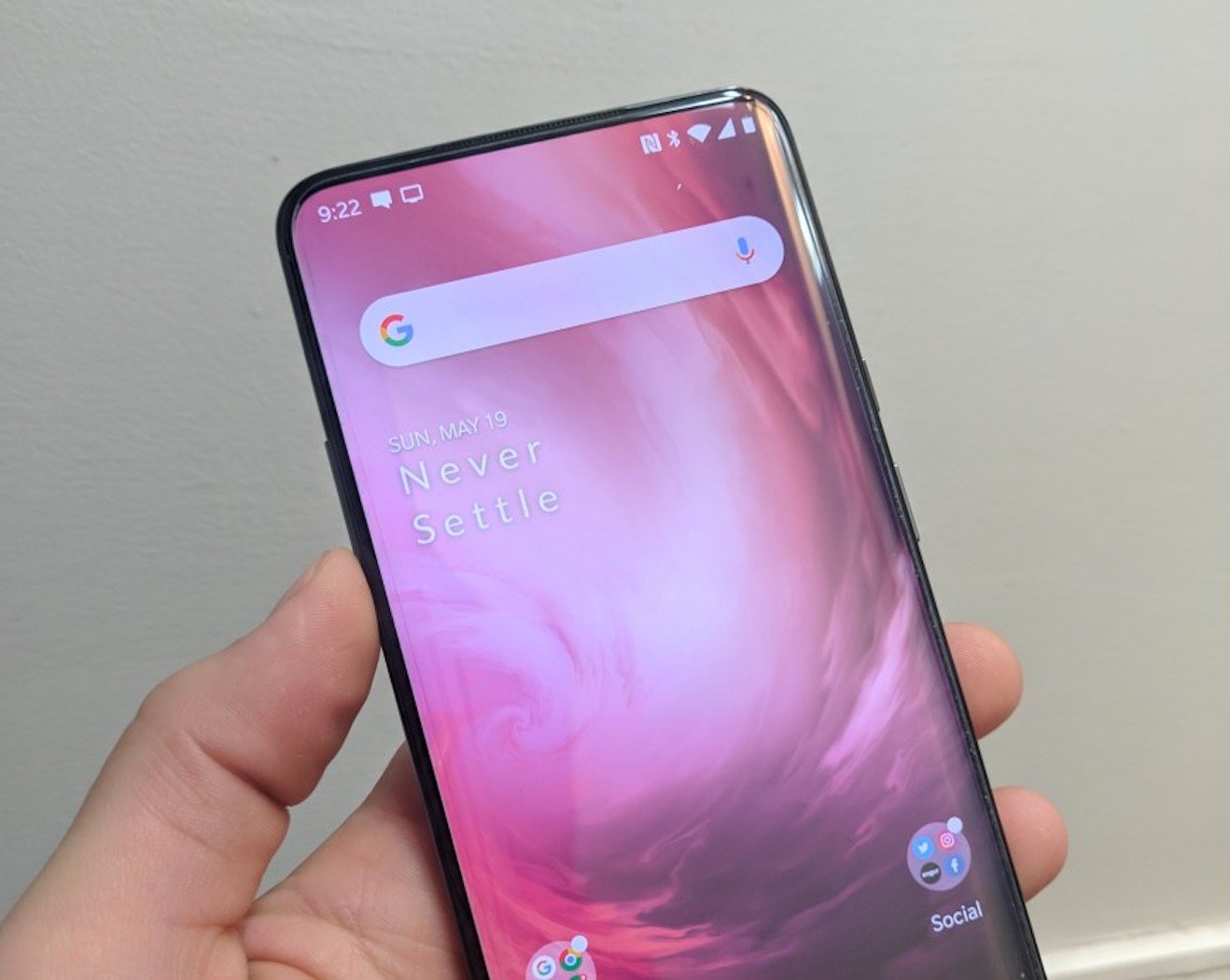 Disable the Ambient "Lift" Display Feature
This is one of my favorite features, but one that can cripple battery life. OnePlus' latest phone doesn't have an always-on display but when you "lift" up the phone the screen will turn on to show you notifications and such. It's helpful, but it can also go off when it shouldn't, or inside a pocket. Try disabling that option.
Then, in the near future, we believe an update will add the "Always-On Display" and you'll want to disable that too. Well, if you need better battery life. OnePlus does have a "pocket mode" in settings that should prevent the fingerprint sensor or the Lift feature from going off.
Screen Brightness & Sleep Timer
With a huge 6.67-inch display and an average sized 4,000 mAh battery, every little bit helps. Especially when you add all these tips together. Two things you can easily change are screen brightness and sleep timers. The average person checks their phone over 140 times a day, usually just to see the time or check a notification. This adds up throughout a day and can really lower battery life.
Make sure you hit the power/sleep button when you're done using the phone, so the screen isn't just turned on for no reason. Most people set the phone down when they're done, and the screen stays on wasting battery. Often for 1-2 minutes EVERY single time. That's 140+ minutes a day of wasted battery. This is known as the "sleep timer" and we can cut that drain by 50%.
Head to Settings > Display > Sleep > and set this to 30 seconds or one minute, not 5 minutes. That way when the phone isn't in use, it dims and will go to sleep after that amount of time. Also, keep your screen brightness at manageable levels. Unless you're outdoors, it never really needs to go above 50-60%.
OnePlus 7 Pro 90Hz Refresh Rate & Quad-HD
With an already big screen and a high 90Hz refresh rate the 4,000 mAh battery isn't big enough. As a comparison, Samsung's smaller Galaxy S10+ has a bigger 4,150 mAh battery and the screen refreshes 1/3rd less, at 60Hz.
This is a great feature and probably half the reason you bought the OnePlus 7 Pro, but it could also be what's hitting the battery so hard. And while we've confirmed with OnePlus that the phone has a variable refresh, where it occasionally drops to 60Hz in phone calls or when a high refresh rate isn't needed, it doesn't do it very often.
As a result, you can manually go to Settings > refresh rate and lower it from 90Hz down to 60 Hz, which is what almost every other phone is at. You'll notice a difference, and it won't feel as smooth and fast as before. If you do this as soon as you get the phone, you won't miss it. That said, it IS noticeable.
You can also lower the resolution down to 1080p to make the phone last longer. Samsung's devices come at 1080p, even though they're Quad-HD resolution devices, just like the OnePlus 7 Pro. Almost every Quad-HD phone comes at 1080p for battery-saving, so choose what's best for you.
Use a Black Wallpaper
Did you know that using a black wallpaper will improve battery life? Not for every phone though. Only devices with a high-end AMOLED display. The OnePlus 7 Pro has an AMOLED screen and they're very efficient at displaying dark colors. It doesn't need to "turn on" pixels to show the color black, which other screen technology does, like an LCD.
After you've downloaded a nice wallpaper long-press a blank area of the screen and go into Wallpapers to apply it.
WiFi, 4G LTE, Bluetooth & GPS
Remember, every little bit counts. When you add these all up over 8 hours and combine them with everything else we've mentioned, they can give you an extra 1-2 hours a day of battery. WiFi, BT, and GPS all will drain your battery to some degree. WiFi is easier on the battery than 4G cellular connections or 5G, but when you aren't on your home WiFi the phone will constantly search for a WiFi signal. This hurts battery life. Turn it off when you leave the house or work.
For me, the most noticeable change is cutting out what apps access and use GPS. Whether that's Google Maps or Facebook Messenger trying to find your location. Disabling GPS on multiple apps can give you way more juice than you'd think.
Head to settings and tap the magnifying glass. Type "Location" then enter location settings and tap the battery saver mode. GPS won't be as accurate but the battery will last a good hour or two longer.
Secret OnePlus 7 Pro Tip
It won't give you better battery life, but go to the calculator app and type in "1+=". You're welcome!
Turn Off OnePlus 7 Pro Features You Don't Need
This next tip can make the biggest difference for you and your phone. Obviously, the screen is the biggest battery drain, but all of OnePlus' extra features can drain it too. Some of them are awesome, while others keep the phone awake or sensors turned on 24/7 for no reason and hurt battery life.
So, turn off features you don't need or don't plan on using, like Face Unlock. Then, other things like gesture controls, Google Assistant "voice detection" and features in the Settings > Advanced category can drain your battery too. Anything in the Advanced features section that you'll never use, turn it off. This will save juice over a long 8-10 hour work day.
OnePlus 7 Pro Battery Saver & Gaming Modes
Before you do anything drastic like turn on OnePlus' battery saver mode, try some of your other options. With Android 9 Pie Google introduced a powerful new "Adaptive Battery" system that actually works. We recommend using your device normally the first day and drain the battery to under 10%. Then, plug it in overnight. This will let the phone and Android OS configure and optimize everything.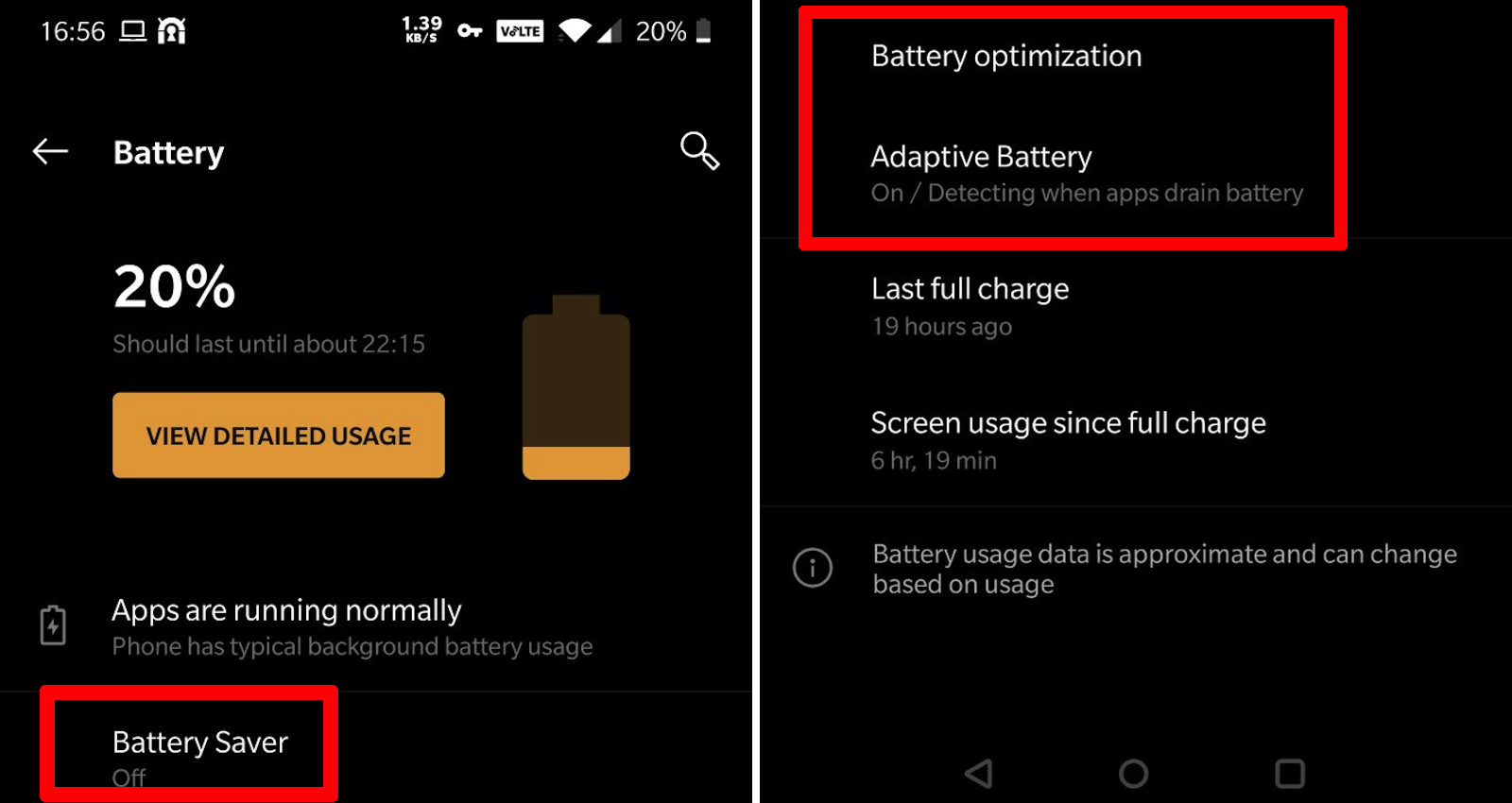 Between OnePlus' battery optimization and the built-in adaptive controls, the phone will learn from you over time and get better after the first few days of usage. Then, Don't forget to take advantage of battery saver or Gaming Do-Not-Disturb modes. These will reduce performance, vibrations, screen brightness, background data, and a few other things only when necessary.
Those dealing with poor battery life will also want to look at this generic Android Pie problems guide. It goes over some potential Android 9 Pie issues and offers further advice.
A Few More OnePlus 7 Pro Battery Life Tips & Tricks
When it comes down to it, battery life is about how you use your phone. Everyone is different and uses devices differently. We're seeing reports of only 3-4 hours of screen-on time with the 7 Pro, while some people are getting 7-8 hours of screen-on time. That's how long the screen was actually on and in use on a single charge. Read through the big OnePlus 7 Pro battery life thread at the OnePlus forums for suggestions, advice, or for an idea of what to expect from your usage.
Additionally, download the app BetteryBatteryStats. This program shows you what apps use what, what you use the most, and will highlight any potential problems or bad habits. It's a pretty powerful app that will give you more insight into how you use your phone.
In closing, stay tuned for a few quick software updates from OnePlus. They always refine and touch-up the software, patch a few bugs, and further improve performance and battery life within a few weeks of any release. They're one of the best manufacturers when it comes to fast, helpful, and timely software updates. Plus, you can even try the Android Q beta if you want.
This phone is still new, and they'll continue to iron out a few bugs and optimizing the entire experience. It will get better. Before you go, don't forget that both a case or OnePlus 7 Pro screen protector is a good idea.