25 Best Samsung Galaxy Note 8 Cases
These are the best Galaxy Note 8 cases available in 2019 to protect your big phone and keep it looking new. Whether you just bought this slightly older phone, got a hand-me-down, or just want it to last until you're able to upgrade in 2020, we have you covered.
Galaxy Note 8 cases come in several different styles and materials. Whether you want durable military-grade protection, a clear case, or something cheap and thin. Some are more durable than others, but all of them should keep the phone safe.
We've found cases for under $6, which is better than spending $200+ to repair a shattered Note 8 display. Plus, you can spend a little more for extra durability, or upwards of $30-45 for cases from reputable brands or something made by Samsung.
While we recommend investing in a quality case, even a cheap $6 TPU case from Amazon is better than nothing and will save you from the misery of a broken phone. Then, more expensive cases have screen protectors built-in or use very durable materials. Keep in mind that the Galaxy Note 8 is IP68 dust and water-resistant, so you don't need a waterproof case.
The most popular type of Galaxy Note 8 case is usually a wallet or kickstand case, so we added a few excellent options with those features too. Then, we've found some excellent thin and clear cases for those that don't want to cover up their phone. While you're at it, get a screen protector for your Galaxy Note 8. You don't watch scratches on that screen, right?
Don't get overwhelmed by the dozens of cases on Amazon or expensive prices at carrier retail stores. Instead, choose from our list of the absolute best Galaxy Note 8 cases from brands we trust. These are great cases from the best names including Griffin, Tech21, Spigen, Speck, Incipio, Otterbox, and others at affordable prices. Buy one today and keep your phone safe.
Samsung Protective Kickstand Case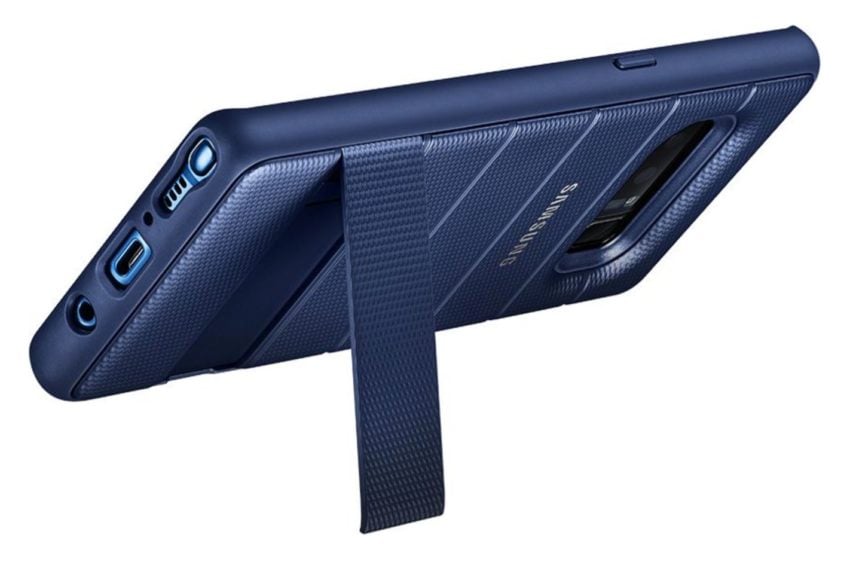 First up is a new case from Samsung themselves. The Rugged Protective Cover is Samsung's new military-grade case for the Note 8. Meaning it's certified for some serious tumbles like drops from 8-10 feet. Basically, this is one very durable case.
Then, to make things even better Samsung added a fold-out kickstand for hands-free viewing. The kickstand will also detach if you put too much pressure on it to prevent damage. Simply snap it back in and you're good to go. This is one of the first cases we recommend, as it's extremely durable and has extra features.

As an Amazon Associate I earn from qualifying purchases.