How to Force Full Screen Apps on the Galaxy S8
This guide explains how to force apps into full screen mode on the Galaxy S8 and Galaxy S8+. Samsung's phones have stunning big 5.8 and 6.2-inch Quad-HD screens. However, you probably noticed a lot of apps don't use all of that space. If so, here's how to enable all apps to use the full screen on your Galaxy S8.
After launching some apps and games you may notice black bars at the top and bottom of the screen. Below the notification bar and above the on-screen keys. This is due to the new 18.5:9 aspect ratio on most new smartphones from 2017 and 2018. The screens are tall and skinny, and not as wide.
Read: 25 Best Galaxy S8 Cases
You may remember a similar situation with 16:9 widescreen movies and video a few years ago. With new phones like the Galaxy S9, Note 8, LG V30 and even the Galaxy S8 all having this screen size, a lot of users are experiencing problems. Until more app developers adopt this standard, you'll need to enable "full screen apps" yourself in settings on the Galaxy S8.
Most Android apps easily and instantly scale up to fill the entire screen. Google's system in place makes most apps scale with ease from phones to a tablet size, or even Android TV, but not all. As a result, you'll find these awkward black bars in some situations.
We have good news though, you can quickly get rid of them on the Galaxy S8.
How to Enable Full Screen Apps on the Galaxy S8
Most apps work perfectly on the bigger display, but not all. And for some, they aren't a problem but they just don't look all that great. With that in mind follow these steps to fix the issue.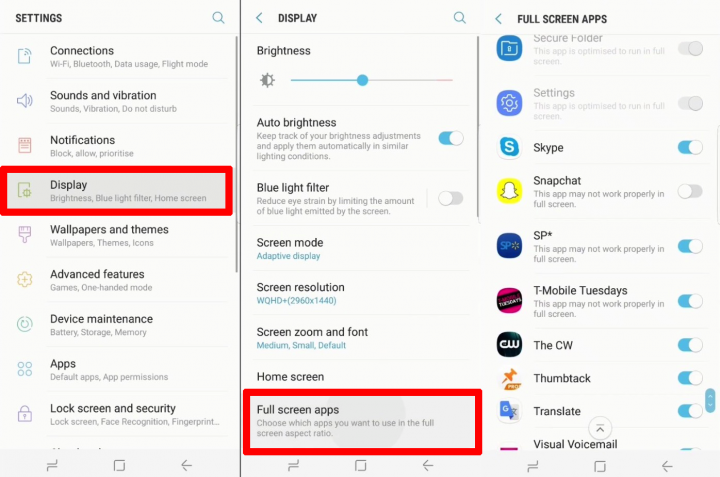 Pull down the notification bar and head to Settings (gear-shaped icon near the top right)
Find and select Display
Select the option labeled Full Screen Apps
Find an app that isn't highlighted and switch full screen mode to on
Force any app into full screen mode and you're all set
Our image above is a quick glance at exactly what you'll be looking for in settings. Some apps default to the right setting, others don't. Apps like Snapchat and a few others just need a quick toggle, where you manually force it into the right mode.
Now simply hit the home button and open any and all apps and enjoy the full Infinity display experience. It's also worth mentioning that videos have a similar option that will pop up for users. Letting us expand them to full screen if it isn't already. You can pinch to zoom on YouTube, to toggle full-screen mode too.
Should You Do This?
Your next question will likely be how does this work, if you should do it, and if there will be any problems. Personally, everything I've manually forced to full screen works just fine. However, there will be some instances where it doesn't look perfect. At this point, most app developers have fixed any display issues, but you might run into the occasional issue.
Samsung is essentially stretching out the apps to better fit the full screen. Similar to what the Netflix app does with select shows or movies. Or how we can zoom in with cable TV.
Read: 10 Neat Things the Galaxy S8 Can Do
In closing, some apps may look squished on the edges, or certain things may actually slide off the edge of the screen. This is simply because the developer needs to update the app. With the new Galaxy S9 coming in March, we're expecting most apps to get updates if they haven't already.
We're also expecting additional support for full-screen apps, and split-screen apps, with the incoming Samsung Galaxy Android Oreo update. Drop us a comment below with any other questions about the Galaxy S8.

As an Amazon Associate I earn from qualifying purchases.