How to Get a Refund for Google Play Store Purchases
In this guide we'll explain how to get a refund on Android from the Google Play Store. Whether you have buyer's remorse, an app that didn't work as expected, or want a refund for in-app purchases, we have you covered.
And while Google doesn't give refunds for most things on the Play Store, when you need it the process is actually really simple. In fact, Google has a refund process built right into the store that only takes a few seconds. Here's how to get a refund from apps and other things on Google Play.
How to Get a Google Play Store Refund
While you can't watch a movie and ask for a refund, most apps and games can quickly be refunded if you act fast. The easiest way to get a refund is to request it right on the Google Play Store. Where you downloaded the app, you'll see a big "refund" button for two hours after you buy and download anything.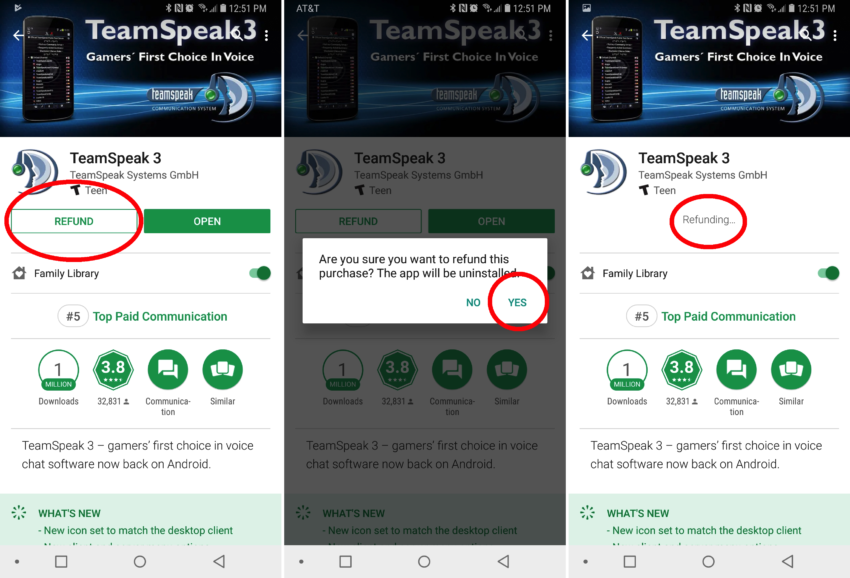 Open the Google Play Store
Search for or find the app/game you want to refund
Tap on the REFUND button
If this button is missing, you're beyond the 2-hour window
Keep in mind that if this is the second time you downloaded that content, you can't ask for a refund again. The second time is permanent. Also, the 2-hour window isn't your only option. In fact, you actually have around 48 hours in most situations.
If you're past the 2-hour window but feel you deserve a refund, fill out this form within 48 hours. It may take upwards of 2-3 days before you get a response this way, but mine all appear within 15-20 minutes. It's that simple. Do it inside the store, or with that form.
Contact the Developer For a Refund
Even if you miss that 48-hour window some developers will issue a refund if they feel you deserve it. Contacting an app or game developer is another option, but it's not a guarantee. Some won't reply, some will take forever, and some will instantly give you your money back. It all depends on the situation.
Open the Google Play Store
Search for or find the app/game you want to refund
In the description tap on Read More to expand the details page
Scroll down to where it says Developer Email
Email the developer and explain, request a refund
Remember, some app developers don't respond right away and have another job. And while most of them are really good, you may run into some that will not give out refunds. Good luck.
Google Play Refund for Movies, TV, & Books
If you use Google Play Music, Movies & TV, or Books and want a refund, that's an option too. However, you can only request a refund if you haven't started the movie, show, or book. Look and see if you have a "Refund" button on these, and if not, follow these steps.
The refund period is typically 7-days
Certain regions like Italy, you get up to 10 business days to request a refund. (14 days in Denmark, Finland, Germany, Norway, Portugal, and Sweden, etc)
If you hit play but playback is defective and doesn't work, you can still ask for a refund.
On a web browser, go to https://play.google.com/store/account, then Order History and click the 3-dots menu button. Select "report a problem" and fill out the refund form.
Google Play Store In-App Purchase Refunds
Next, we want to talk about in-app purchases and potential refunds. In-app purchases are those charges you probably made for Candy Crush, gems in Clash of Clans, or pokeballs in Pokemon GO. You pay for these inside the game, not in the app store. If a child makes a bunch of purchases, you might be eligible for a refund. Make sure you always have a password on app purchases.
Read: Google Play Store Family Library Shared Apps: What to Know
It's not impossible to get refunds for in-app purchases, but it's not easy either. Again, you don't have any 2-hour windows or easy one-press buttons. You have to fill out a form and hope you get your money back.
This is the standard refund form. You can do this from a computer, your Android device, or even an iOS device if necessary. Simply follow the steps above, or from the link, and fill out all the required information.
Contact Customer Support
In some situations, you will not receive a refund. If you don't hear back from a developer, or they dispute your claim, you can reach out to Google's support team. Basically, contact customer support for other questions or inquiries. This isn't a guarantee either, but it's a good last resort.
Additionally, if a developer doesn't have contact information available, you can use this method to reach Google specifically.
How Long Do Google Play Store Refunds Take?
In closing, you're probably wondering how long refunds actually take. Again, this depends on the situation. Any and all Google Play Store refunds go back to your original payment method. Depending on that method, your wait will vary.
If you use a Google Play Store balance or gift card, the refund usually takes less than 24 hours. And while some refunds are instant, most credit/debit cards and Paypal users end up waiting about 3-5 days to see the funds return.
At the end of the day just use caution before you buy anything. If something isn't what you expected, or malfunctions, take advantage of the 2-hour or 48-hour window to get your money back.

As an Amazon Associate I earn from qualifying purchases.