How to Disable Bloatware on the Galaxy S8
In this guide we will explain how to get rid of bloatware on your Galaxy S8 or Galaxy S8+. What's bloatware? It is the dozens of apps that come pre-installed by carriers and often waste space on our smartphones. Samsung is notorious for it, but they aren't the only ones.
Most phones sold by carriers in the United States are filled with applications most owners will never use. Things like Lookout Security, Sprint's NASCAR stuff, or even T-Mobile and Verizon apps. Who needs AT&T WiFi or an app dedicated to the Dictionary anyways?
Read: 16 Best Official Galaxy S8 Accessories
This is called "bloatware" or crapware — in the industry — and it cannot be removed. Well, not without rooting (Jailbreak for Android) your phone and doing a few hacks. That said, it can be completely hidden and disabled. Basically out of sight, out of mind. Here's how to disable all the bloatware on your new Galaxy.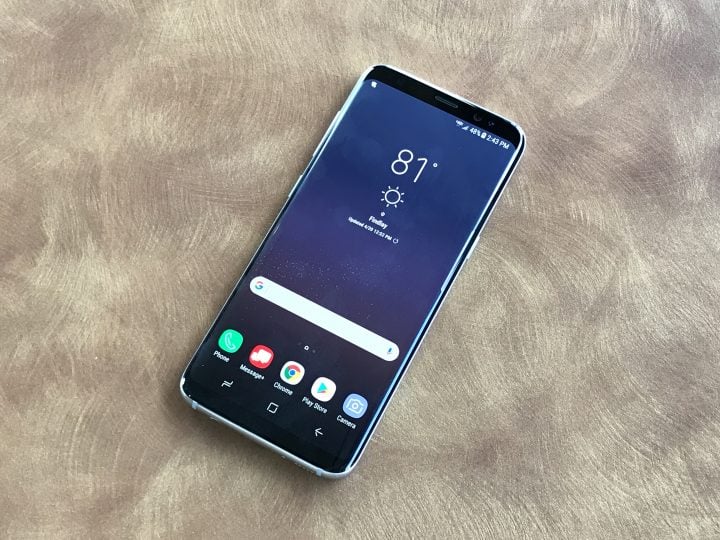 When you get the new Galaxy S8 you may notice upwards of 15 apps on it you didn't install. And these are in addition to Samsung's own apps. Look for apps like Hancom Office Editor, DirecTV, DT Ignite or a few from Amazon. These were all put there ahead of time by carriers, and sometimes they even add more with big software updates.
Luckily for us getting rid of bloatware is pretty easy. Well, disabling them so they're no longer visible on the phone is easy. Actually uninstalling bloatware so it's gone for good takes a little more work. Thankfully the Galaxy S8 now has 64GB of storage, so a few apps wasting space isn't as big of a deal.
Still, if you want to get rid of all those pre-installed apps and bloatware, here's how.
Instructions
All owners need to do is head into settings and find their list of applications. Then we'll need to disable or uninstall everything one at a time. It isn't ideal, but only takes a few minutes and you'll never need to do it again.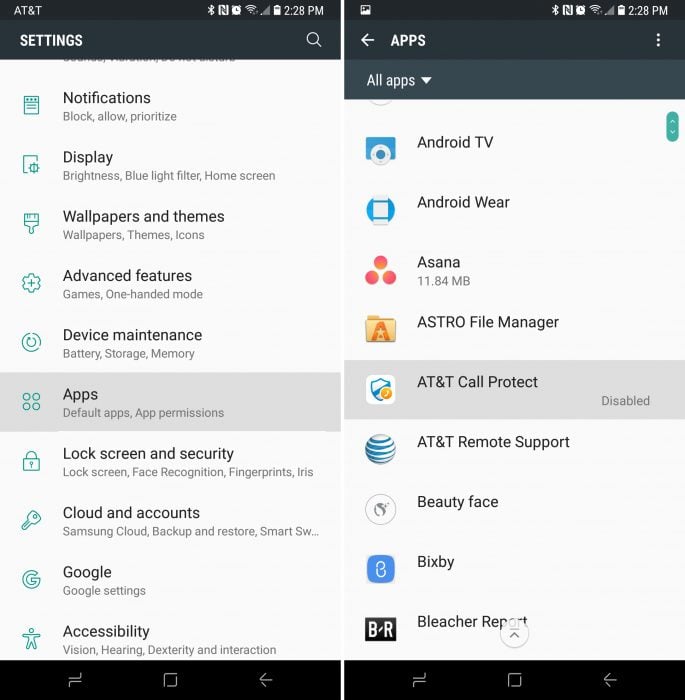 The screenshot above is a visual guide on where to go and what settings menus are needed to disable bloatware. Follow that and our full instructions below.
Pull down the notification bar and hit the gear-shaped Settings button (or open the Settings app)
Navigate to and select Apps
Make sure the tab at the top is selected on All Apps
Find any app you'd like removed and Select it
Hit Disable, then Confirm to get rid of it (some will require updates be uninstalled first, then it can be disabled)
Repeat steps for any app you'd like to remove
One by one find the app and hit disable. Make sure to only disable things from carriers or if you know it won't cause problems. Some may sound like bloatware, but are essential to the operation of the phone. I disabled everything from Amazon, AT&T, AT&T Data Usage Manager, Lookout Mobile Security, PDF Write and a few others. Twelve in total.
Other Details
These applications will longer work, and won't be in the app tray wasting screen real-estate either. That said, they still take up a little of the internal storage. Because we didn't actually delete any of them. Owners can also follow these same steps to Enable any app they need at a later date. 
We're all done. Now all of the apps that came pre-installed on your Galaxy S8 are completely disabled and hidden. Once developers and hackers figure out how to root the Galaxy S8, we'll update this guide with the steps required to fully uninstall everything. While you're here, take a look at these awesome Galaxy S8+ cases.