How to Hide Your Online Status on Instagram
In this guide we'll show you how to hide your online status on Instagram. These days with so many social networks your friends and family know almost everything, and now Instagram will tell people when you're online.
Instagram recently added the familiar green dot to profile pictures so you'll know when people are active and online. Making it easier to send private messages to your friends. They can see your last activity too, even if it was 2-3 days ago.
Read: How to Turn Off Comments on IG
Basically, now everyone knows when they can slide into your DM's with another repetitive meme or photo. Thankfully, this update to Instagram also gives us more control over our online status and you can quickly turn it off and hide the status completely.
How to Hide Your Online Status on Instagram
When you turn this feature off it will hide your online status or activity from all of your friends and family. You can't pick and choose, as it completely shuts it off for everyone.
Instructions
Open Instagram
Find the Portrait icon button on the bottom right
Tap the 3-lines Menu Button at the top of the screen
Select Settings (near the bottom)
Scroll down to Activity Status and tap it, then turn the switch to OFF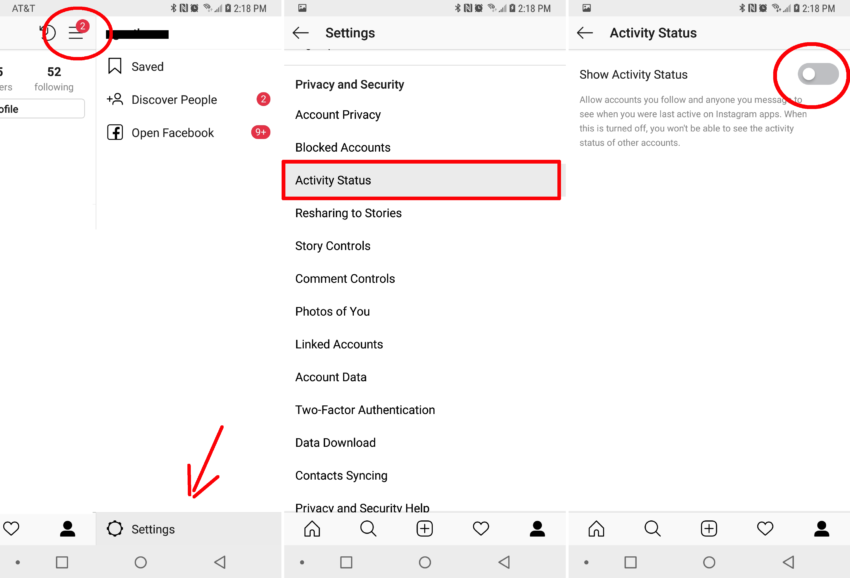 When you turn off Instagram's activity status for yourself, you won't be able to see the activity status of other accounts either. Just keep that in mind. You can find this setting in the same place on both Android or iOS, it just might look a little different depending on if you have the latest update from the app store.
We're all done. Now you can enjoy living life in freedom without people being aware of when you're browsing all those dog photos at night.
Other Details
Here's what Instagram has to say about this new feature. "This update gives you the ability to have more of those real-time conversations while giving you the control to hide your status altogether."
If you decide to keep this feature on, remember that you will only see the status of friends who follow you or people who you have talked to in DM. While you're here, learn how to delete your Instagram account, or check out these 10 common problems and how to fix them.

As an Amazon Associate I earn from qualifying purchases.