How to Hide the Home Button on Galaxy S8 Always-On Display
This quick guide explains how to hide the home button on the Galaxy S8 and its always-on display. The AOD is a small area of the display that stays on 24/7, even when the screen is off, sharing important information and notifications. However, the home button is always on this screen too, which doesn't look that great.
Whether you're concerned about screen burn-in, or just want a cleaner look on the always-on display, quickly removing it is the easiest option.
Read: How to Change & Download Fonts on the Galaxy S8
There are plenty of options and customization choices for the Always-On display. In fact, one of them lets you choose how the home button works, and if you want to see the home button at all. You don't need any 3rd party apps or anything to get rid of the home button. Here's how.
How to Hide the Home Button on Galaxy S8 Always-On Display
Pull down the notification bar and hit the gear-shaped settings button
Find and select Lock screen & Security
Scroll down and tap on Always On Display (not the switch)
Tap "Content to Show" and select Clock or Information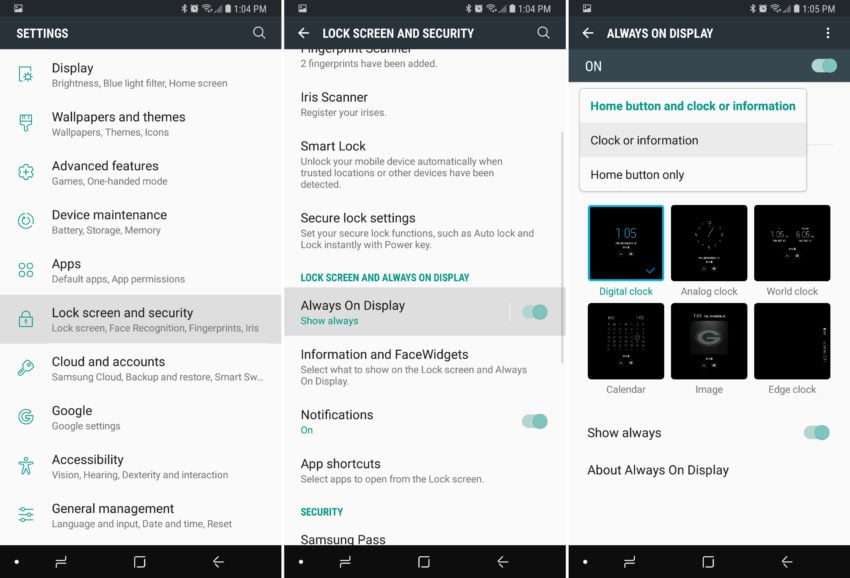 When following the instructions above make sure you tap Always On Display, instead of selecting the on/off toggle switch. This way you go into the actual Always-On Display settings menu, full of options and controls.
From here just choose what content you want to see. Samsung gives owners a wide array of choices for the calendar, clock, or background. Then, you can tap the first option to choose what is actually shown on the screen.
Select "content to show" and make sure to select Clock or information and not the home button. Now, you won't get burn-in or see the home button at all on the screen. Keep in mind that the virtual home button still works, even when the screen is off. You just don't see it. Press where it would be, and you'll still be able to quickly wake up your Galaxy S8 or Galaxy S8+. Before you go check out this roundup of common Galaxy S8 problems and how to fix them.

As an Amazon Associate I earn from qualifying purchases.