How to Use Incognito Mode on YouTube
In this guide we'll show you how to hide what you watch on YouTube with Google's new Incognito mode. Just like the Google Chrome feature, you can go undercover on YouTube and browse whatever you want without leaving any evidence behind.
Google tested this feature with select users for a long time, and now you can try it yourself right inside the Android app. Basically, you can watch whatever you want on YouTube without it showing up in your search or watched history. Here's how to enable it.
How to Use YouTube's Incognito Mode
Launch YouTube
Tap on your user account icon in the top right corner
Select Turn on Incognito
Tap Got it on the pop-up and you're all set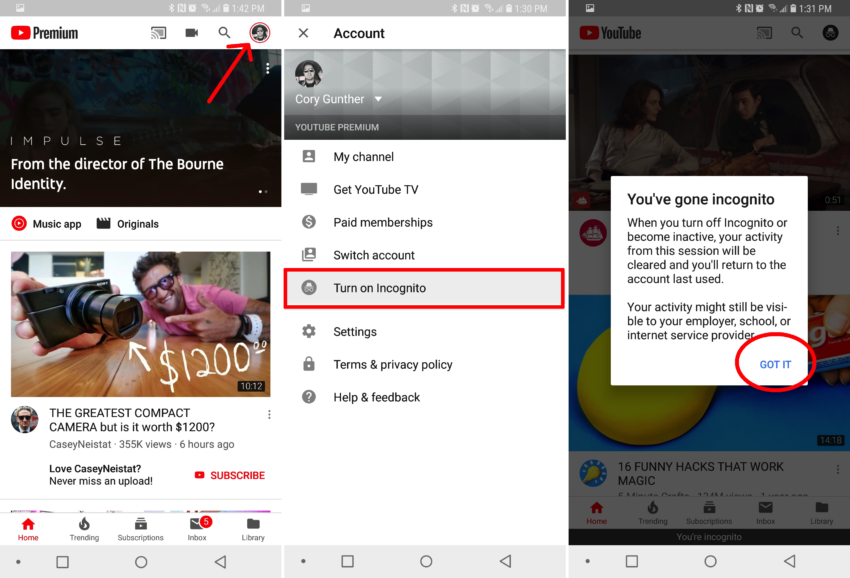 It's that easy to use YouTube's new Incognito Mode. You'll see a small bar at the bottom of the screen that says "You're Incognito", and that's it.
Read: How to Download YouTube Videos or Music
Now you can search or watch whatever you want without worrying about who'll find or see it later. Google won't save your search queries or a history of what you view. This is also helpful if you want to watch a quick video, but don't want to start seeing suggestions for that content the next day. Simply go incognito mode first before you search for or watch it.
Other Details
To turn incognito mode off, simply tap the little detective incognito hat icon near the top right, then select turn off Incognito. Or, once you stop watching videos the app will sign you back in and disable Incognito mode after a certain period of time, we're not sure how long though.
Additionally, it's important to know what Incognito Mode doesn't do, if you didn't read the pop-up earlier. While it'll prevent friends and family that grab your phone from seeing what you search and watch on YouTube, that's about it. The notification specifically mentions "Your activity might still be visible to your employer, school, or internet service provider".
Basically, this will keep viewing habits private on your device, but don't expect privacy at work or school.
Google also confirmed that during Incognito mode any premium features are temporarily disabled. Meaning you might get a few ads here and there before videos, and miss a couple of features until you turn it off. It's also only available for Android so far, but we expect availability on iOS in the near future. Give it a try today and while you're here learn how to turn off YouTube autoplay videos.