How to Turn Off YouTube App AutoPlay Videos
In this guide we'll show you how to turn off autoplay videos in the YouTube app. If you're concerned about data usage, or just don't want videos playing on their own, we're here to help. You can quickly change a few settings and stop videos from automatically playing.
Back in 2017 Google started testing this on mobile devices, and in April of 2018 made it official. If you're seeing videos play on their own in the YouTube app, don't be alarmed. Simply follow our steps below to stop them.
How to Stop YouTube App AutoPlay Videos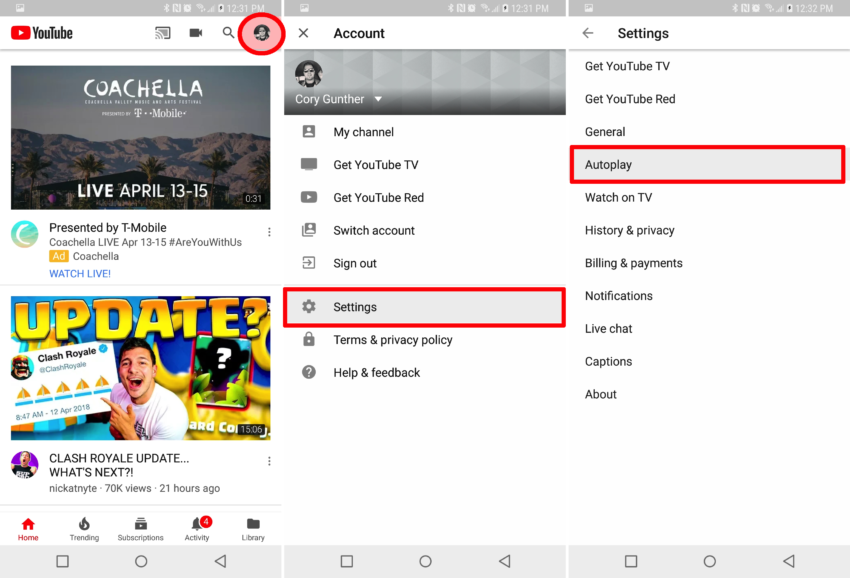 Open the YouTube App
Tap on your profile photo in the top right (the circle)
Select Settings from the list of options
Now choose AutoPlay
Select Autoplay on Home and flip the switch to OFF
You'll have two options in here. One is autoplay next video, which is an old feature that's been around for years. Basically, YT will automatically play the next video once you're done with whatever you're watching. That's nothing new, but you can turn it off.
However, the Autoplay on Home is relatively new. That's where videos start playing before you do anything inside the app. Right from the main home screen videos just start going, without your permission. That's what these instructions will stop. If you like this new feature, at least set it to only play over WiFi, that way you don't go over your data limit.
Other Details
Autoplay videos are something we just have to deal with on mobile. It's something that happens on Instagram, Facebook, and now it's on YouTube. When you launch the YouTube app for Android or iPhone, videos instantly start playing on the landing page. As of right now, there's no sound, and Google adds captions, but that could change in the future.
Either way, follow our steps above and stop them before they start. Personally, I don't mind the videos playing on their own when I'm on a WiFi connection. So, I've changed my app to reflect that. Choose what works best for you. We'll update this post with more information or instructions as things change in the YouTube mobile app.
Before you go, here's how to download YouTube videos or music on Android, and here's what you need to know about YouTube TV.

As an Amazon Associate I earn from qualifying purchases.