How to Install the Android Q Beta 6 Right Now
Earlier this year Google released the Android Q beta for the Pixel, Pixel 2 and Pixel 3 family of phones. Now in August, they just released the 6th and final Android Q beta as they prepare for a global launch. The beta has support for over 23 devices from 12 different manufacturers. So, here's how to install the Android Q beta on your phone today, and a few other things you need to know.
This is Android Q or Android 10, and you can try it ahead of the late August release date. Keep in mind that this is early software, built for developers, but now that Google opened it up to devices from LG and OnePlus, it's pretty stable. Plus, Google considers this 6th version a "release candidate for final testing" so we're not expecting any trouble. Either way, here's how to get it right now.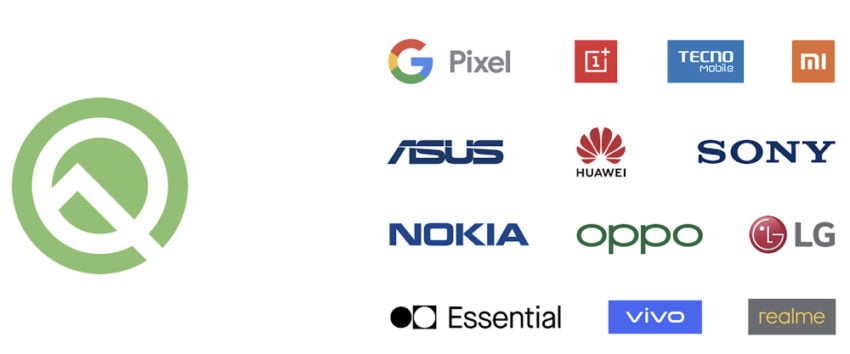 Update: The Android Q Beta 6 is rolling out now for the Pixel family of devices. This is the last and final beta before an official release of Android 10 later this month.
Android Q Beta Supported Devices
In total, Google opened the Android Q beta to around 23 devices from 12 different manufacturers. That's the 15 different devices mentioned below, and all 8 of Google's Pixel 1, 2, and 3 devices. Sadly, we're still seeing Samsung stay away from beta programs, which is disappointing.
Keep in mind that only Pixel devices can try the 6th beta, while the others are still a few updates behind. Here are the devices and links to get started.
If you have one of the phones mentioned above you can try Android Q right now. Click here for more information or keep reading. And yes, Google removed Huawei from the beta program.
How to Join the Android Q Beta 6 on Your Pixel
Each device has different instructions from their respective manufacturer. If you have a Pixel, Pixel XL, Pixel 2, Pixel 2 XL, Pixel 3, Pixel 3 XL or Pixel 3a the process is very simple. All you have to do is head to Google's beta program website. That's where you'll see what device you own is eligible to join the beta. You simply go to the site, sign in, opt-in to the beta and agree to Google's terms (basically saying this is unfinished software) and you're all set.
Instructions
Go to the Android Beta Program website
Sign into Gmail (if you aren't already)
Scroll down and find your list of eligible devices
Find the phone you want to use, then click the blue Opt-In button
Agree to Google's terms, and tap OK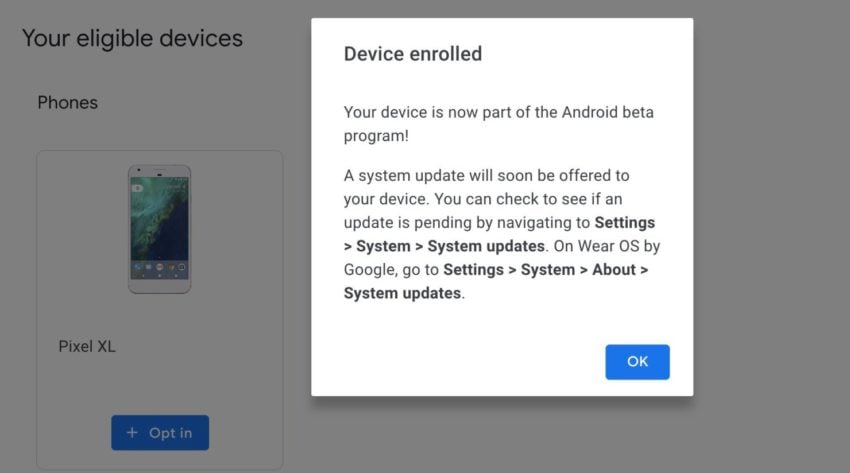 Now, just grab your Pixel phone and go to Settings > System (or similar) > and tap check for updates. You'll get the latest version of Android Q right on your phone. We recommend backing up your Android first, just to be safe.
If you're already enjoying the fourth or fifth Android Q beta, you'll get an automatic update and notification to install the Android Q beta 6 release. We already received the over-the-air update for the 6th beta, so expect it any moment now.
How to Manually Download and Install Android Q
If you're unable to join the beta, Google will still let owners manually install the software as they've always done. This is known as "side-loading" and it's not for the faint at heart. Honestly, we recommend most owners wait for the beta program, as it's all automatic. If you'd rather not wait, here are the links and info to download and install it yourself right this moment. (Updated links)
There are several different ways to manually flash the factory image files for Google's Android operating system. Whether that's with ADB, custom tools for flashing, or something else. Our guide has an easy method that works great for beginners, but again, we don't recommend any of this for beginners either.
Instead, we recommend you simply join the Android Q beta program, then wait for the OTA update notification like typical monthly software upgrades. It's faster, easier, and likely the safest method for trying a new version of Android. Plus, with the beta program, you're always on the latest release and you can easily unenroll and instantly revert back to Android 9 Pie.
Give Google's latest Android Q beta 6 a try right now, stay tuned for more details and check out our full what's new changelog and walkthrough of Q. Then, if you're facing problems here are a few tips. And yes, Pokemon GO and multiple banking apps finally work now on this 6th and final beta.

As an Amazon Associate I earn from qualifying purchases.