How to Downgrade the Pixel From Android Q Back to Pie
Here's how to downgrade your Google Pixel from the Android Q beta back to Android 9 Pie. Google recently released a preview version of Android 10, and a lot of people rushed to install it. Even the final Android Q beta 6 isn't perfect and has some problems, so here's how to revert back to Pie.
Remember, this is early software meant for testing, and it's not intended for average users to run every day. So, if you installed Android Q but now realize some apps or games aren't compatible or are having issues, follow these steps.
You can easily revert from Android Q back to Android 9 Pie. Then, just wait for the official Android 10 update which should be here around September 3rd.
Right now, you can try the recently released 6th beta, the last beta of Q, which fixed a lot of problems and is as feature-complete as it gets. After a slew of installation problems on both the 4th and 5th rollout, everything is running smoothly now. Yes, Pokemon GO and most banking apps finally work, too.
Luckily, Google makes it really easy to revert back to the last stable release, but that does come with one big compromise. This process will erase everything on your phone, so we recommend backing it up first. Again, Backup anything important from your phone, as downgrading to Pie will erase everything.
How to Downgrade Back to Android Pie
Open your browser and to www.google.com/android/beta (Back to the Android Q beta page)
Sign-in if necessary then click the View your eligible devices button
From here, simply tap the Opt Out button under the device you'd like to roll back to Pie
Then, confirm you'd like to proceed by clicking the blue Leave beta button
Now, wait for and accept the notification to download & install Android 9 Pie
Once you opt out and officially leave the beta everything is fairly simple and straight-forward. Your Google Pixel, Pixel XL, Pixel 2, Pixel 2 XL, Pixel 3, Pixel 3 XL or Pixel 3a should get a "roll-back" update notification for the most recent (August) Android 9 Pie update within 24 hours.
This works the same way you as any software update, or how you upgraded to Android Q. Google will send your device an over-the-air (OTA) update notification. Just click "download and install" on that notification and the phone will automatically download, install, and reboot back on Android 9 Pie. All you have to do is accept the file. Here's a note from Google about the process:
"You are about to remove this device from the Android Q Beta program. If your device is running a beta version of Android, it will be sent an OTA update that will wipe all data on the device and install the latest stable public version of Android."
Personally, I got the update within 2 minutes of clicking the opt-out button. Basically, be ready to either do it right away or wait a little while for the system to process your request.
No Opt Out Button Available?
Depending on how you installed the Android Q beta you may or may not have the option to actually opt out from the Android beta website. If you manually installed Android Q with factory images, or downloaded and flashed the OTA file the "Opt Out" button might simply say "Opt In" instead. Don't worry though, we'll fix that.
If so, go ahead and tap the Opt In button and wait a minute or two, then refresh the web page or even reboot your phone. Now, the system should register that you have Android Q and you'll see the opt-out button as shown above. Follow the steps to opt out, get the downgrade file, and proceed as usual. If it doesn't register and change to Opt Out, reboot your phone, refresh your browser and try again.
Keep in mind that these instructions are for Google's Pixel devices and nothing else. If you're trying the beta on an LG G8, OnePlus 7 Pro or other devices, you'll have to follow their own instructions. Basically, make sure you're ready to handle the results of installing early beta software.
Let us know how the process goes in the comment section below. And, if you'd like, you can try this guide of Android Q problems and fixes first before you uninstall this test version of Android 10. If the problems are minor, consider just waiting for the global Android 10 release date which is right around the corner.
Google Pixel Android 10 Update: 3 Things to Expect & 4 Not To
Pixel Android 10 Release Date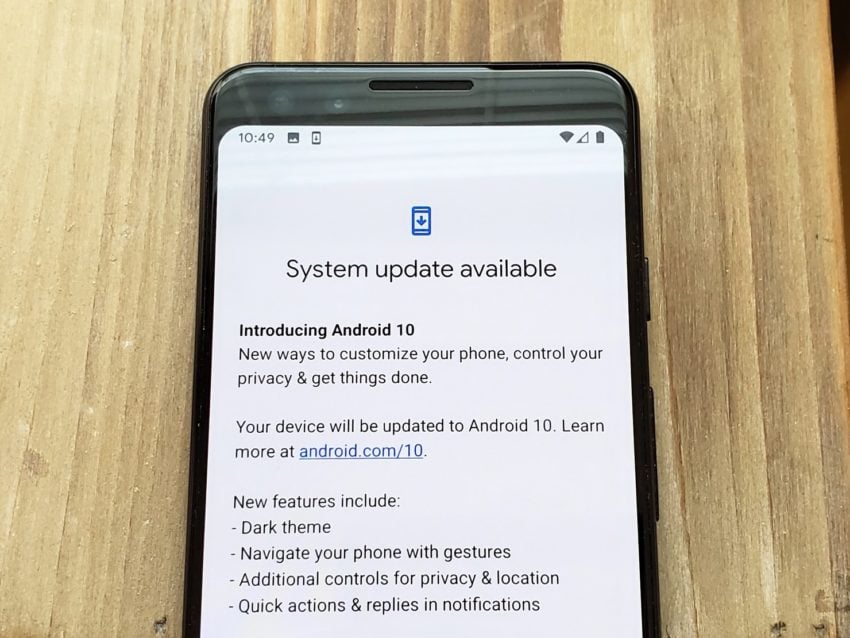 In August Google released the 6th and final beta of Android Q then changed the name to Android 10 and released it on September 3rd around the globe.
Now that the update is finally here you'll want to know all about it. You can manually check for updates, wait for the over the air update notification on your phone from Google, or follow these steps to get Android 10 right now.
The official release date is September 3rd, but don't be surprised if you don't get it right away. While most people got the update immediately, we've seen it take 24-48 hours, or over a week for some. Basically, if you didn't get it yet don't panic, it'll come soon enough.