How to Join the Galaxy S9 Android Pie Beta
If you want to try Samsung's Android Pie update before January you'll need to signup for the Android Pie and One UI beta.
Samsung's finally talking about its Android 9.0 Pie plans and they include a beta for select devices in select regions around the world.
Signing up for the Galaxy S9 Android Pie beta only takes a few moments and it will put you in line to try Samsung's new features and UI before the official version is pushed to the Galaxy S9 and Galaxy S9+ in January, 2019.
If you own a compatible Galaxy S9 or Galaxy S9+ and want to join the Android Pie beta, here's what you need to do.
How to Signup for the Galaxy S9 Android Pie Beta
If you want to try Android Pie and the new One UI early, you first need to download the Samsung Members app, known as Samsung+ in North America. You can download the appropriate app via the Galaxy Apps store or through the Google Play Store.
Samsung's added support for the beta to its Samsung Members and Samsung+ applications. To get support for the beta, you'll need to download the latest version of the app.
Once you do that, launch the Samsung+ application, select "One UI Beta Program Registration" and submit your Galaxy Beta Program application form. If the beta isn't live in your region for your Galaxy S9 model, you won't see these options yet.
If you have a Samsung Account and meet all of Samsung's participation criteria, the registration process will complete. If you don't have a Samsung account, you can create a new one through Samsung's website.
Once the beta is live in your region you'll need to head into your Settings and go to Software update > download updates. If the Android Pie beta is available, you can manually install the update onto your device. If nothing is there, you'll need to remain patient.
The Samsung Galaxy S9 Android Pie beta is now available in the United States, Germany, United Kingdom, and South Korea, but the company plans to extend the beta to other countries before the end of the year. Upcoming markets include China, France, India, Poland, and Spain.
Samsung hasn't confirmed a date for those regions, but expect them to arrive in late November or early December as Samsung ramps up testing ahead of the update's official release in January.
The Galaxy S9 Android Pie beta is plagued with bugs and performance issues and beta testers who see problems should make it a point to report them back to Samsung so its engineers can improve the software for the final release. You can do this via the Samsung Members app or Samsung+.
Beta testers also also strongly encouraged to backup their files before downloading the software. You can use Samsung's Smart Switch to do so.
Prospective beta testers should also download the latest app updates so that they function properly while running Android Pie beta software.
For more on the Galaxy S9 Android Pie beta, please check out our full guide.
4 Reasons Not to Install Galaxy S9 Pie Beta & 13 Reasons You Should
Install the Galaxy S9 Pie Beta to Help Samsung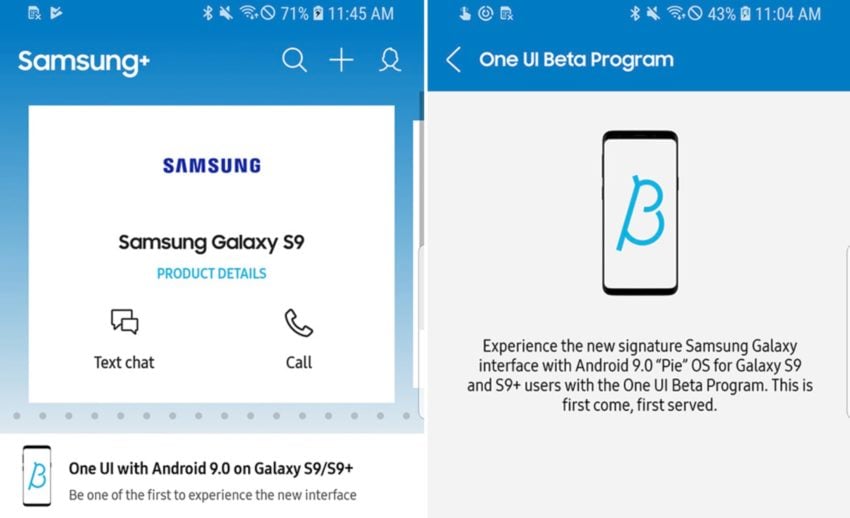 Trying new features before they're officially released is fun, but your testing will help Samsung improve Android Pie's performance for many others.
If you're sick and tired of dealing with Android problems on your device, think about trying the Android 9.0/One UI beta on your phone.
Your testing could help Samsung's engineers squash bugs and major performance issues before the official version is released to millions of Galaxy users in January.
Reporting bugs is extremely easy and your feedback, no matter how small, could help the company provide a much better experience for all Galaxy S9 users come January.
To send feedback about the Android Pie beta, you need to launch the Samsung+/Samsung Members and post your bug report(s) under the appropriate menu.
It only takes a few minutes and it could have a huge impact on the quality of Samsung's new operating system.