How to Move Apps to the Galaxy S9 MicroSD Card
This guide explains how to transfer apps to the Galaxy S9 microSD card and free up space. That way your phone isn't running out of storage space. We'll explain a few reasons why you should do this, then recommend some of the best microSD cards.
Samsung's Galaxy S9 and S9+ have 64GB of storage built-in. That's twice as much as older Samsung devices, but you can still quickly fill it with apps, games, music, and movies. Then, run out for important things like photos or recording video.
Read: Top 10 Galaxy S9 Settings to Change Today
The process to move apps is simple and shouldn't affect anything on your phone. Apps will work the same, games will open fast, and nothing will change. Considering you can have over 300GB of space on the Galaxy S9, this is a good step to take. Follow our video and instructions below to learn how.
How to Move Apps to the Galaxy S9 MicroSD Card
First, install a microSD card in your phone by using the SIM card removal tool that came in the box. This gives you access to the SD card and SIM slot. Once that's done, head to settings and follow these steps.
Open Settings by tapping the gear-shaped settings button from the notification bar
Scroll down and select Apps or Applications
Select to Show All Apps from the drop-down menu at the top left (as shown below)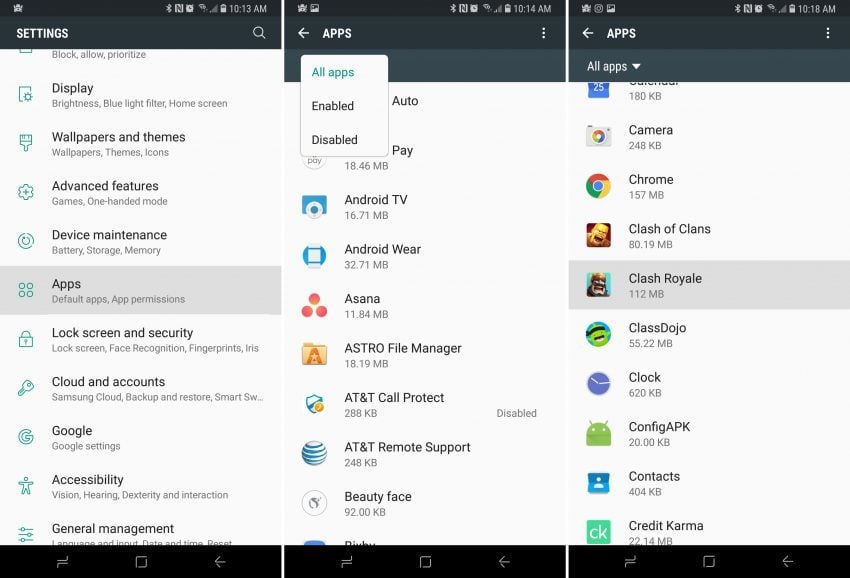 From here, you'll see a list of all the apps on your phone. One by one you'll have to tap on an app, select storage, and move it to the SD card. We recommend starting with the biggest apps first, then doing everything else after.
Find and Select an App from the list
Tap the third option labeled Storage
Where it says "storage used, internal storage" click the Change button
Choose your MicroSD card from the pop-up menu
Confirm by selecting Move at the bottom right, wait for it to export
Repeat steps for any app you'd like to move (or that is eligible)
Depending on the size of the application the process takes about 3-5 seconds per app. As you can see, there's no easy way to do them all at once. Sadly you must do it one at a time. That said, transfer as many apps or games as you can to your Galaxy S9 microSD card.
More Details
If an app is grayed-out, you can't move it. These are not supported and must remain on internal storage. However, here's how to disable those apps if you don't want to see them. Almost everything you download yourself is transferable. You can't transfer apps that already came pre-installed the day you took the phone out of the box.
Read: 10 Cool Things the Galaxy S9 Can Do
Keep in mind that any app or game you move to the SD card will only work if the SD card is inside the phone. If you take it out, they won't load or run. In closing, make sure you buy a quality microSD card, not the cheapest option you find. Especially if you're moving big apps and games to the expandable storage. Below are some of the best options around. We recommend a class 10 microSD for the Galaxy S9. Drop us a comment below with any questions or concerns.
Best MicroSD Cards for the Galaxy S9
Samsung 64GB EVO+ MicroSD
MicroSD cards are extremely affordable these days, meaning there's no reason not to buy one. They're no longer $200-$300 like they were a few years ago.
As a result, our first recommendation is a 64GB card. You can get one for less than $25 and it's all most owners will ever need. Giving you a combined total of over 120GB of storage on your Galaxy S9. Keep in mind the actual available space will be less after formatting, apps, photos, and the OS taking space on your device.
Additionally, we recommend only buying a card that is "Class 10" or says "UHS-1 or UHS-II" if you want the best performance. Class 10 gets visualized by a small circle with a 10 printed inside it right on the card. Our image above shows the "U" branding for UHS.
Here in 2018 most should say that or the new "A1" standard. Samsung's card delivers these speeds at a wallet-friendly price point. If you buy at the right time, an excellent card like this Samsung 64GB microSD chip can be found for under $20 online, or around $50-75 at local stores.
Buy it Now for $24 on Amazon (or get a SanDisk for $21)

As an Amazon Associate I earn from qualifying purchases.