How to Play Madden 19 Now
The Madden 19 release date is August 7th if you buy the special edition, or August 10th for everyone, but you can play Madden 19 early without spending $20 more for the Hall of Fame edition with MUT extras. This starts today.
With EA Access you can play Madden 19 early on Xbox One and with Origin Access you can play early on PC. This is not a Madden 19 demo, but it's as close as you'll get to one since EA does not offer Madden demos anymore. This is the only way to play Madden 19 early, and you won't find it on PS4. You don't need to pre-order Madden 19 to play early.
You need EA Access or Origin Access to play Madden 19 early. This is $4.99 a month or $30 for a year. You get access to early trials and you also get access to full versions of older EA games. With the more expensive Origin Access Premier on PC you also get the full versions of all the new EA games this year including Madden 19 as long as you are a subscriber.
With EA Access or Origin Access, you save 10% on EA purchases including Madden 19 and Coins for MUT. You can also check out the biggest Madden 19 deals to save big, including an option to get Madden 19 for as little as $16 with a trade-in.
Early Madden 19 Release Date & Time
Typically EA Access delivers a five days of early access, and last year we saw this start ahead of the special. That means you will be able to play Madden 19 early on August 2nd. Typically this starts around 10 AM Pacific, 1 PM Eastern, but you can already download this now.
Last year the game arrived a day early, so pay attention during the first week of August since you may be able to play the game earlier than expected.
How to Download the Madden 19 Trial
You need to be signed up for EA Access or Origin Access and then you will be able to open the EA Access app on your Xbox One or Origin app on your PC. You should see a trials section that will list the Madden 19 download when it is available. This is the easiest way to download the early Madden 19 trial.
You can also look in the Xbox Store. You should see an option to download the Free Trial instead of buy Madden 19. If you see this, you can download Madden 19 directly to your console.
Expect a Madden 19 download size around 41GB.
10 Hour Madden 19 Trial
With both of these options you can play Madden 19 for 10 hours. This is a trial, and not a way for you to play Madden 19 for the whole year. You will be able to play for this period of time, and it does not need to be in one session.
You need to make sure you quit the game completely so that your time does not keep running with Madden 19 on in the background. Go to the Xbox dashboard and manually quit the game when you are done.
Madden 19 Trial Bonus
If you have EA Access you get to play Madden 19 early, and you can get a bonus that carries over to the full game. If you play between August 2-6, you get a free Elite Player Fantasy Pack. This will give you a head start on your Ultimate Team for Madden 19.
No early Madden 19 Pre-Load
We never see an option to pre-load the early Madden 19 trial. You shouldn't expect to be able to download the trial until it actually arrives. You can likely start this from the Xbox App remotely if you are not home.
The good news is that this acts as a pre-load for Madden 19 when the full release date arrives. You may need to download a patch or update, but in most cases you can put the disk in and start playing.
Almost Full Madden 19 Game
EA used to promise the full game, but last year they did not include the full version of Longshot, which is the story mode for Madden. We expect that will be the same this year as EA wants you to buy the game for that experience instead of rushing through it.
The rest of the Madden 19 trial is the full game including all modes and options that you get with the game. This lets you test out all of the options ahead of the release, and you can decide if you want to buy it.
All of your progress carries over to the full game, so it's a handy way to get a head start on learning the controls, the new Madden 19 features and getting an edge in Madden Ultimate Team.
3 Reasons to Buy Madden 19 Now & 2 Reasons to Wait
Buy if You Love Madden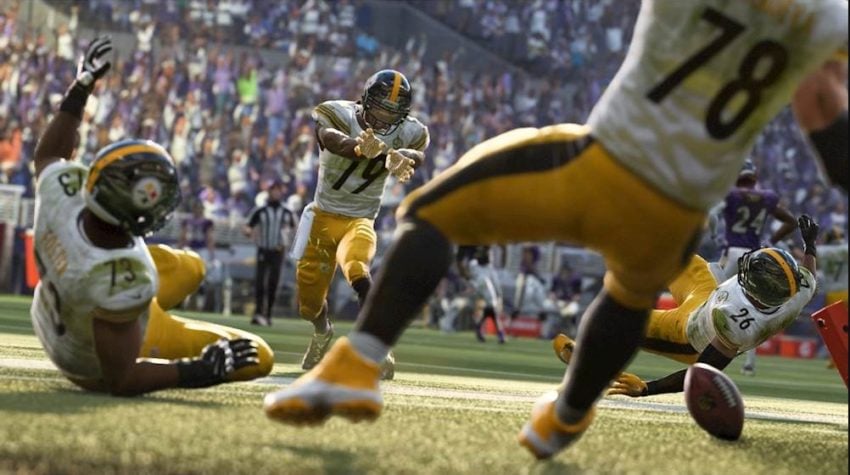 If you play Madden games all year long, grinding through Ultimate Team Challenges, playing your friends online and working through Connected Franchise Mode and squeezing every dollar you paid out of the game -- by Madden 19 now and get started.
The new Madden 19 features include new Ultimate Team modes, new MUT Squads against the computer, Connected Franchise upgrades and graphical changes. Also new this year is Real Player Motion which will upgrade your running abilities and allow you to get more done on the ground.
While some game companies are completely changing things around EA isn't messing with the proven formula of Madden dramatically this year -- they made the right changes and it's a winner.

As an Amazon Associate I earn from qualifying purchases.