How to Prepare for the OS X Yosemite Release Date
The OS X Yosemite release date is fast approaching, and if you plan to upgrade and take advantage of all the new features you can start with some simple preparation now to make the wait a little more bearable and to prepare your Mac for the OS X Yosemite release.
These early tips will help you make sure that your X Yosemite upgrade is smooth and will focus on very basic tasks that any Mac user can do today. Not all of these tips are things you need to do on your computer right now, but there are important steps to preparing for the OS X Yosemite release the right way.
The Gotta Be Mobile staff is performing many of these steps today in the anticipation of a quick OS X Yosemite release date.
Apple announced OS X Yosemite in June and is in the middle of a developer preview and a public OS X Yosemite beta ahead of the official OS X Yosemite release date that we expect later this month. Apple hosts an event on October 16th, which could usher in the start of the OS X Yosemite release.
OS X Yosemite is a free update that runs on many Apple computers including the MacBook Air, MacBook Pro, Mac Mini, Mac Pro and more. The update arrives in the Mac App Store on the OS X Yosemite release date allowing users to download the update with their Apple ID.
Is Your Mac Compatible with OS X Yosemite
The odds are very good that your Mac will run OS X Yosemite, even if it is pretty old. The iMac from 2007 and MacBook Pro from 2007 are the oldest Apple computers that run OS X Yosemite, which is great news for Mac owners.
iMac (Mid-2007 or later)
MacBook (13-inch Aluminum, Late 2008), (13-inch, Early 2009 or later)
MacBook Pro (13-inch, Mid-2009 or later), (15-inch, Mid/Late 2007 or later), (17-inch, Late 2007 or later)
MacBook Air (Late 2008 or later)
Mac Mini (Early 2009 or later)
Mac Pro (Early 2008 or later)
Xserve (Early 2009)
The list comes from Ars Technica as Apple did not announce any official OS X Yosemite compatibility list. Keep in mind that older Macs may not run OS X Yosemite as well as newer devices so if you own an old notebook you may want to wait for reviews.
Backup Your Mac
There is always a small chance that something will go wrong with an update like this, and it's a good idea to make sure you have a current backup to Time Machine or another service.
If you are already using Time Machine you should be able to click on the small Time Machine logo near the clock and choose verify backups to make sure the backup is working. Here's more on how to test your Time Machine backups.
Prepare for a OS X Yosemite Clean Install
You can install OS X Yosemite right form your computer, keeping all of your files and data, but if you want to perform an OS X Yosemite clean install you'll need a thumb drive.
To perform a clean install of OS X Yosemite you'll need a 8GB or larger thumb drive. This is essential to making a OS X Yosemite clean install boot drive, and if you don't have one you should order one today to get ready. You can buy a [easyazon_link cloaking="default" keywords="8GB USb Drive " localization="default" locale="US" nofollow="default" new_window="default" tag="gbm-ea-20″]8GB USB Drive for around $7 on Amazon. [/easyazon_link]
Clean Up Your Mac
It's a good idea to use this as a time to clean up your Mac, especially if you don't want to perform a clean install of OS X Yosemite. You can start by uninstalling apps you no longer use or need. Another good idea is to delete old iTunes backups to free up space.
Disk Inventory X is a good solution to see what files are using the most storage space on your Mac. It is a free tool that will show you the biggest files and folders so you can manage your storage easily.
You'll need at least 8GB of space to install OS X Yosemite based on earlier updates, so make sure you have that much free now.
Make Sure Your Apps Work on OS X Yosemite
We all have several important Mac Apps that we need to use every day. it's a good idea to check if your apps will work on OS X Yosemite. If you use your Mac at work this is an even bigger deal.
Contact the company that makes the app through support  or on Twitter or Facebook to check, or you can use this listing of OS X Yosemite compatible apps to see if all of your important tools and software work on the update.
Get Familiar with OS X Yosemite Features
It's a good idea to check out the new OS X Yosemite features that are coming ahead of the release. You can see some of the most exciting OS X Yosemite features below. After installing OS X Yosemite your Mac and iPhone will connect in new ways so you can take calls, respond to texts and easily start editing a document or finish an email you started on the other device.
OS X Yosemite Release & Feature Roundup
New OS X Yosemite Design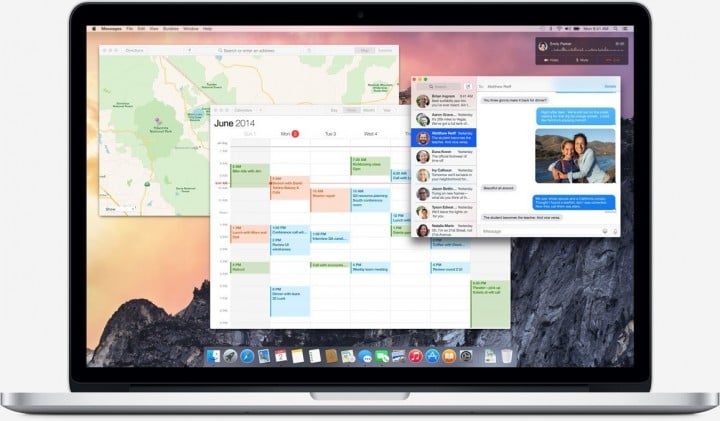 The biggest change in OS X Yosemite is the new look and design. Similar to the visual upgrade the iPhone and iPad received last year this free OS X update brings a new, but familiar look to your Mac.
Apple's new look for OS X Yosemite starts with redesigned buttons, windows and elements. You won't be lost when you open Yosemite, but you will notice a cleaner overall design. There are now translucent areas in some apps that show a blurred view of what's behind and the toolbars are now less cluttered and more useful.
Apple also changes the OS X Yosemite dock and system fonts to make OS X Yosemite look better on a Retina display. Notification Center and Spotlight are also new, which we cover in more detail below.
The OS X Yosemite video above walks through the various changes to OS X Yosemite design.