How to Reset Your Galaxy S6 Before You Sell It
In this guide we'll show you how to safely erase and reset your Galaxy S6 before you sell it. You'll also want to follow these steps if you're trading in the Galaxy S6 for a new phone, like the Galaxy S9. These are important steps like clearing out any personal data and erasing the phone. This way the new owner can't access any of your information. Each step also applies to the Galaxy S6 Edge.
There are a few different steps you need to take, but one of the most important ones is a factory data reset. This erases everything from your device. Not before you backup pictures and messages, of course.
Read: How to Backup Android in 5 Easy Steps
Our smartphones have a lot of sensitive information we don't want getting into the wrong hands. Think about it. Everything from banking logins, to your Google account. Backing up your data and erasing the Galaxy S6 is easier than you think. It only takes a few minutes using our instructions below.
How to Prepare Your Galaxy S6 For Sale
Backup your messages, photos, videos and downloads
Sign out of your Samsung account (if applicable)
Factory Data Reset your Galaxy S6 (erase everything)
Remove SIM card
Backup your Galaxy S6
For starters, you'll want to backup anything and everything that's important. We've put together a quick guide that will help you backup your phone. Then, if you already have your new phone this process is even easier. Especially if you have a new Galaxy, as Samsung's SmartSwitch app does everything for you. Get it from our links below. Use SmartSwitch to transfer everything. Once you're done, you can delete your entire phone in under 5 minutes and trade it in or put it up for sale.
With SmartSwitch, you basically open Samsung's app on both phones, connect the two with a USB cable as shown in the on-screen prompts, and hit go. It literally does everything for you with easy to follow instructions.
Read: How to Backup & Erase Your Galaxy
If you don't have a new phone yet but want to be prepared you can do that too. Simply use the PC or Mac version of SmartSwitch to back up your Galaxy S6 to a computer. That way you have everything ready for later. We've put together a guide on backing up your information and deleting your old Galaxy phone in our link above. Click that, and follow the instructions.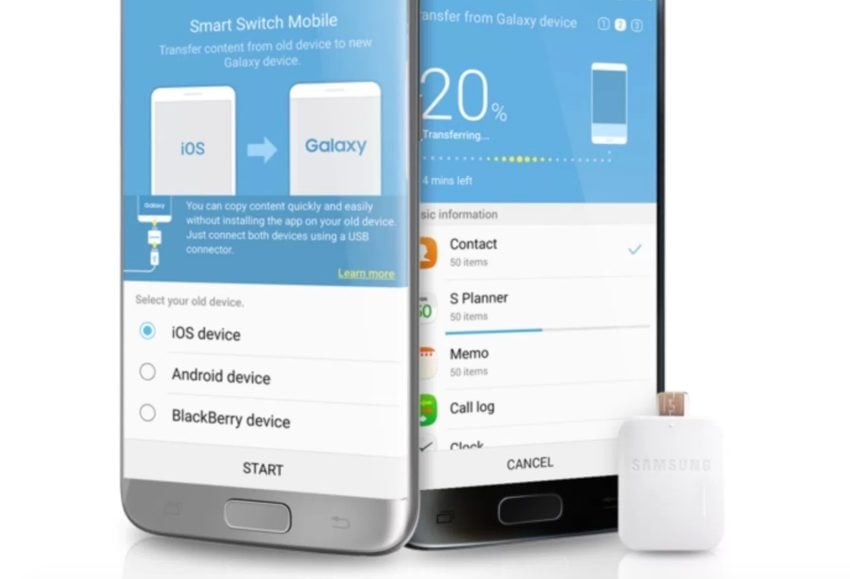 If you want, you can open important apps like Lastpass or your banking app to sign out of everything, but you really don't need to. That's because the factory data reset (our next instructions) erases anything and everything. Meaning signing out isn't necessary.
How to Reset Your Galaxy S6 Before You Sell It (Factory Data Reset)
Once you backup everything and sign-out of any apps, you can erase the entire phone. You can erase every aspect of your Galaxy S6 with just one tap, it's really easy. In settings, every phone has something known as a "Factory Data Reset".
This next step erases everything and puts it back to a factory out-of-the-box state. Basically, the way it was the day you got it. No apps, games, accounts, or anything. A clean and empty phone ready to sell.
Head to Settings in the app tray, or by tapping the gear-shaped settings button in the notification bar
Scroll down to General Management
Tap on Reset, then choose Factory Data Reset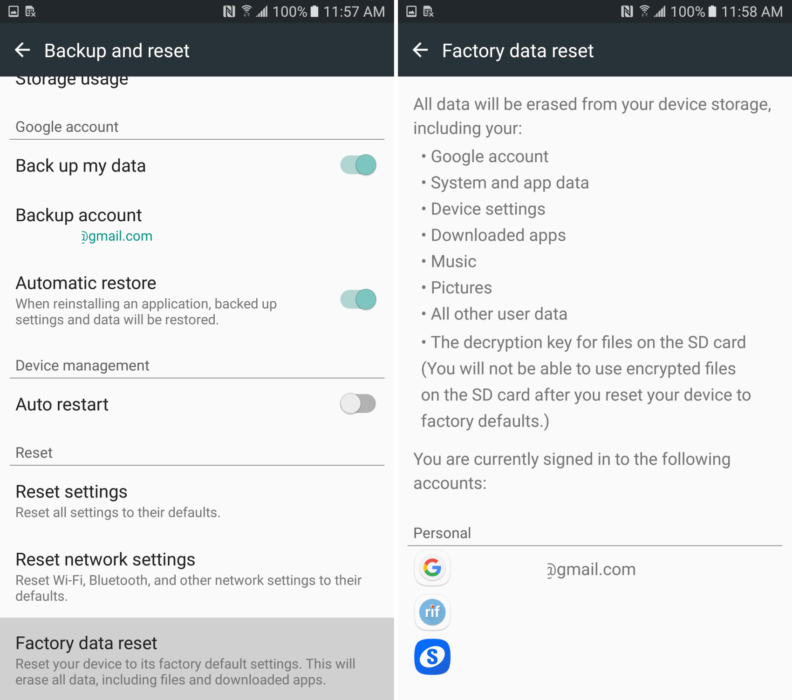 You might find this under Settings > Backup & reset > Erase depending on which version of Android you have.
Now you'll see a list of every app, service, or account active on the device. Scroll to the bottom and tap the blue "Reset Device" button and you're all done. The Galaxy S6 will turn off, go into maintenance mode and erase everything, then reboot about a minute or two later. Ignore the weird writing and stuff you see on the screen, and let the process finish.
We're all done, and your Galaxy S6 is empty and good as new. Well, at least on the software side of things. You should see the setup screen like the day you bought the phone. It's now ready for a new owner, and you don't have to do anything else.
Remove Your SIM Card
Before you trade-in the phone, or sell it, take out your SIM card. This little chip is what you use to connect to Verizon or T-Mobile, and you can't make calls or send messages without it. A SIM card is how your phone number connects to your phone.
Use the SIM card removal tool that came in the box, or a pin (needle) and push it inside the hole on the right side of your Galaxy S6. A tray will slide out with your SIM card. Remove it, put the tray back, and turn off your phone. Take note, the SIM slot is on the top if you have a Galaxy S6 Edge. Now, we're 100% done, and you can sell your phone.
You've successfully backed up your information, and safely erased your Galaxy S6. Now it's back to the stock software, clean of anything, and ready for a new owner to enjoy. Go ahead and trade it in, or sell it to save up for the Galaxy S8 or the new Galaxy S9.
If you have any questions about this process let us know in the comment section below.