How to Quick Launch the Galaxy S8 Camera
This guide will explain how to quick launch the Galaxy S8 camera in less than a second. Allowing users to easily take photos without missing the moment. Instead of fumbling through the home screen or application tray trying to find the camera.
Many don't know this, but on the Galaxy S6 and S7, the camera was fast and easy to use by just double-tapping the hardware home button. Launching from inside an app or even when the screen is off.
Read: How to Speed Up the Galaxy S8 in 3 Easy Steps
Samsung changed this quick and convenient shortcut because the Galaxy S8 and S8+ no longer have a physical home button.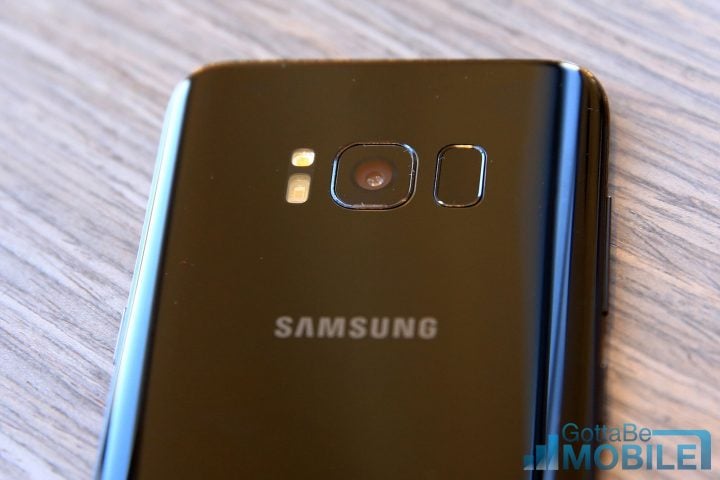 How to Enable Galaxy S8 Quick Launch Camera
The Galaxy S8 will quickly launch the camera if you double tap the power button. After the first time doing so, a pop-up will let you choose to keep on or turn off this shortcut.
However, most Galaxy S8 owners are quick to dismiss these pop-ups and may have turned the shortcut off. Here's how to turn it back on.
Instructions
Pull down the notification bar and tap the gear-shaped Settings button (or find Settings in the app tray)
Select Advanced Features
Tap Quick launch Camera to enable it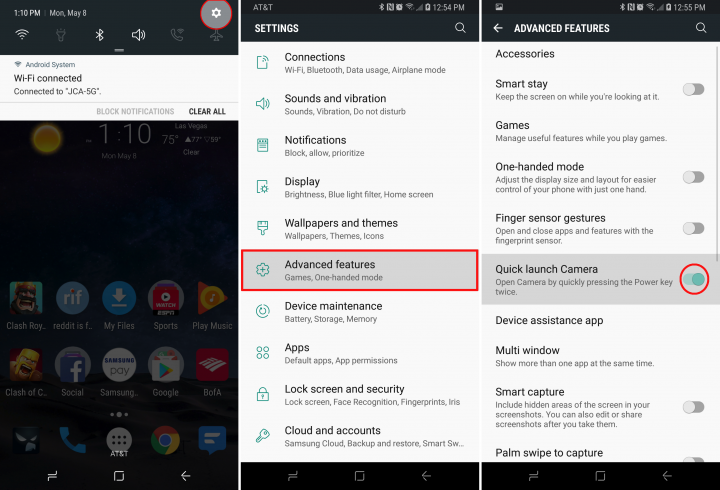 Additionally, there's a settings menu inside the camera app with even more options. Launch the camera and look for that same gear-shaped settings button on the corner of the display. From here you can change the picture size, video quality, autofocus, add a timer, shutter voice controls and yes, the option for Quick launch camera.
Toggle it on or off here or with the instructions above. While you're in camera settings feel free to change the storage location to your microSD card. Or try out the new floating camera shutter button to easily take selfies.
If you don't have a microSD card down below is a slideshow of the best microSD cards for the Galaxy S8.
Best MicroSD Cards for the Galaxy S8
Samsung EVO+ 64GB MicroSD Card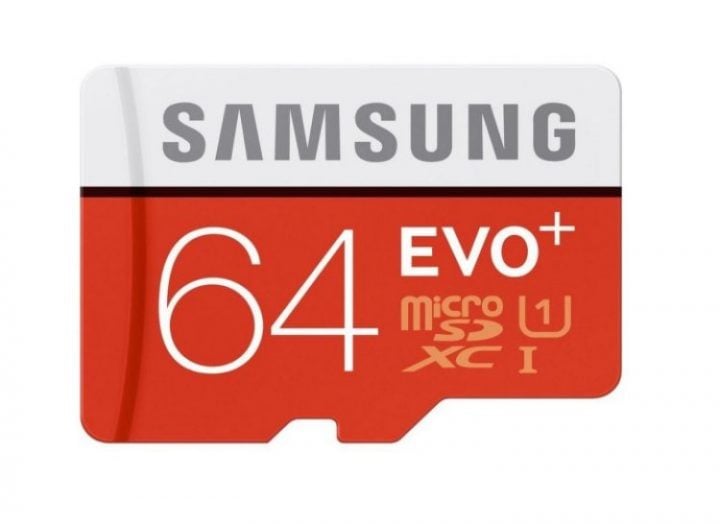 Just a few years ago a 64GB microSD card would have been extremely expensive and out of reach for many. However, these days storage is really cheap. While some may want to just get an extra 32GB for their phone, it's more cost-effective to get a 64GB card instead.
For less than $20 you can get a 64GB microSD card and have 128GB of storage on the Galaxy S8. All while being less than buying the highest storage model of the iPhone 7. Keep in mind the actual available space will be less after formatting, apps, photos, and the OS taking space on your device.
We recommend only getting a card that is "Class 10" or says "UHS-1 or UHS-II" if you want the best performance. Class 10 is visualized by a small circle with a 10 printed inside it right on the card. Our image above shows the "U" branding for UHS. In 2017 most should say that or the new "A1".
Samsung's own 64GB EVO+ Class 10 card is first on our list. It's not too big and not too small. All while delivering fast performance for apps or games, and recording high-quality video. This is a great way to add more storage than you'll ever need without breaking the bank.
If you do some research, an excellent card like this Samsung 64GB microSD chip can be found for under $20 online, or around $50-75 at local stores. So again, don't over pay.
Buy it Now for $27 on Amazon (or get a SanDisk for $23)

This article may contain affiliate links. Click here for more details.