How to Speed Up the Galaxy S8 in 3 Easy Steps
Whether you just bought the Galaxy S8 or have owned it for a year, we'll show you how to improve performance and speed up the Galaxy S8 in three easy steps. While Samsung's phones are powerful, they often start to slow down the longer you own one. This trick can fix software lag and improve your phone in general.
There are several different ways to change or improve the Galaxy S8, but most of them are really advanced hacks. This trick is so simple anyone can do it, and it only takes a few minutes at the most.
Read: 15 Common Galaxy S8 Problems & How to Fix Them
You'll need to start by enabling a developer options menu that's hidden by default, then change three settings on the phone by following our instruction video below. This process is completely safe and won't hurt anything or void your warranty. Try it today.
How to Speed Up the Galaxy S8
Pull down the notification bar and tap Settings (the gear-shaped button)
Scroll to the bottom and hit About Phone
Tap where it says Build Number 7-8 times
This will unlock the hidden developer menu. Next, change these three settings.
Hit Back and select the new Developer Options from the settings menu (near the bottom)
Scroll about halfway down until you see Windows Animation Scale
Change Windows animation scale, Transition animation scale and Animator duration scale to 0.5x
Out of the box, these are all set at 1x. All three settings control animations on the Galaxy S8. Like windows fading away as you swipe or hit home, and other effects. It's what makes Android look pretty. Setting it to 0.5x cuts the time, animations and effects all in half. Windows open faster, you can flip through the settings menu quicker and the entire phone should now be buttery smooth.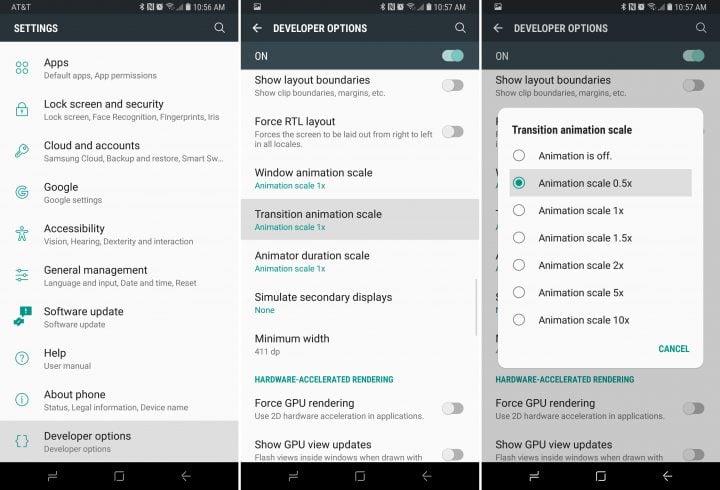 This is an old trick on Android but it still works great. In fact, share this with your friends as it works for any Android smartphone or tablet, even on the new Galaxy S9. Some may even turn these three settings off completely, to zero, for even better performance and potentially increased battery life.
Read: How to Fix Bad Galaxy S8 Battery Life
It's worth mentioning that some of these animations are what make Android look and feel the way it does. So changing it to 0 might make too big of an impact. Which is why we recommend 0.5x for a perfect middle ground of speed and visuals.To finish just reboot the Galaxy S8. You'll instantly notice better performance with everything you do on the phone.
Free Up Space
We also recommend doing a "spring cleaning" of sorts. Basically, freeing up space by clearing old, unused, or bloated files on the device. Especially after the update to Android 8.0 Oreo earlier this year. So, here's how to free up space on the Galaxy S8 and get better performance.
Use Performance Mode
And finally, use Samsung's performance modes to get better performance. And while this could lower battery life, you'll notice the boost. Samsung's performance mode options increase the responsiveness of the phone, turns up the brightness, gives the screen a higher resolution and tweaks a few other settings.
Here's everything you need to know about the Galaxy S8 Performance Mode. Changing the animations is our first recommendation, but these three things combined will deliver a better experience on your phone. Old or new.
While you're here, take a look at some great cases in our slideshow below.
25 Best Galaxy S8 Cases
Samsung Clear View Standing Case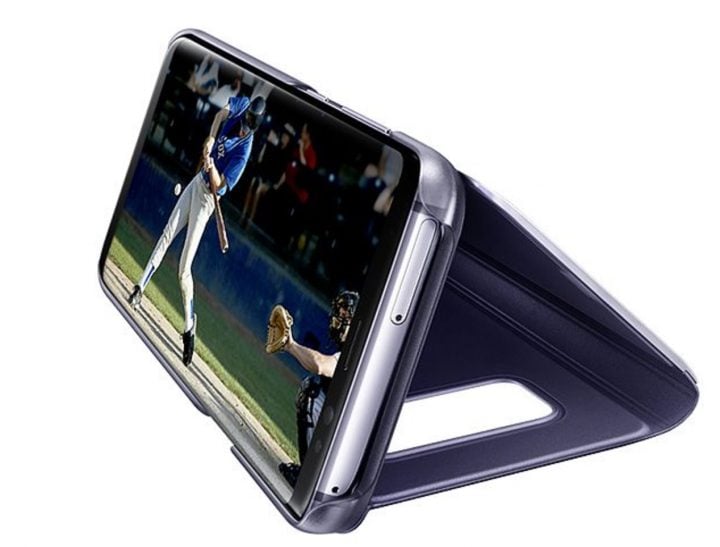 First, are a few Samsung cases then we'll move on to some of the more popular (and cheaper) brands available. As we see every year, Samsung has a decent select of great cases and accessories for the Galaxy S8 and Galaxy S8+.
Our favorite among them is the Clear View Standing Cover. It doubles as a kickstand and folds closed to protect the screen. When shut, the clear front displays the time, date, or battery levels. It's expensive but one of the better cases available.