How to Reset a Frozen Galaxy S7
This quick guide will explain how to reset a frozen Samsung Galaxy S7 and S7 Edge. Both phones are nearly two years old but are still very popular, even if they are slowing down. The Galaxy S7 doesn't have a removable battery, meaning you can't pull out the battery if it's frozen or unresponsive.
Learning how to reboot your phone will save you lots of trouble when facing other problems. Instead of going to a carrier store for help a reboot will fix almost all minor issues.
Read: How to Move Apps to the Galaxy S7 MicroSD Card
On older Samsung Galaxy phones you could pull out the battery if the phone was acting up, that's no longer an option. Instead, you'll need to do a hard reset by pushing a few buttons in a specific order. With these phones starting to show signs of age, this is one trick all owners will want to know.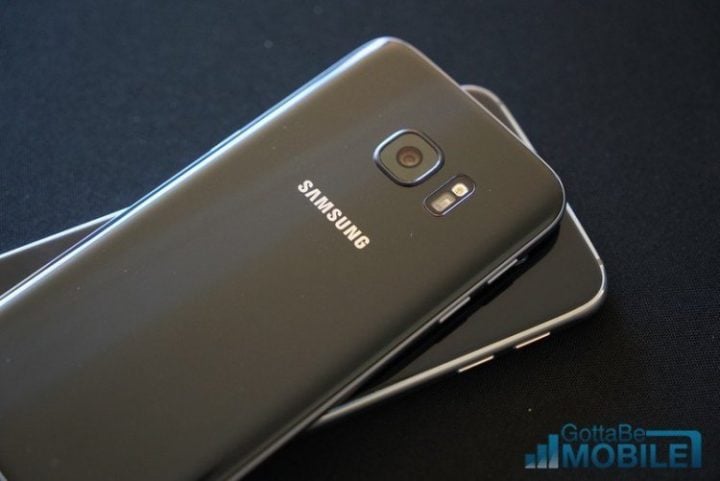 How to Reset a Frozen Galaxy S7, S7 Edge
Those paying attention during setup may have actually seen the tip for how to reboot a frozen Galaxy S7, as Samsung mentions it. If not, here are the quick and easy steps to do it yourself. As a reminder, this will not erase any data or content on your phone.
"If your device is unresponsive, press and hold the Power key and the Volume down key simultaneously for more than 7 seconds to restart it."
All owners need to do is press the power and volume-down buttons at the same time, and hold both down for 7-8 seconds. Push, hold, and wait. After 7-8 seconds the Galaxy S7 or Galaxy S7 Edge will vibrate, turn off, and reboot. This should resolve most problems.
For some, the Galaxy S7 may reboot into a maintenance mode like what's shown in our image below. In this case, use the volume keys to navigate the on-screen menu and the power button to select reboot. Highlight restart and hit the power button to restart your phone.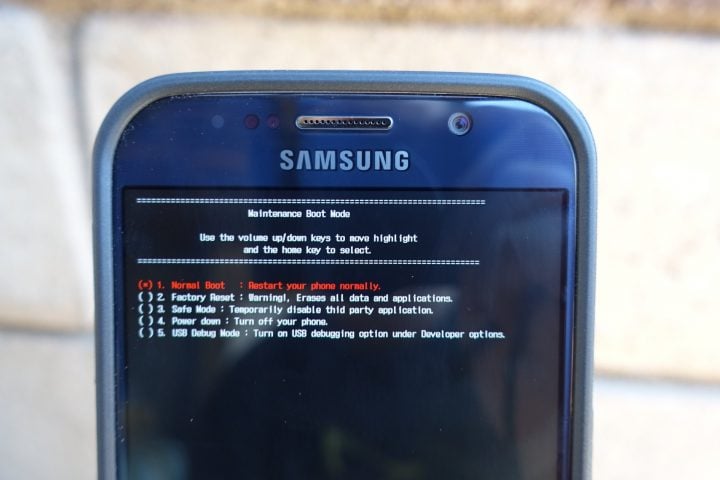 Read: 10 Common Galaxy S7 Problems and Fixes
That is all you need to know about doing a quick reboot or reset on the Samsung Galaxy S7 and Galaxy S7 Edge. These same steps work for the Galaxy S6, S6 Edge, Note 5 and the Galaxy S6 Edge Plus. Additionally, a similar process reboots new Samsung phones too. Good luck, and drop us a comment below with any other questions or concerns.
While you're here take a look at some of the best Galaxy S7 Edge cases from our slideshow below.
20 Best Galaxy S7 Edge Cases
Galaxy S7 Edge S-View Flip Cover (Clear)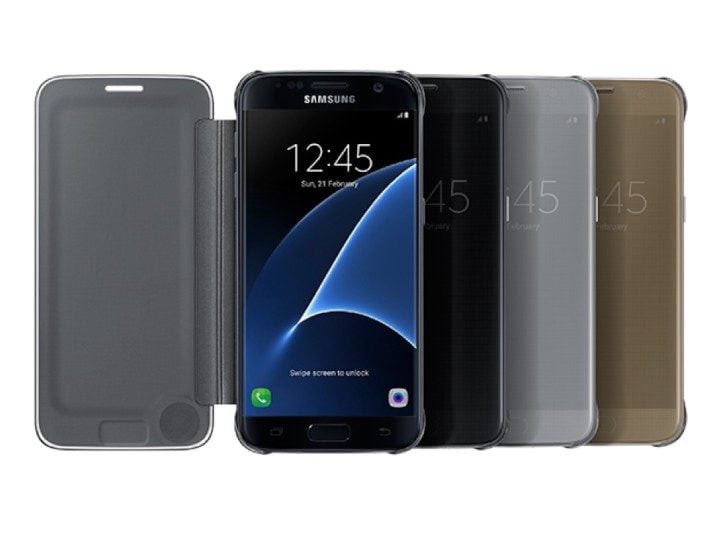 Our first recommendation is the official Samsung S-View flip case. For the S7 Edge, Samsung has three different S-View Flip cover cases. There's the traditional flip cover with a window like previous years, a clear model, and a LED flip case. Our favorite is the clear case, as it will display all the information on the always-on display. This offers a full view of the entire screen even while the case is shut and keeping things safe.
The S-View case gives you quick access to information on the screen at any moment. You can answer a phone call, see the weather or answer phone calls without opening it. It also wraps around all four corners to protect the Galaxy S7 Edge without getting in the way of using Edge screen features.

As an Amazon Associate I earn from qualifying purchases.