How to Setup Android Parental Controls and Content Filtering
This guide explains how to setup Android parental controls and content filtering. Giving you greater control over what your kids do, see, and buy on a phone or tablet. You can never be too careful. Whether you just bought the kids a device or want more security, we have you covered.
Kids will be kids and eventually, they might do something they shouldn't. Thankfully there are countless tools available for parents. Tools that will give you peace of mind when you hand children a mobile device.
Read: How to Setup iPhone and iPad Parental Controls
Below we'll share helpful information about adding a password to the Google Play Store, or, preventing unauthorized purchases by your kids. Not to mention give you control over the type of content being displayed on their device. These are the built-in tools from Google.
All Android devices have parental controls or some type of content filtering. Whether that's from Google or the manufacturers. Or, you can download third-party apps designed with that in mind. Starting with Android 5.0 and above, Google gives users strong controls and even a guest mode (multi-user account) option for kids. Not to mention all Amazon Kindle tablets have controls in Amazon Freetime.
It's important for parents to set up restrictions on an Android smartphone or tablet. We'll start with content filtering, then get into setting a password and a few other steps you can take. This will offer the best experience that's safe and secure.
Parental Controls and Content Filtering on Android
Obviously, Google doesn't let anything and everything into the Google Play Store. Even if they're more relaxed than say, Apple, about what is available for download. That said, they still have a system in place that works quite well. Take things a step further though and use the steps below to filter content.
Instructions
Open the Google Play Store app from the application tray or home screen
Next, tap the 3 lines (menu) button on the top left
Select Settings
Scroll down and tap on Parental Controls
In settings you can control everything from when apps update, enable a password for purchases, and of course content filtering.
Once you're here go ahead and flip the switch to turn on Parental Controls. You'll have to add a pin, confirm that pin, then manually configure parental controls for multiple categories.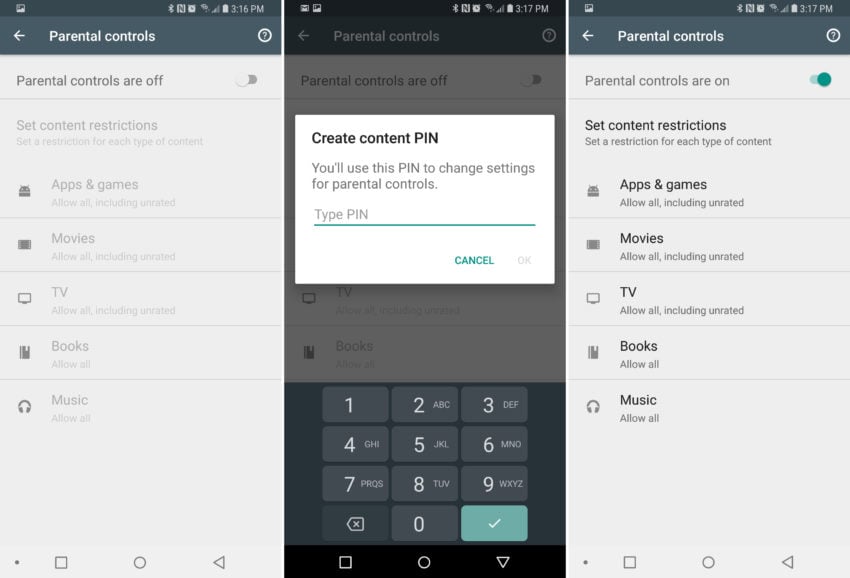 As you can see, Google breaks down the content by apps and games, movies, music, and more. This way you can allow a certain level of games, and something different for movies and TV. Choose what works best for you and your family. With groups consisting of: Everyone, Everyone 10+, Teen, Mature 17+, Adults only, or Allow All. Or, the TV ratings you're already familiar with.
This isn't the most advanced tool and won't prevent everything from slipping through the cracks, but it's a start. Parents can disable select apps from being shown based on maturity. By default, it'll show everything, but you can easily slide the bar to change that. Keep in mind that anything already on the device won't go away. You have to manually do that later, if necessary.
As we said above, this won't stop everything from getting through but it's the first step many parents should take. For more details on Google's content and privacy policy click here. If you see something inappropriate you can always flag it for review. Keep that in mind.
Add a Password for Purchases
The second step parents will want to take is adding a password to the Google Play Store to prevent unauthorized purchases. This can protect you from kids buying tons of apps (or in-app purchases) without your consent. Or prevent them from downloading things you wouldn't want them getting their eyes on.
Read: How to Add a Password to the Google Play Store
Follow our guide above for even more information about adding a password to your device and the Google Play Store. Essentially, you're just requiring authentication for each and every purchase. We recommend you set this to ask for a password for EVERY purchase. Not just once, or once every 30 minutes. A child can spend a lot in 30 minutes after you enter your password once.
You can find plenty of excellent apps, games, or content for kids on the Google Play Store. There's a little of something for everyone. They even have a YouTube Kids app just for your children. Just make sure your loved ones don't see content they shouldn't, can't buy things, and are safe and protected. Thankfully, Google makes this all fairly easy to understand, setup, and customize.