How to Use Your Phone as a Remote Control for Android TV
In this guide we'll explain how to use your Android phone or tablet as a remote control. Instead of buying an expensive universal remote, control your Android TV, NVIDIA Shield and more with Android. This works with WiFi too, so you don't need a device with an Infrared Blaster.
There are a lot of remote control apps for Android but the best option comes right from Google. Using the Android TV Remote Control app you can navigate your experience with ease. This app even has a D-Pad perfect for gaming on your big screen TV.
Read: How to Control Your Mac With Any Android
Android TV devices come in all different shapes and sizes. This guide works with Sharp AQUOS, Sony Bravia, the Mi Box, NVIDIA Shield, Nexus Player and more. Here's more information and a full list of Android TV devices. If you want to control your Android TV with a phone or tablet here's how.
How to Use Your Android Phone as a Remote Control for Android TV
Before we begin, it's worth noting that this only works on devices running Android 4.3 Jelly Bean or newer. Almost any device within the past 2-3 years should have compatible software.
Instructions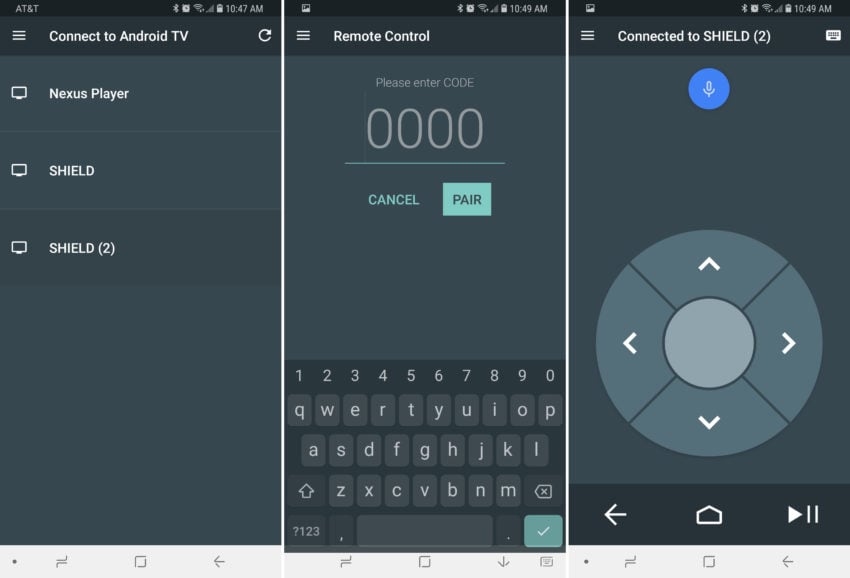 Open Google Play and download the Android TV Remote Control app on your phone or tablet
Connect your phone or tablet to the same Wi-Fi network as your Android TV device.
Open the Android TV Remote Control app
Select your Android TV device from the list that pops up
Enter the PIN code you see on your TV on the phone or tablet
Tap Pair to finish
Once you finish pairing your phone or tablet with Android TV we're all done. You'll see a direction pad with the usual Back and Home buttons, then a pause/play icon for quick access. This lets you navigate through the menus and apps on your Android TV, find Netflix, or hit the Microphone at the top to do a voice search.
How to Use the Remote Control
Using the remote control is fairly straight-forward. At first, you'll see up, down, left, right arrows with an enter "select" button in the middle. This is what you use to control your Android TV device with a smartphone or tablet. At any moment you can hit home to go back or tap play/pause to resume the last video you were watching.
Tap the Microphone at the top to search with your voice, or tap the keyboard icon at the top right to type in a search.
However, another option is using a touchpad instead of the direction arrows. Tap the 3-lines menu button at the top left and select Touchpad. Now you can swipe your fingers on a big pad for navigation. Tap anywhere on the screen to select. The touchpad works great for gaming too, and mimics the touchscreen on your phone, but for Android TV games.
Additionally, on some devices, the Android TV remote control app will fully control video playback for fast forward and rewind. Instead of just pause/play type options. Download Google's app and enjoy your Android TV today. While you're here, take a look at these 10 awesome Shield Android TV games.