HTC to Release Pen SDK for HTC Flyer, EVO View 4G
In addition to opening up the HTC Sense experience to third-party developers, HTC will also be allowing developers to tap into its active digitizer pen for the HTC EVO View 4G and the HTC Flyer tablet, the first Android tablet to come pre-bundled with a pen for notes and drawing. When HTC took the HTC Flyer and announced it for the U.S. with a partnership with Sprint as the HTC EVO View 4G tablet at CTIA a few months ago, the company had shown off more limited applications for the pen, and now third-party app developers can fill the void.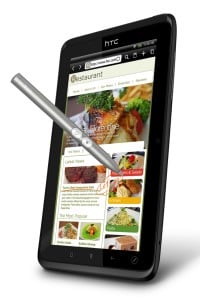 According to an HTC PR rep on hand, the company's vision for the pen-enabled tablet is different from Microsoft's vision for the Tablet PC. HTC views the pen as an added value and as a tool to quickly jot notes, doodle and draw, and communicate rather than as a more complex tool for handwriting and inking support. As such, the pen is sold separately from the tablet as a value-added option for users who need it; for those who don't need the pen, HTC is pre-bundling the tablet with the new HTC Sense 3.0 user interface, which offers a 3D carousel home screen that users can cycle through, an innovative way to launch applications directly from the lock screen, and on the tablet an easy way to capture screen shots with the red pen capacitive touch button. For those who want the pen, so far the capabilities are limited. Other than simply being able to mark up pictures and images, pen support is limited as it is not supported in Android natively.
Unlike on a traditional Tablet PC, which runs Microsoft's full desktop-class Windows operating system, HTC Scribe (for the pen) on the HTC Flyer or HTC EVO View 4G tablet works much like the Windows Paint utility, which allows users to mark up an image, doodle, or draw. For now, you're limited in what you can do with HTC Scribe. For example, you can't just sign a PDF or add a hand-created signature to an email directly. You can, however, take a screenshot of the PDF into a JPEG file and then sign that and send that image as a JPEG attachment. You can doodle a signature into a drawing application and send that as an email attachment. Also, there is no inking or handwriting support, yet, through HTC Scribe, but that's a void where HTC hopes developers will be able to fill based on community needs.
Hopefully, with the pen SDK, users from the Tablet PC camp can voice their wants and desires for what functions and applications HTC Scribe should take on. The pen comes with a lot of potential. Using N-Trig's technology, HTC says that the pen can sense up to 99 different levels of pressure. However, for the concept to be noteworthy, there has to be more apps released with pen support. Once that happens, perhaps a cycle may continue in that more apps may attract more hardware-makers to release tablets with digitizer pens, which will spur more app development. Right now, though, despite the promises behind HTC Scribe and it's potential uses, it's still a hard sell until HTC can clearly define the value proposition of HTC Scribe beyond a basic art application and some annotated pictures.