Huawei Android Q Update & Beta Details
If you're wondering "when will my Huawei phone get Android 10 Q?" or the Huawei Android Q beta we're here to help. Following the first beta and initial debut in March, Google released new software in April and a bigger 3rd Android Q beta in May with support for 15 phones from several manufacturers, Huawei included.
Huawei didn't participate in the Android P beta last year so it is good to see them on board in 2019, even if it's only the Mate 20 Pro. Furthermore, Huawei recently confirmed the first 8 Huawei Android Q updates, betas, and other information that owners will want to know about.

Will My Huawei Phone Get Android Q?
Considering Android Q is still several months away, with an expected August release date, most manufacturers haven't said much aside from joining the beta. That said, Huawei already confirmed 8 updates and has hit the ground running, which is good news.
Huawei just released the image below confirming the Android Q update for the Honor View 20 / V20, Honor Magic 2, Mate 20, Mate 20 Pro, Mate 20X, Mate 20 RS Porsche Design, P30 and P30 Pro. Those aren't necessarily ALL the devices getting Q, but the first few at least.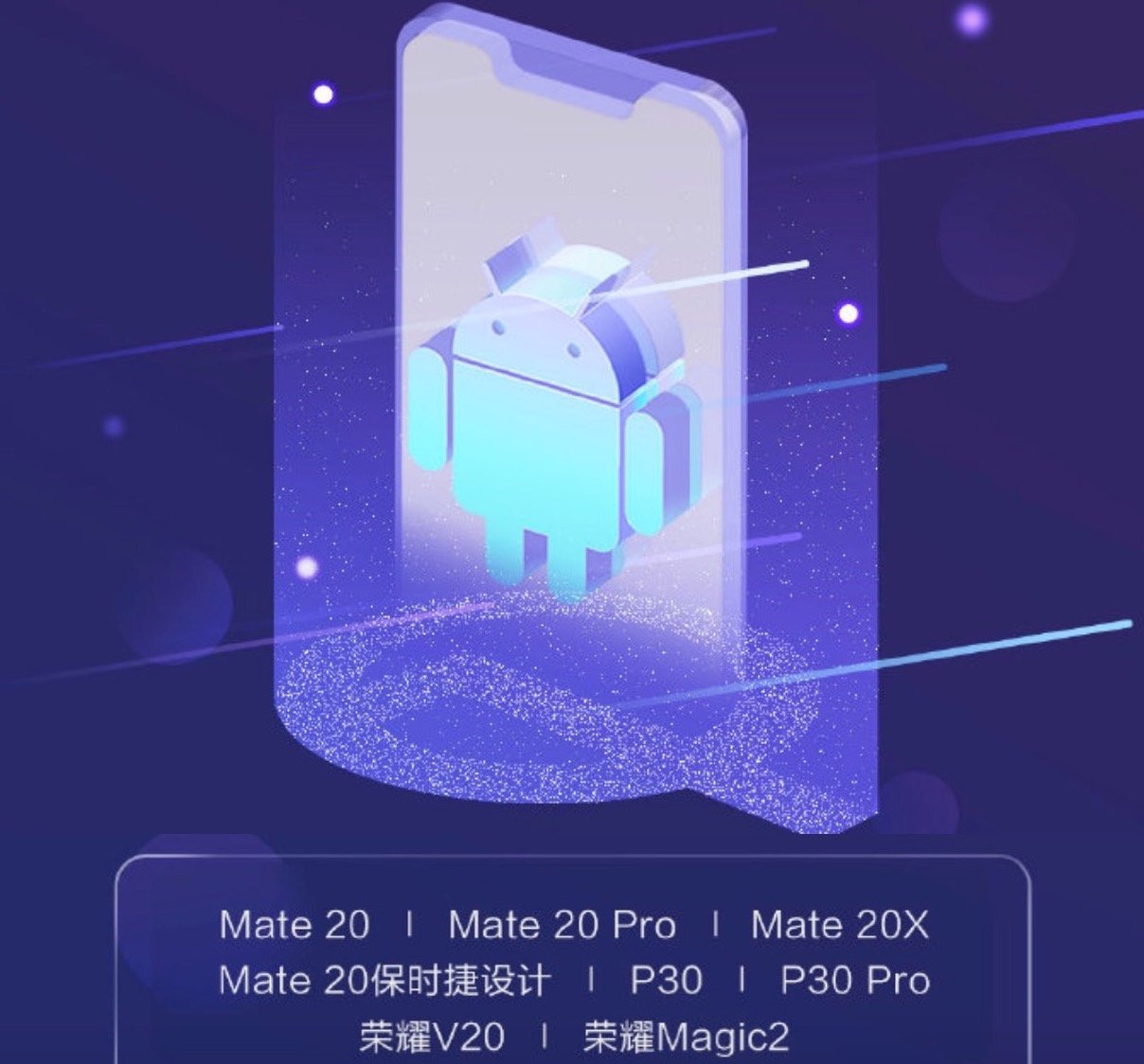 Surprisingly, some of these devices are still waiting for the Huawei Android 9 Pie update, which isn't good news. At the same time, it looks like Huawei is trying to do the right thing in 2019 and get updates out as fast as possible. Once we learn more or see more devices added to the list we'll update this post.
Huawei Android Q Betas
For now, only one smartphone from Huawei can try Android Q today. That's the latest Huawei Mate 20 Pro. Google is only on the third beta of Android Q, and we're expecting several more versions before the official release later this summer.
So, while the Mate 20 Pro is the only device capable of enjoying the Android Q beta right now, there is a chance Google and its partners could add more devices to the list as the year moves ahead. We wouldn't be surprised to see several other Huawei phones join the beta by the time summer kicks off. If you have a Mate 20 Pro, click here.
Huawei Android Q Release Date
Again, Google themselves haven't even confirmed a release date for Android Q, which means manufacturers like Huawei can't either. That said, we believe Google will stop releasing betas and finally roll out the official Android 10 Q update in mid-August of 2019. Basically, we have a few more months to wait.
At the same time, don't expect Huawei phones to get the update right away in August, either. A lot of Huawei's phones are still waiting for Android 9 Pie, which came out in August of 2018. So while Google will release Android 10 this summer most Huawei phones (like the ones listed above) won't get it until around September or October, at the earliest. Well, unless they get added to the beta program.
What's New in Android Q
It's still too early to talk about everything that's new in Google's 10th version of Android, dubbed Android Q. That said, they have shared tons of exciting snippets about the improvements, faster Assistant, live actions, caption controls, a system-wide dark theme mode and more. Here's our detailed Android Q What's New coverage. Start with that or read our list below.
Improved Privacy Protection & Controls
Privacy Manager
Expanded Location Controls
Multi-Tasking Bubbles
Support for Foldable Displays
Sharing Shortcuts
Smart Reply, Suggested Actions
Live Caption
Settings Panels
Gestural Navigation
Theme Controls
Focus Mode
Notification Assistant
Improved Peer-to-Peer and Internet Connectivity
Wi-Fi Performance Mode
Dynamic Depth Formats for Photos
New Audio and Video Codecs
Native MIDI APIs
Improved Vulkan Graphics & Neural Network APIs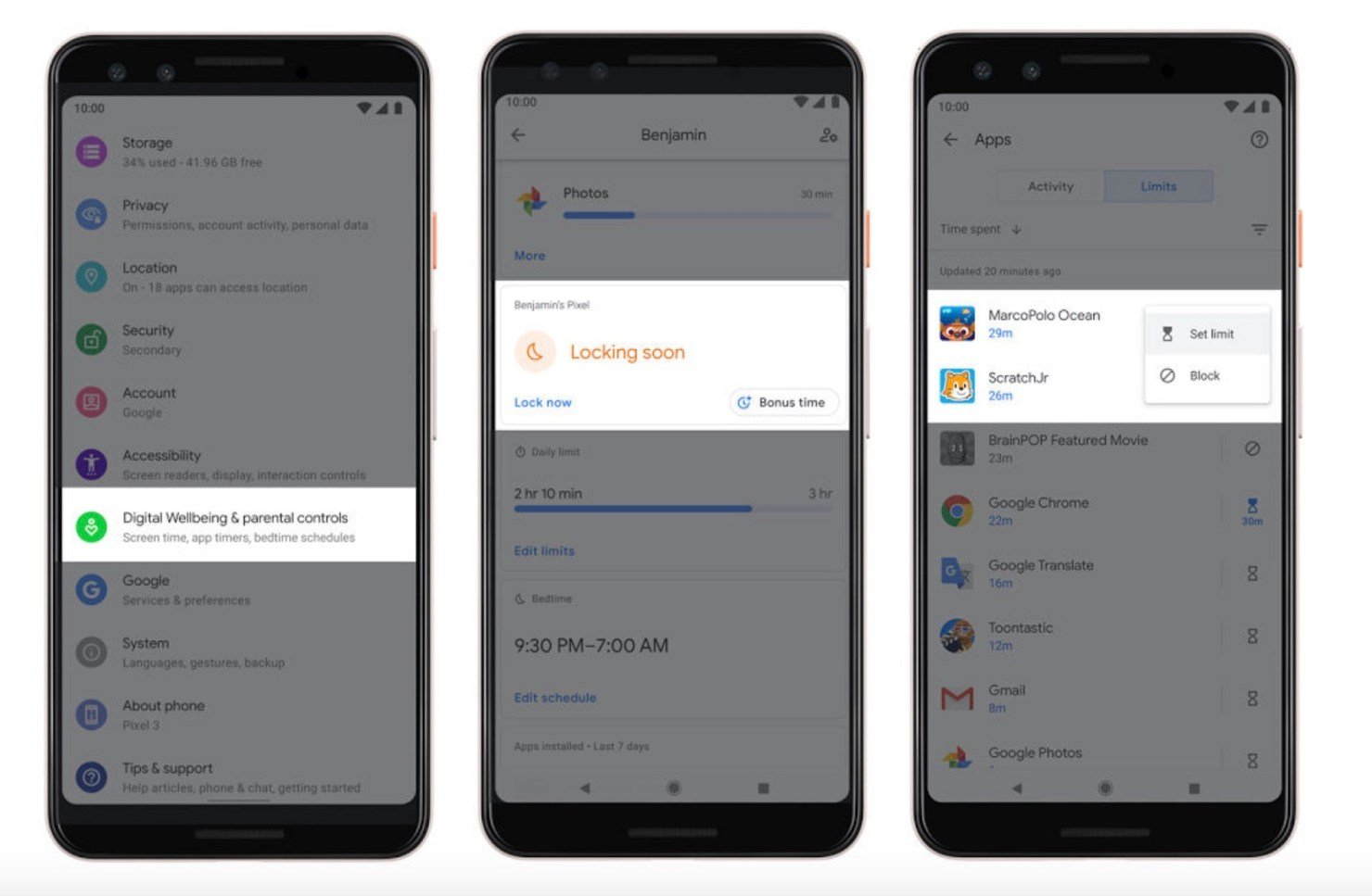 Furthermore, you can expect manufacturers like Huawei to add on top of Google's release. Every year they make changes, tweaks, improvements or further refine the experience to suit their devices. We'll see that again with Android Q.
Final Thoughts & What's Next
In closing, we want to remind Huawei owners that this will likely be a slow process, especially if you have a device in the United States. Google pushes the software out, then manufacturers have to get it ready for multiple devices. EMUI 10 will be a big update for the company and will take several months to develop, test, tweak for each device, then deliver.
Unless Google and Huawei add more devices to the beta program we believe the only Huawei phone that will have Android Q in 2019 is the Mate 20 Pro, or any new phones released in the second half of the year. Most, if not all of the eight devices from the list above will probably start getting updates in December and January of 2020. Updates are a slow process, that's just how it is.
And while that's both good and bad news, we want to set expectations for owners. We're hoping Huawei shares more information or opens beta programs for more people in the United States and around the globe. As they do, we'll let you know all the details right here.

As an Amazon Associate I earn from qualifying purchases.