Huawei Honor 7X Release: 5 Things to Know
Huawei's sister company Honor recently announced an all-new Honor 7X smartphone. Delivering a premium design with dual cameras and an edge-to-edge display for those on a budget. While not everyone can afford a fancy Galaxy S8 or iPhone X, they still want the big screen experience. That's what the Honor 7X has to offer.
Earlier this year the phone made its debut in China, but now we're learning more details about a release in the US. As a follow-up to the popular Honor 6X unveiled in January, here's what potential buyers need to know.
Read: Honor 6X Offers Dual Cameras for $249
The Honor 6X stood out for cramming dual cameras like the iPhone 7 Plus in a phone for under $249, but that's no longer the trend in 2017. Instead, flagship phones have big screens with small bezels. The new Honor 7X is again taking a similar approach this year and packs a 5.93-inch "FullView" display. While we don't have all the details yet, here's what we know about the Honor 7X release.
Huawei Honor 7X Release Date
For the past two years, Honor announced its budget phone at CES in January and immediately offered it to buyers on Amazon. However, this year they're trying to get a similar device in the hands of users even faster.
The Honor 7X release date is still a mystery, but it's safe to assume it's coming out before the end of the year. In fact, Huawei and Honor are hosting a big event on December 5th in London to officially launch the budget phone, along with one extra surprise announcement.
And while that's not a confirmation of availability, it'll likely be available on or around December 5th in the United States and select other regions. We'll update this post with more details in December.
Honor 7X Design & Display
The most important aspect of the Honor 7X is the display. The company says it managed to put a big 6-inch display into the body of a 5.5-inch phone. Taking an approach that worked well for the Galaxy S8, LG G6, Google Pixel 2 and now the iPhone X.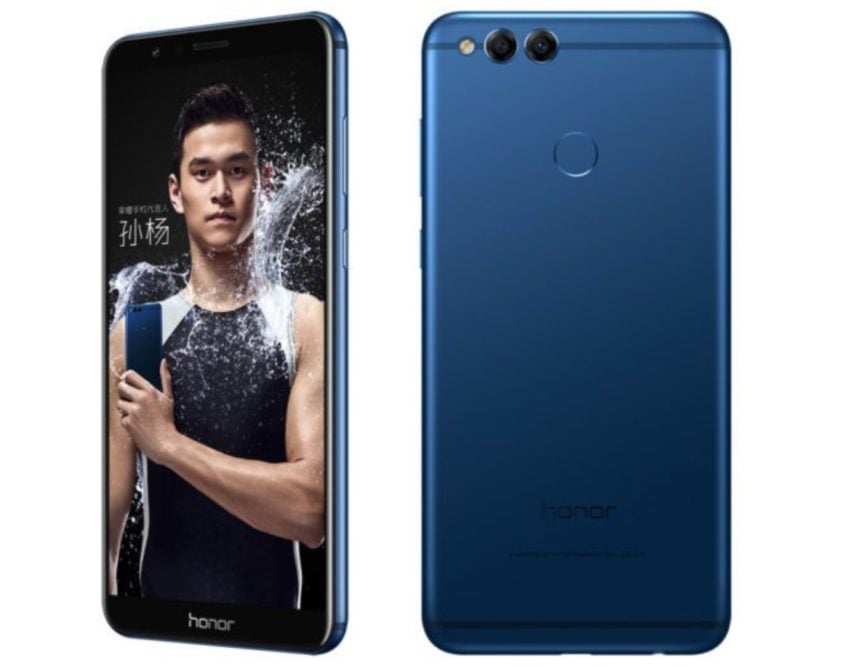 Honor's new 7X has a large 5.93-inch "FullView" 2160 x 1080p Full HD display. All on a phone that's the same size or smaller than the previous generation Honor 6X. This phone will likely compete with the new OnePlus 5T, and other budget smartphones. The only difference is most budget phones don't have a big edge-to-edge screen or dual cameras.
Basically, the idea here is to deliver a big screen and design similar to flagship phones released this year, but at a wallet-friendly price point.
Honor 7X Specs & Features
The company hasn't confirmed whether or not the phone will retail for around $249 like past devices, but it's a fair assumption. Either way, it's an affordable phone with a big display. Here's everything it has to offer.
Honor 7x Specs
5.93-inch FullView 2160 x 1080p Full HD Display
Kirin 659 Processor with 4GB of RAM
64GB of storage with microSD expansion
Dual 16MP and 2MP rear cameras (2MP is Monochrome, not a zoom lens)
8MP Front-facing selfie camera
Android 7.1 Nougat (Oreo coming soon)
3,340 mAh battery
Fingerprint Scanner, Micro-USB, WiFi, 4G LTE, etc
more
On paper, the Honor 7x has a lot to offer if the price is right. However, the issue is what's missing this year. There's no NFC, no wireless or fast charging, and no IP67 or IP68 water-resistance. Even if the press photos suggest it's water-resistant.
Still, that's a decent package for what we're assuming will end up a low asking price.
Honor 7X Price & Other Details
Again, we don't have an exact release date or pricing yet, but that's all coming on December 5th. That said, the last two years the Honor 5X and 6X arrived at the wallet-friendly price of $249. This year buyers will get a more powerful device, dual cameras, and a premium display experience, so the price might go up.
While there's no shortage of excellent cheap Android smartphones right now, next month or in early 2018 buyers will have one more to choose from. We'll update this post as soon as we have all the details.
While you're here, take a look at these cheap Android phones under $100, and these best Android phones under $300.