Insiders Confirm Apple's iPhone 6 Launch Plans
The iPhone 6 launch date plans are coming together according to multiple sources who shared information with Gotta Be Mobile.
Rumors of an iPhone 6 launch date on September 9th are not new, but there is still no confirmation from Apple. Gotta Be Mobile learned that Apple is talking to business partners to gather details for an event on September 9th.
We've also spoken with sources familiar with Apple's plans who are prepared for an iPhone 6 launch on September 9th in California.
Although there are no official iPhone 6 event invitations shared with the public it appears Apple is in communication with business partners and other connected individuals to prepare for an event that takes place in less than two weeks.
In July, Apple CEO Tim Cook boasted that Apple's, "iPhone and iPad are the best mobile devices in the world and have transformed the way people work with over 98 percent of the Fortune 500 and over 92 percent of the Global 500 using iOS devices in their business today," during an announcement of a new partnership with IBM.
The huge push to replace the BlackBerry and beat out Samsung for enterprise use is part of the reason we believe Apple is talking to these large companies. It's not clear if this is a heads up for the company to attend the iPhone 6 event or possibly Apple finalizing data that Tim Cook will use to illustrate the reach of the iPhone in corporate America during the numbers driven introduction that will likely start the iPhone 6 launch.
Samsung positions the Galaxy Note as a business tool through a series of ads that highlight the security, ability to use two apps on screen at once and the note-taking S Pen accessory each year. On September 3rd Samsung will announce the Galaxy Note 4 with events in NYC, London and Berlin to replace the Galaxy Note 3. This new Galaxy Note 4 release may arrive soon after the iPhone 6 event and possibly before the iPhone 6 release date as Samsung attempts to gain an edge before a new iPhone arrives. Samsung is already knocking the iPhone 6 in new ads like the one below.
https://www.youtube.com/watch?feature=player_embedded&v=sCnB5azFmTs
Apple's plans include two new iPhone 6 models this year according to an avalanche of rumors and leaks that show a 4.7-inch iPhone 6 and a 5.5-inch iPhone 6. The larger model will be just 0.2 inch smaller in screen size than the Galaxy Note 4, and could lead to increased competition between Samsung and Apple for consumers and enterprise customers.
Based on the information from this source and confirmation from two other parties, along with the previous leaks from Re/Code, The Wall Street Journal and Bloomberg, it is clear the Apple plans an iPhone 6 launch on September 9th.
With the date less than two weeks away you may wonder why we are not seeing iPhone 6 launch invites leaked online to push the speculation about what Apple will announce. The easiest answer to this is that Apple loves to show up Samsung by sending invites on the day before or day of the Galaxy Note announcement. It appears that key partners and insiders are already planning for the September 9th event, and Apple is merely waiting to rain on Samsung's parade.
Up until recently it looked like the iPhone 6 launch date would focus on the iPhone 6 and leave the rumored iWatch and new iPads for later in the year, but a new report suggests Apple may surprise us. Re/Code reports that Apple's wearable, which is the iWatch for now, is on track for an announcement at the September 9th event.
If this is the case, the lack of leaks and parts suggest the iWatch release could come later. Apple occasionally announces a new product months ahead of the release so that it can ramp up production without worrying about losing the surprise of a new device.
We've seen this with the original iPhone, announced in January and released in June. Apple stuck to the same script with the original iPad, announced in January and released in April. Last year the Mac Pro announcement came in June before a December release.
It would not be a shock to see Apple show off the iWatch and announce many of the features, but force consumers to wait months for an iWatch release date — one that might even slip into 2015.
Unfortunately our sources do not know when the iPhone 6 release date arrives, but previous timing suggests September 19th is when you can buy the new iPhone. The iPhone 6 5.5-inch model which may arrive with a better name could also see a later release due to a late start in production.
iPhone 6 Release Date & Feature Video Roundup
iPhone 6 Release Date Rumors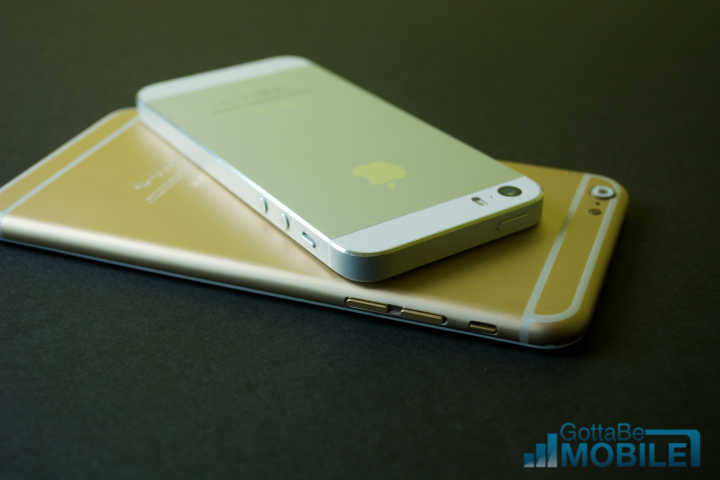 The iPhone 6 release date is September 19th according to Apple's traditional timeline and our best prediction based on current rumors and plans. This may change and there is a chance that we will see two iPhone 6 release dates thanks to a slower start for the 5.5-inch iPhone 6.
Here's how we get to an iPhone 6 release date on Friday September 19th.
Re/Code and The Wall Street Journal report Apple's plans to hold an iPhone 6 event on September 9th.
From this date we can work out that the iPhone 6 release date is roughly a week and a half later, on September 19th. This is the timing Apple used for the last several iPhone releases.
If Apple decides to offer iPhone 6 pre-orders expect them to go live at midnight Pacific on September 12th, but this is not a given.
The larger 5.5-inch iPhone 6 release date may arrive later on the last Friday in September or even in October.
Expect to see Apple Stores and carriers open early on the iPhone 6 release date with lines around the store to get an iPhone 6 right away, even in small towns.

As an Amazon Associate I earn from qualifying purchases.