iOS 10.3 Update: 5 Things You Might've Missed
We've highlighted the big changes coming with Apple's iOS 10.3 update and today we want to take a look at some of the smaller changes you might've missed.
Apple's iOS 10.3 update remains in beta ahead of its official release for iPhone, iPad and iPod touch. The company hasn't announced an official release date but many believe it could arrive in March alongside new hardware.
iOS 10.3 is a milestone upgrade for iOS 10 users which means it will deliver more than bug fixes and security patches. Apple's loaded the update up with tweaks and new features including Find My AirPods, Verizon Wi-Fi calling for iCloud-connected devices, and some important changes to the App Store.
We recently took a dive into iOS 10.3's most prominent features. Today we're switching gears and we want to highlight a few of the changes you might've missed if you haven't been using or paying attention to the iOS 10.3 beta.
It's important to note that while these features are currently available in the iOS 10.3 beta, some might not make it into the final version of iOS 10.3.
With that disclaimer out of the way, here are five small but important changes you should be aware of if you own an iPhone, iPad or iPod touch that can run Apple's iOS 10 operating system.
iCloud Storage Breakdown
If you're a heavy iCloud user you'll probably appreciate this change Apple's made inside of Settings in iOS 10.3.
iOS 10.3 features a new, and very prominent, Apple ID profile option at the very top of the Settings application.
When you head into the iCloud section of your profile, you'll immediately notice a nifty looking breakdown of how your currently using your iCloud storage space.  The screenshot here (top right corner) shows you what the new layout looks like.
The new color-coated visual breakdown includes a look at how much space your Photos, iCloud backups, Documents or Email are using and it could help you get a better handle on your cloud storage.
Podcast Widget
The iOS 10.3 update comes with a nice addition for those of you who use Apple's official Podcast application.
iOS 10.3 comes with a new Podcast widget that you can add to the tray on your iPhone, iPad or iPod touch.
The widget gives you instant access to your favorite podcasts, provided you dock it near the top of your various widgets.
If you subscribe to a ton of podcasts, this could come in handy.
Indian Premier League and International Cricket Council Scores
If you're a cricket fan you'll be pleased to know that Apple's iOS 10.3 update should bring an excellent change to Siri.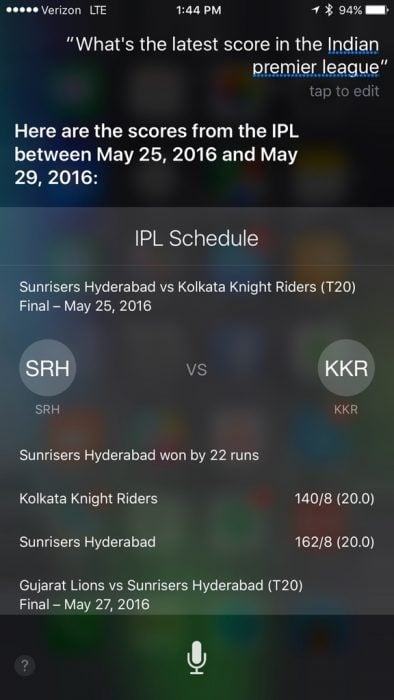 The current iOS 10.3 beta allows users to use Siri in order to check for international cricket and Indian Premier League cricket scores.
Weather in Maps
If you're an Apple Maps user, and you have a device that supports 3D Touch, you might appreciate one of the small changes iOS 10.3 will likely bring to the application.
The Maps application in iOS 10.3 now features the ability to 3D Touch the little weather icon (bottom right of this screenshot) to get a quick glimpse at the weather forecast for your current location.
You'll get a look at the current temperature and it'll also show you the hourly forecast which could help you better plan a road trip or a simple trip out of the house/office.
Floating iPad Keyboard
One of iOS 10.3's most exciting features isn't available to iOS 10.3 beta testers.
Developers poking through the iOS 10.3 beta have discovered a hidden one-hand floating iPad keyboard layout that is compatible with a 9.7-inch iPad or a smaller iPad model (iPad mini).
The feature isn't live in the iOS 10.3 beta but you can get a good look at how it could work in the tweet below.
https://twitter.com/stroughtonsmith/status/824004549564317702
If the feature makes it into the final version of iOS 10.3, it will let iPad users move an iPhone-sized virtual keyboard around the screen.
Apple could be holding this feature back until it shows off new iPad hardware. The company is reportedly planning a March event where it evidently plans to showcase new iPad Pro models, a new iPhone SE, and a new iPhone 7 color.
The company hasn't confirmed.
iOS 10.3 Update: 9 Reasons to Get Excited & 3 Reasons Not To
iOS 10.3 Release Date Narrows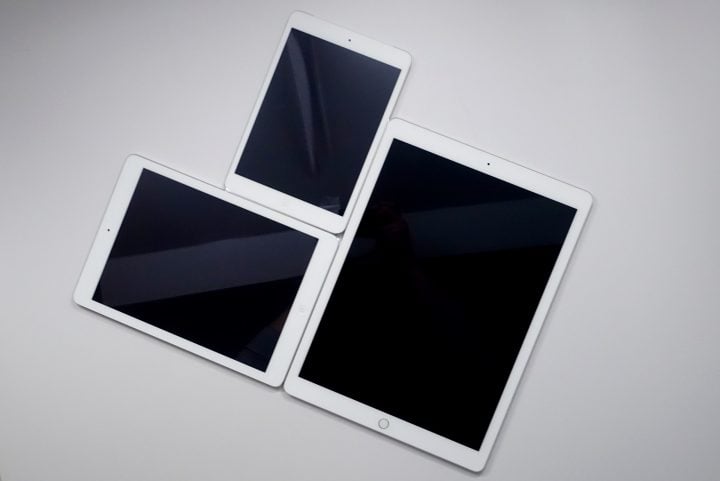 The first thing to get excited about is that you won't have to wait too much longer for iOS 10.3 to arrive for your iPhone, iPad or iPod touch.
If you're uninterested in trying out the iOS 10.3 beta, or if you're dealing with an maddening problem on iOS 10.2.1 on an older version of iOS, you should know that the iOS 10.3 release date should land in the near future.
We haven't been able to nail down an exact date but we now know it'll be out before the end of April.
Apple's announced a new Clips application (more on that later) that it's planning to release sometime during the month of April. How does the iOS 10.3 release play into this? Well, iOS 10.3 is required to use the Clips app.
iOS 10.3 is also required to use one of the new features on board iTunes 12.6.
iTunes 12.6 features a "Rent once, watch anywhere" that allows iTunes users to watch their movie rentals across all devices. This feature requires iOS 10.3 to operate, a sign that we're really, really close to a release.
If not March, we'll probably see it touch down sometime in early April.