iOS 9.0.1 on iPad: First Impressions & Performance
Its only been a week since the initial iOS 9 release and Apple's already rolled out a new update. With a day of use under our belts, we want to take a look at how the brand new iPad iOS 9.0.1 update is running on several models including the iPad Air and iPad mini 2.
Last week, Apple rolled out its first iOS 9 update for the iPhone, iPad and iPod touch. The iOS 9.0 update delivered new features, enhancements and bug fixes to iPad users around the world. It also, it seems, brought some problems along with it.
iOS 9 problems have been emerging for several days now and Apple's finally taken the first step towards squashing these initial issues. That step? An iOS 9.0.1 update for all iPads capable of running the iOS 9 operating system.
Yesterday, Apple rolled out its iOS 9.0.1 update, a bug fixer that comes with several key remedies for iOS 9 problems. Like many other iPad users, I installed the iOS 9.0.1 update right when it came out. And my goal is to help you decide if it's worth installing and solve any issues you might be having on your iPad.
The iOS 9.0.1 update is small but it has the potential to wreck havoc on your iPad's performance. I'm already seeing iPad users complain about iOS 9.0.1 problems and I expect these problems to grow as more people discover the update.
I've been using the iOS 9.0.1 update for a day now and I want to relay my thoughts on its performance. I've been looking at the update on three of the most popular iPad variants including iPad Air 2, iPad Air and iPad mini 2.
These iPad iOS 9.0.1 update impressions don't serve as my final review of Apple's second iOS 9 update but they should help those of you who are on the fence about installing.
iOS 9.0.1 Installation
The iOS 9.0.1 installation process for all three of these iPad models was quick and painless. The iOS 9.0.1 update is a small update, about 30MB in size, and Apple's servers haven't been slammed by update requests.
From start to finish, I was able to get all three of these iPad models updated to iOS 9.0.1 in about 10 minutes. This is pretty standard for a small bug fix update, so long as you're connected to a fast Wi-Fi network.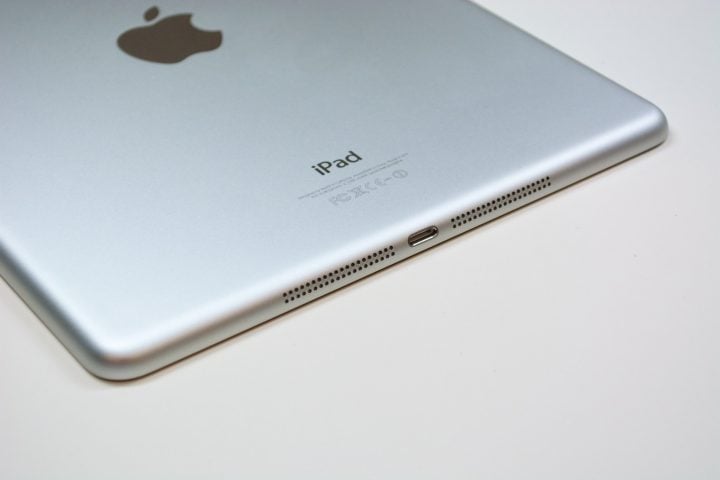 If you're coming straight from iOS 8 or below to iOS 9.0.1, the update process is going to take a lot longer than that because you'll have to install a much bigger update. If you're coming from iOS 9.0, it should be pretty painless.
Either, you'll want to set aside some time for the update so that you can properly handle any problems that emerge. If you do run into a download or iOS 9.0.1 installation issue, take a look at our list of fixes for common iOS 9 problems.
iOS 9.0.1 on iPad Performance
I'm not going to get into iOS 9 features in these impressions or in my upcoming review. iOS 9.0.1 doesn't bring any new features and I am going to be focused on performance. If you want to learn more about the iOS 9 update's features, you'll want to take a look at our iOS 9 review or our ongoing iOS 9 coverage.
Before I get into it, remember that I am just one person. I probably don't use the same iPad applications that you do and I probably don't use these iPads the same way that you do. Mileage always varies when it comes to iOS updates. Use this as a general guide. I encourage you to seek out more feedback if you need it.
Apps
I've been hearing and seeing lots of complaints about the App Store and app performance. iOS 9.0 and iOS 9.0.1 users are complaining about various issues including problems downloading app updates with crucial iOS 9 support.
So far, I've been pretty lucky, at least on the iPad. For the most part, my iPads feature the same applications. There are a few differences but they're mostly games. I use the iPad Air to play games, not the iPad mini.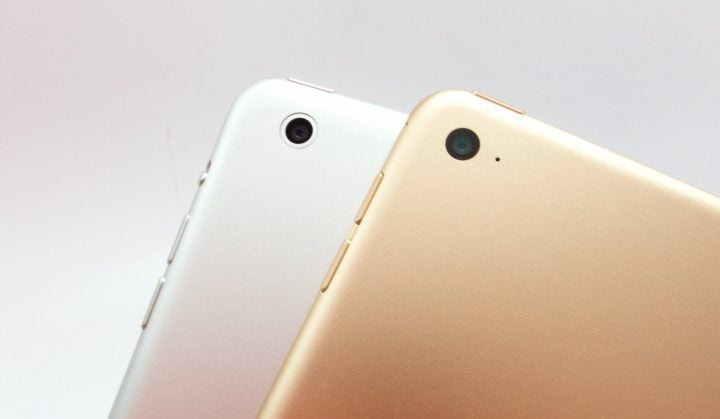 The iPad apps I use the most are Asana, Slack, YouTube, Twitter, Instagram, Gmail, Hangouts, Chrome, Dark Sky, Amazon, SoundCloud, Spotify, and Xbox One Smartglass. While I've been having problems with Chrome on the iPhone, I haven't had any issues on iPad. All of these are holding up 24 hours after the iOS 9.0.1 update's release.
This doesn't mean that I won't see problems pop up later today or tomorrow or the day after. App issues can emerge at anytime and there's a good chance I'll see something pop up in the hours ahead. So far so good though.
I don't have a fix for every app issue but I have a few recommendations if you do run into issues with your apps or the App Store.
iOS 9.0.1 Battery Life
I've seen complaints about iOS 9.0.1 battery life but I haven't run into any on the iPad Air, iPad Air 2 or iPad mini 2. At least not yet.
All three of these tablets are holding up quite nicely in hours after the update's release. I've been using them as much as humanly possible and I haven't noticed anything out of the ordinary. All three are holding their normal charge, no change from iOS 9.0.
If you are noticing iOS 9.0.1 battery drain problems, you'll want to take a look at our list of battery life fixes and tips. They should help.
Wi-Fi, Cellular Data & Bluetooth
The two iPad Air models are Wi-Fi only but the iPad mini 2 can run on AT&T's LTE network. I tested it out briefly and I didn't run into any problems. Speeds were good and I didn't lose my connection.
As for Wi-Fi, all three models are performing well after the iOS 9.0.1 update. I've tested them on three different routers and the results have been the same. Excellent speeds on Verizon's high-speed FiOS network.
I've also been able to successfully pair the trio of iPads with various Bluetooth devices including speakers and headphones. No problems there.
Connectivity issues are common and they can emerge at any time. That's why I've got my own list of fixes for iOS 9 problems bookmarked. Just in case.
Speed
The iPad Air 2 is still very fast which is what you would expect from an iPad that's only a year old. The other two are having problems though.
Both the iPad mini 2 and the iPad Air feel a bit sluggish after the iOS 9.0.1 update. The animations and transitions are a little jerky and I've seen some abnormal slowdown occur when moving around the home screen and opening folders. It's concerning.
My hope is that the issues work themselves out after a few days. Some iOS problems settle after a couple of days and my hope is that that happens here. We'll see.
Should You Install iOS 9.0.1 Right Now?
The only problems I'm seeing are the speed issues on the iPad mini 2 and iPad Air. Other than those, the iOS 9.0.1 update is extremely solid. (Others haven't been so lucky though.)
My advice right now is to be extremely careful with this update, especially if you own an older iPad. There's a good chance you'll come out unscathed but there's also a chance you'll harm your good performance.
Wait a few more days and then install iOS 9.0.1 and its bug fixes. That is unless your alarms are no longer working with iOS 9.0 on board. More on that below.
5 Reasons Not to Install iOS 9.0.1 & 3 Reasons To Do It
Install iOS 9.0.1 If You Depend on Alarms & Timers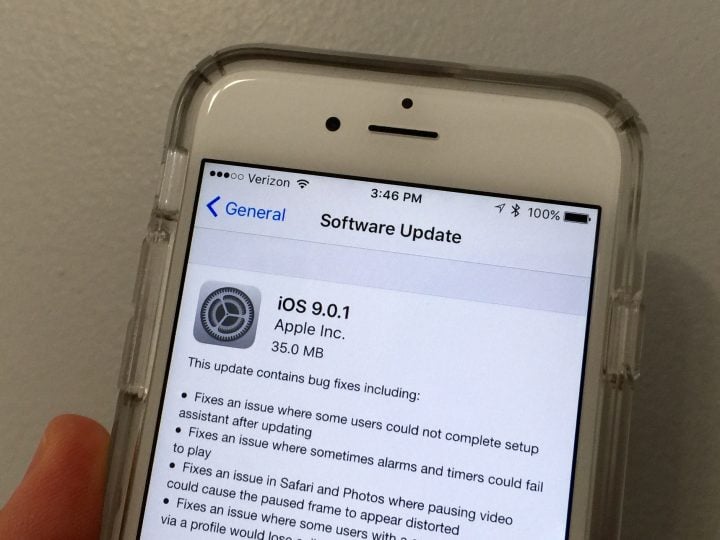 If you are dependent on alarms and timers (and we imagine that many of you are for work/cooking/etc.), you might want to consider installing the iOS 9.0.1 update right now. It comes with an important fix for, you guessed it, alarms and timers.
While we didn't run into any problems during our time with iOS 9.0, it appears that some people noticed that there alarms and timers were failing to go off. That's not good, especially if you depend on your alarm to wake up for work at a certain time in the morning.
We've been using the iOS 9.0.1 update for more than a day now and we've been testing our alarms and timers to make sure that they work. So far so good.

As an Amazon Associate I earn from qualifying purchases.