iOS 9.0.1 on iPhone 5: First Impressions & Performance
Today, Apple released a new iOS 9 update for the iPhone 5. While it's not iOS 9.1 with new emojis, the iOS 9.0.1 update is an important update for the iPhone. With a few hours of use under our belts, we take a look at how the iPhone 5 iOS 9.0.1 update is performing so far.
Last week, Apple released an iOS 9 update for the iPhone 5 and its many other iPhone and iPad models. That update, iOS 9.0, delivered a ton of new features and enhancements including a tangible battery boost for the iPhone.
In the past week, tons of iPhone owners have made the move to the iOS 9 update. I am one of those users and I've installed it on several devices including the aging wonder, Apple's iPhone 5.
I've owned the iPhone 5 since 2012 and I've installed every single iOS update that the company has put out. That includes the iOS 9.0 update that Apple put out last week and that includes the iOS 9.0.1 update that Apple put out today.
Yes, Apple's already put out a new version of iOS 9, just a week after the update's arrival for the iPhone 5 and others. The iOS 9.0.1 update isn't as big as iOS 9.0 but it comes with some fixes for pesky iOS 9 problems.
The new update has good intentions but as many longtime iPhone 5 owners know, even the smallest iOS updates can be detrimental to the iPhone's performance. And that's precisely why I want to share my thoughts on the iOS 9.0.1 update.
I've been using the iPhone 5 iOS 9.0.1 update for a few hours now and I want to relay my initial thoughts on its performance.
These iPhone 5 iOS 9.0.1 update impressions don't serve as my final review of first iOS 9 bug fix update but they should help those of you who are on the fence about installing.
iOS 9.0.1 Installation
Apple didn't sound the trumpets or roll out the red carpet for the iOS 9.0.1 release. It just appeared out of thin air this morning at 10AM PT.
After some debate, I decided to download it immediately. And I was rewarded with an extremely smooth down load and installation process.
The iPhone 5 iOS 9.0.1 update is about 25MB in size, small for an iOS update, and as such it downloaded and installed relatively quickly. From start to finish it took about 10 minutes to complete. That's pretty standard for an update of this size.
While last week's iOS 9 release was a mess, I haven't seen any major download or installation issues hit the iOS 9.0.1 update. That doesn't guarantee your safety but it does mean that a majority of you should be able to get it on board no problem.
If you do run into a download or installation issue, take a look at our list of fixes for common iOS 9 problems. It could help.
iOS 9.0.1 on iPhone 5 Performance
I'm not going to get into iOS 9 features in this early review. If you haven't installed the iPhone 5 iOS 9 update yet, you'll want to take a look at our iOS 9 review or our ongoing iOS 9 coverage for more on those. Instead, these will focus on key areas of performance.
Before I get started, I want to pass along my usual disclaimer:
I am just one person who owns an AT&T iPhone 5. I probably don't use the same applications that you do and I probably don't use my iPhone 5 the same way that you do.
This is important to keep in mind because mileage always varies when it comes to iOS updates. Use my thoughts and opinions as a general guide as you track the iOS 9.0.1 update.
Apps
I've been seeing all sorts of complaints about app performance after last week's iOS 9 update but oddly enough, I haven't run into much on my iPhone 5.
I have about 70 or so applications installed on the device but I only use a set group of them on a regular basis. The apps I use the most are Asana, Slack, YouTube, Twitter, Instagram, Gmail, Hangouts, Chrome, Dark Sky, Amazon, SoundCloud, Spotify, and Xbox One Smartglass.
After installing iOS 9.0.1, I haven't noticed much of a difference. All of these apps are performing fine. Twitter and Chrome have crashed once each since this morning's download but that isn't out of the ordinary on this aging phone.
This instills confidence but it doesn't mean that my iPhone 5 and its apps are in the clear. In the past week, Chrome crashed over 50 times on my iPhone 6. The majority of those problems didn't start until a few days after the update's arrival.
I don't have a fix for every app issue on the planet but I have a few possible remedies. First, try installing the latest bug fix update. If that doesn't help or if it has bad reviews, try reinstalling the app. If that doesn't work, contact the developer.
iOS 9.0.1 Battery Life
So far, I haven't noticed any major battery life issues. The phone is holding a solid charge when in use and when it's in standby.
The iOS 9 update delivered a noticeable battery boost to my iPhone 5. I wouldn't say that I've gotten an extra hour of use each day but I've definitely been able to squeeze a little more out of the phone. 20 minutes here, 15 minutes there. The new Low Power Mode option helps.
If iOS 9.0.1 can maintain the experience I saw in my week with iOS 9.0, I'm going to be a happy camper. But with only a few hours of use under my belt, all I can tell you is that I'm not noticing any major battery life struggles.
If you are, you'll want to take a look at our list of battery life fixes and tips.
Wi-Fi, Cellular Data & Bluetooth
I've tested the iPhone 5 on several different routers, Bluetooth devices (headphones and speakers) and AT&T's network. I haven't had any problems with any of them, at least not yet.
Issues with connectivity are common and they can emerge at any time. That's why I've got my own list of fixes for iOS 9 problems bookmarked.
iOS 9.0.1 Problems on iPhone 5
There are iOS 9 bugs and issues out there. I know because I've been keeping an eye on iPhone 5 feedback and iOS 9 problems. However, the issues that I've seen have been small with most of them isolated to just a few iPhone users.
The iPhone 5's iOS 9.0 update was extremely stable on my copy of the phone and I haven't noticed any major issues or bugs on iOS 9.0.1. That doesn't mean there aren't any on here, it just means they haven't affected my daily routine.
One thing I should note is that the fixes that arrived with the iOS 9.0.1 update seemed to have worked. I've been trying to replicate the problems but have been unable to. Here's a list of the fixes that come with iOS 9.0.1:
Fixes an issue where sometimes alarms and timers could fail to play.
Fixes an issue in Safari and Photos where pausing a video could cause the paused frame to appear distorted.
Fixes an issue where some users with a custom APN setup via profile could lose cellular data.
If you are dealing with those issues on your iPhone 5, iOS 9.0.1 is probably worth a look right now.
Speed
This is an area that's been a major let down for me. I was hoping for a turnaround after the iOS 9 release but my iPhone 5 is still slow and sluggish. It has me thinking about a factory reset.
My initial read on iOS 9.0.1 is that it brings more of the same. While it's snappy in some places (scrolling between my two home screens for instance), there are other times when it slows down to the point of frustration.
Doing something as simple as pulling up Control Center or opening a folder on the home screen shouldn't cause the iPhone 5 to stutter and freeze.
I'm hopeful that these issues will dissipate in the next two days but after a week with a sluggish iOS 9, I'm not optimistic.
Should You Install iOS 9.0.1 Right Now?
The fixes are nice and I'm not experiencing any major problems outside of the speed issues. That said, these speed issues are brutal and a big reason why I'm thinking about wiping my phone and starting from a clean install.
It's a solid update but I'd be careful. My advice to iPhone 5 users is to wait a few days for more feedback to emerge. iOS 9.0.1 is still very new and you'll benefit if you wait.
Poke around for more feedback and I'll be back with my full review of the iPhone 5 iOS 9.0.1 update in a few days.
10 iOS 9.0.1 Upgrade Tips
Prepare for the iOS 9.0.1 Update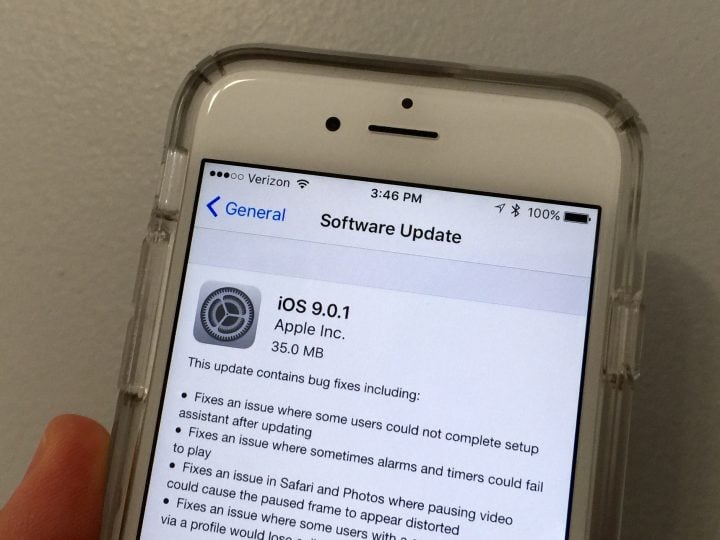 The iOS 9.0.1 update is small, just a shade over 20MB for iPhone. It's not as big as the iOS 9.0 update but don't let that fool you. Small updates like iOS 9.0.1 can cause problems on the iPhone, iPad and iPod touch. And that's why you should prepare before you install.
Once you decide that you want to install iOS 9.0.1 on your phone or tablet, take a look at our list of things to do before installing the iOS 9.0.1 update. They will help you make a smooth transition from whatever you're on to Apple's latest iOS 9 update.

As an Amazon Associate I earn from qualifying purchases.