iOS 9.0.1 on iPhone 6: First Impressions & Performance
Its only been a way since the iOS 9 release and Apple's already moved on. Today, the company rolled out a new iOS 9.0.1 update that aims to fix some of the most glaring iOS 9 problems. We've spend several hours with the iPhone 6 iOS 9.0.1 update and here's what we've found.
Last week, Apple rolled out an all-new iOS 9 upgrade for the iPhone 6 and its stable of other iPhones and iPads. The update, first announced back at WWDC 2015 in June, brings a number of big time features to the iPhone including a battery life boost. That's a big reason why over 50% of iOS users have upgraded.
The company also confirmed the arrival of an iOS 9.1 update for iPhone, iPad and iPod touch though we now know that it won't be iOS 9.0's successor. That honor belongs to the company's brand new iOS 9.0.1 update.
The iPhone 6 iOS 9.0.1 release date is here and its here without any warning from Apple. Like iOS 9, the iOS 9.0.1 update emerged around 10AM PT. Unlike its predecessor, this new iOS 9 update is nothing more than a bug fixer aimed at fixing problems.
That doesn't mean you should let your guard down though. As I've pointed out hundreds of times, even the smallest iOS updates can cause problems for the iPhone and that's precisely why I want to take a close look at its performance today.
My initial iPhone 6 iOS 9.0.1 update impressions don't serve as my final review of the software but they should help those of you who are feeling a bit indecisive. Remember, you don't have to install iOS 9.0.1 right now.
iOS 9.0.1 Installation
Apple's new update arrived today, without warning, a full week after the iOS 9 release. And while the iOS 9.0 release date was plagued by installation issues, the iOS 9.0.1 release hasn't produced the same kinds of problems
I downloaded the update shortly after its arrival and I was able to download and install the 20MB update in about 10 minutes over a fast connection. The download didn't take long but the installation on the phone took about seven minutes to complete. That's unusually long (at least for my device) for a update of this size.
The important thing is that I didn't run into any issues during the download process or the installation process. I haven't heard or seen any major issues so you should be in good shape if you decide to download it later today.
If you do run into installation problems, be sure to consult our list of fixes. It has several remedies for iOS 9 update problems.
iOS 9.0.1 on iPhone 6 Performance
These impressions are not going to get into iOS 9 features. If you haven't installed the iOS 9 update yet, you'll want to take a look at our iOS 9 review or our ongoing iOS 9 coverage for more on the enhancements that come with Apple's new update.
These impressions are focused on performance, as they should be. iOS 9.0.1 is all about correcting some of the problems that slipped through the cracks with the original iOS 9 release last week.
Before I get down business, I want to remind you that I am just one person with one version of an AT&T iPhone 6.
I probably don't use the same applications that you do and I probably don't use my iPhone 6 the same way that you do. This is important to note because mileage always varies when it comes to iOS updates. Use my thoughts and opinions as a general guide.
Apps
For the most part, app performance has been solid with iOS 9 on board my iPhone 6. Most of my core applications (Asana, Slack, YouTube, Twitter, Instagram, Gmail, Hangouts, Chrome, Dark Sky, Amazon, SoundCloud, Spotify, and Xbox One Smartglass) are all working fine. The key word there being most.
Google Chrome is giving me fits. It has crashed upwards of 50 times in the last week, sometimes when I have just one tab with CNN open. Its been extremely frustrating, especially because the last Chrome update came with iOS 9 support.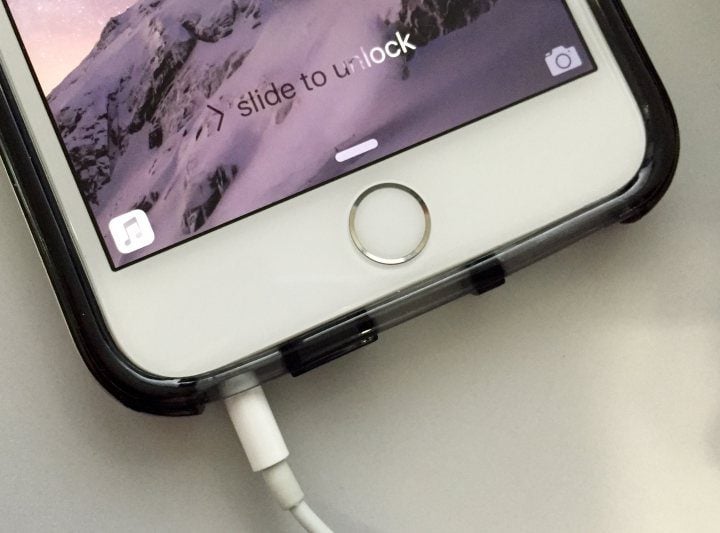 In my limited time with iOS 9.0.1, I haven't noticed any problems with my core apps or any of my secondary applications. I have about 100 or so apps on my device. Chrome is behaving right now but the real test will be tomorrow, Friday and the weekend.
I've been seeing and hearing complaints about busted apps, even in the hours since the iOS 9.0.1 update. If downloading the latest bug fix update doesn't help, try reinstalling the app. This has worked for me in the past. If that doesn't work, contact the developer.
iOS 9.0.1 Battery Life
iOS 9 battery life was solid during my week with iOS 9.0 and I haven't noticed any big changes now that I have iOS 9.0.1 on board.
I've been using the device, extensively I might add, for several hours now and I haven't discovered anything out of the ordinary. It holds a solid charge when in use and when it's in standby mode.
I haven't heard about any major iOS 9.0.1 battery life issues in the few hours since the update's release but that doesn't mean that they don't exist. Battery drain issues almost always emerge after an update's release.
If you see something odd, wait a day or two before making drastic changes to your habits or iPhone 6. Battery life sometimes settles after two days.
If nothing changes, consult our list of fixes and tips.
Wi-Fi, Cellular Data & Bluetooth
I've tested the iPhone 6 and iOS 9.0.1 update with several different routers and I haven't experienced any problems. Yet.
I've also successfully paired it with several different Bluetooth devices including speakers and a couple of pairs of headphones. No problems there either.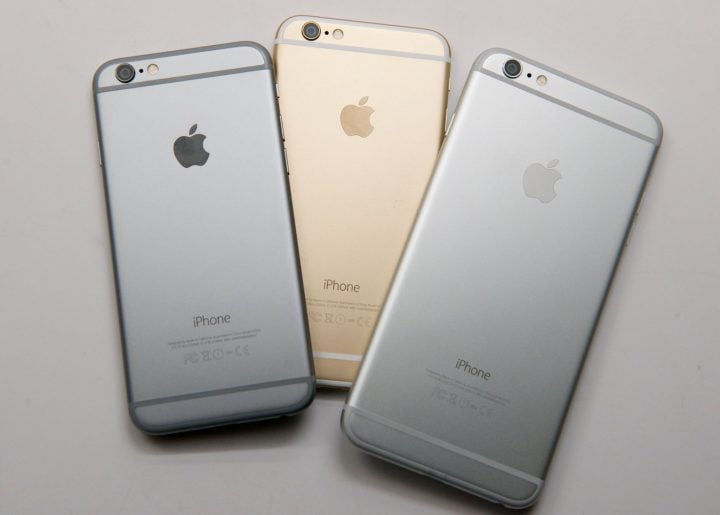 AT&T's LTE network is still working fine for me (I live in Los Angeles) and I don't anticipate any problems with it in the future.
iOS 9.0.1 Problems on iPhone 6
Nothing yet. Massive hero level issues typically jump right off the page after an update. The Touch ID and cellular data issues that impacted iPhone 6 and iPhone 6 Plus owners right after the iOS 8.0.1 update are just one example.
I haven't noticed any game-changing bugs but I've only been using the update for a few hours now. Smaller issues are a whole lot harder to spot and it could be days or even weeks (never) before I spot something out of the ordinary.
I'll keep an eye out but so far, the iOS 9.0.1 update appears stable on the iPhone 6. If you're seeing issues, look at our list of fixes.
Speed
Should You Install iOS 9.0.1 Right Now?
iOS 9.0.1 is a small bug fix update and it's aimed at three bugs in particular. If you need a reminder, here they are:
Fixes an issue where sometimes alarms and timers could fail to play.
Fixes an issue in Safari and Photos where pausing a video could cause the paused frame to appear distorted.
Fixes an issue where some users with a custom APN setup via profile could lose cellular data.
If you are dealing with one of those problems, the iOS 9.0.1 update is probably worth the install today, right now.
I haven't seen any major issues on my iPhone 6. Loads of people are complaining about problems with the App Store but my applications updated just fine.
There's a very good chance your iPhone 6 iOS 9.0.1 upgrade will work out just fine but if you're feeling leery, wait a day or two for more feedback to arrive. iOS 9.0.1 is an important update but unless you're seeing the problems listed above, you don't need it this second.
10 iOS 9.0.1 Upgrade Tips
Prepare for the iOS 9.0.1 Update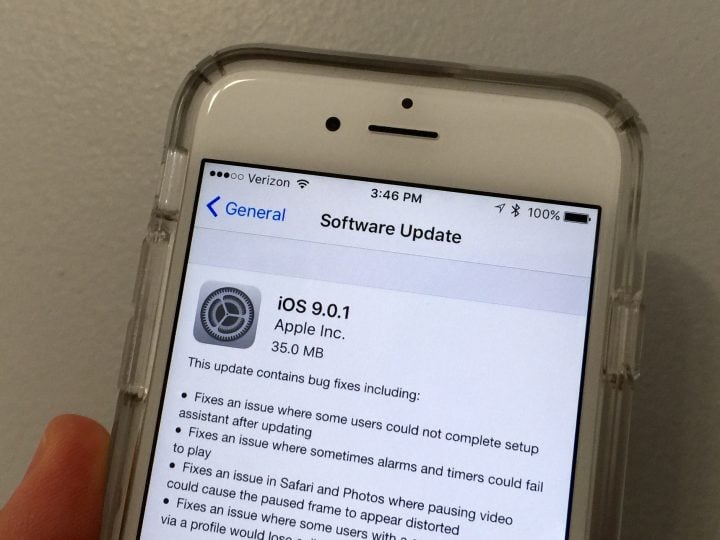 The iOS 9.0.1 update is small, just a shade over 20MB for iPhone. It's not as big as the iOS 9.0 update but don't let that fool you. Small updates like iOS 9.0.1 can cause problems on the iPhone, iPad and iPod touch. And that's why you should prepare before you install.
Once you decide that you want to install iOS 9.0.1 on your phone or tablet, take a look at our list of things to do before installing the iOS 9.0.1 update. They will help you make a smooth transition from whatever you're on to Apple's latest iOS 9 update.

This article may contain affiliate links. Click here for more details.