iOS 9.0.1 Problems Plague Users
Yesterday, Apple released a brand new iOS 9.0.1 update for iPhone, iPad and iPod touch. While the update comes with some crucial bug fixes, iOS users are also saying that it brings some iOS 9 problems of its own.
Earlier this month, Apple announced that it would be bringing its initial iOS 9 update to iPhone, iPod touch and iPad users on September 16th. On September 16th, Apple delivered its highly anticipated iOS 9 update to users around the world.
The iOS 9.0 update brings a number of changes to the iPhone, iPad and iPod touch includes new features, enhancements and for some users, problems. iOS 9 problems have been a problem since last week and Apple's already taking steps to squash them.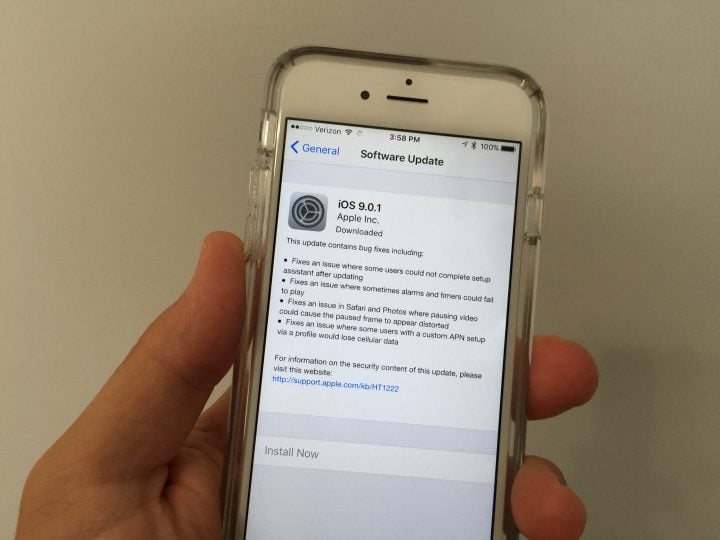 Apple's rolled out an iOS 9.0.1 update that addresses some of these initial iOS 9 problems. The update contains fixes for broken alarms, issues with APN and a fix for a problem with the operating system's upgrade tool. It also appears to have some problems of its own on board.
In addition to these crucial bug fixes, iPhone and iPad users are reporting iOS 9.0.1 problems. Some of these issues can be traced back to the initial iOS 9.0 update while others are emerging for the first time with iOS 9.0.1.
Shortly after yesterday's iOS 9.0.1 release, iPhone and iPad users started complaining about various iOS 9.0.1 installation issues that prevented them from installing the brand new bug fix update on board their device.
Instead of long download times, users have been complaining about verification issues and downloads getting stuck. These are extremely common iOS problems and there are several workarounds that users should try if the issues persist.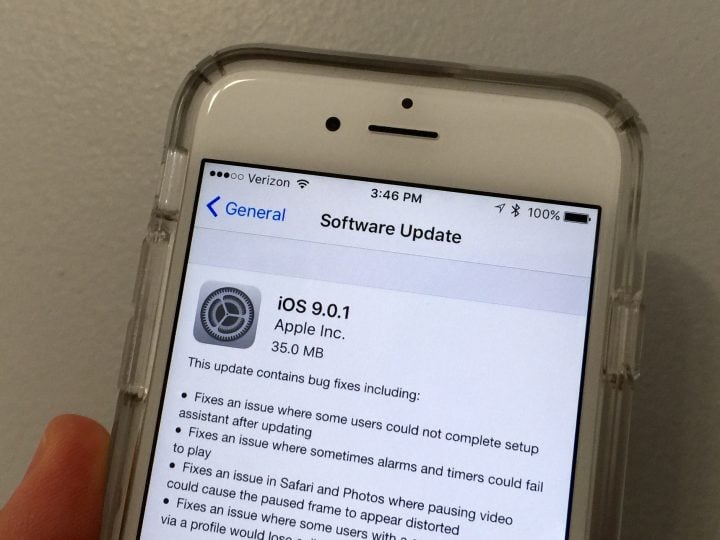 These issues have since been joined by a collection of other iOS 9.0.1 problems that are hampering the performance on the iPhone, iPad and iPod touch. Apple's discussion forums are littered with complaints about Apple's new iOS 9 update and the problems appear to be affecting most iPhone and iPad models.
Issues with apps and the App Store continue to plague iPhone and iPad users after the iOS 9.0.1 release date. Users have reported an inability to download and install new app updates, some of which come with support for the iOS 9 update.
This issue first emerged last week and fortunately, there are some quick fixes that struggling iPhone and iPad users will want to try.
iPhone and iPad users are also complaining about an assortment of other iOS 9.0.1 problems including disappearing call logs, issues with the cellular data toggle for apps, problems with swiping gestures, problems with data, issues with the new Search features, and lag in the Game Center.
iOS 9.0.1 users are also complaining about vanishing wallpapers, response issues with the iPhone touchscreen, problems with Contacts, lag on the iPhone 6 Plus and iPhone 5, and problems with the volume bar.
And while we didn't see too many complaints about bad iOS 9.0 battery life, a number of iOS 9.0.1 users are complaining about bad iOS 9.0.1 battery life.
iOS 9.0.1 update drains the battery quicker than the prev version…does anyone else face such? #ios9 #ios9.0.1 #iphone #ios #apple

— Arus Chandran.R.S. (@Aruschandran) September 24, 2015
Amazing iOS 9.0.1 on iPhone 5. 70% of the battery drained in 3 hours. Oo.

— madfab (@lemadfab) September 24, 2015
So I've just updated to iOS 9.0.1 and I lost a percent of battery just opening my settings, da fuk? #iOS9 — Tilly Gyton (@TGyton) September 24, 2015
Don't update your phone to iOS 9.0.1 the battery life sucks — Danny Coffey (@dcoffey1915) September 24, 2015
9.0.1 is already out. Doesn't address the battery drain on older devices though. #iOS9 #ios #aaple — chathu (@chathu27) September 24, 2015
We're also seeing complaints about Wi-Fi, Bluetooth, and an assortment of complaints about Apple's new Music platform.
These complaints are just the tip of the iceberg from Apple's official forums. There are many other iOS 9.0.1 problems out there and we expect to see more emerge as we push away from the iOS 9.0.1 release date.
Those who are dealing with iOS 9.0.1 issues should consult Apple's discussion forums or another popular forum, look at these iOS battery life tips and take a look at some of these proven fixes for common iOS 9 problems. If none of these fixes work, it might be worth taking the device into an Apple Store.
Apple doesn't announce incremental bug fix updates ahead of time though we could see the company deliver an iOS 9.0.2 update ahead its upcoming iOS 9.1 update later this year.
iOS 9 users have discovered an iOS 9 passcode flaw that exposes the users contacts and photos. Apple hasn't responded to that issue, or any other issues, so iOS 9.0.1 users are on their own. For the time being at least.
5 Reasons Not to Install iOS 9.0.1 & 3 Reasons To Do It
Install iOS 9.0.1 If You Depend on Alarms & Timers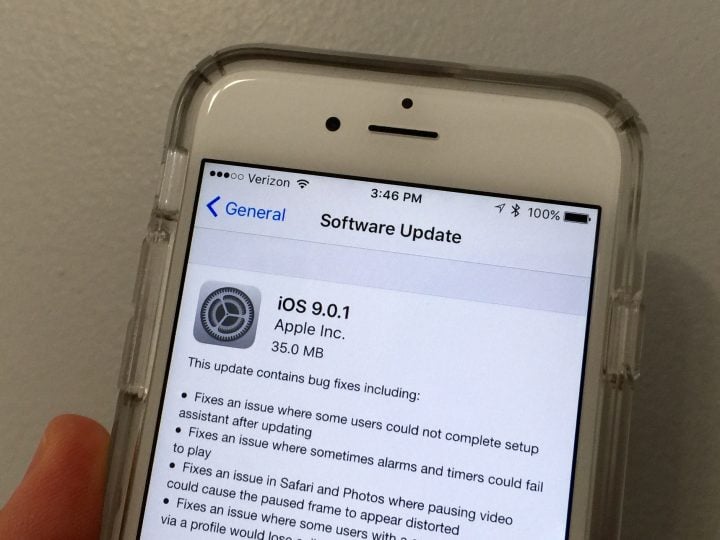 If you are dependent on alarms and timers (and we imagine that many of you are for work/cooking/etc.), you might want to consider installing the iOS 9.0.1 update right now. It comes with an important fix for, you guessed it, alarms and timers.
While we didn't run into any problems during our time with iOS 9.0, it appears that some people noticed that there alarms and timers were failing to go off. That's not good, especially if you depend on your alarm to wake up for work at a certain time in the morning.
We've been using the iOS 9.0.1 update for more than a day now and we've been testing our alarms and timers to make sure that they work. So far so good.