iOS 9.2 on iPhone 6 Plus: Impressions and Performance
The iOS 9.2 update arrived this week to deliver a series of bug fixes and new features to the iPhone 6 Plus and other Apple devices. Now that the iPhone 6 Plus is well over a year old, owners often switch from an install without a worry attitude to doing more research before upgrading. Join us for a look at the iPhone 6 Plus iOS 9.2 performance and what owners need to know about using this on this iPhone specifically.
Similar to the iOS 9.1 update that arrived in October, iOS 9.2 is a substantial upgrade with new features and bug fixes for the year-old iPhone. This includes fixes for iOS 9 problems and support for using Siri in Arabic language.
This is an upgrade that can help deliver a better experience to users who are experiencing problems with the iPhone 6 Plus on iOS 9 or iOS 9.1.
[contextly_sidebar id="WkugoWEEGLh65EFNPm5AZzZXIv3ZqC89″]
Apple released the iOS 9.2 update for the iPhone 6 Plus and other devices capable of running iOS 9 or iOS 8.
One reason we take an early look at the iPhone 6 Plus iOS 9.2 update so soon after the release is that updates like this can bring new problems in addition to the fixes that it delivers. This is what you need to know about iOS 9.2 on the iPhone 6 Plus before you install it,
iOS 9.2 Installation
Unlike with the iPhone 6s Plus, there was no issue installing iOS 9.2 on the iPhone 6 Plus. Within 15 minutes the upgrade was installed and the device was up and running again.
Before you tap install there are some steps you should take to prepare your iPhone, and you can use this upgrade guide for more information on how to install the update if you are not familiar with the upgrade.
iOS 9.2 iPhone 6 Plus Performance
As the iPhone ages, software updates become more important. They can improve or degrade performance more on an older smartphone. This is even true with the devices that Apple sells after just over a year on the market.
Keep in mind that performance can vary based on how you use the device, what accessories and apps you use and other customizations, tweaks and needs.
Apps
The iPhone 6 Plus apps run great after the update. If you have any issues, we suggest upgrading apps to make sure you have the latest versions and fixes in place. You can also turn on automatic updates to make sure your apps are always up to date. If you are testing any apps or use custom apps for work or school, it's a good idea to verify that they will work on iOS 9.2 before upgrading.
iOS 9.2 Battery Life
After 24 hours the iPhone 6 Plus iOS 9.2 battery life is good. There is no change to the battery life that we can detect yet, and most important there is no major battery drain that would indicate a major problem with overall iOS 9.2 battery life or with our iPhone 6 Plus specifically. Use this guide to fix any iOS 9.2 problems you run into.
WiFi, Cellular Data & Bluetooth
This is an AT&T iPhone 6 Plus, and it connected fast to AT&T LTE with reliable connectivity and speeds. You may see a prompt for a carrier update, which is worth installing.
Bluetooth connectivity and WiFi connectivity are also solid and reliable so far with AirDrop working as expected and headphones connecting fast.
iPhone 6 Plus iOS 9.2 Problems
There are no iPhone 6 Plus iOS 9.2 problems specific to this device that we have experienced. There are some iOS 9.2 problems that you should be aware of for sure, but we did not experience these on our review model.
We will continue to monitor the overall stability and performance of the iPhone 6 Plus iOS 9.2 update for any smaller issues that may arise.
Speed
I can not tell a difference between the speed of the iPhone 6 Plus on iOS 9.1 and on iOS 9.2. There may be very small differences in some areas, but it feels like the same phone.
Should You Install iOS 9.2 on the iPhone 6s Plus?
If you are already on iOS 9 or iOS 9.1 and you don't use any jailbreak tweaks the iPhone 6 Plus iOS 9.2 update is worth installing right now. If you do run into any issues you can still downgrade to iOS 9.1 for a limited time.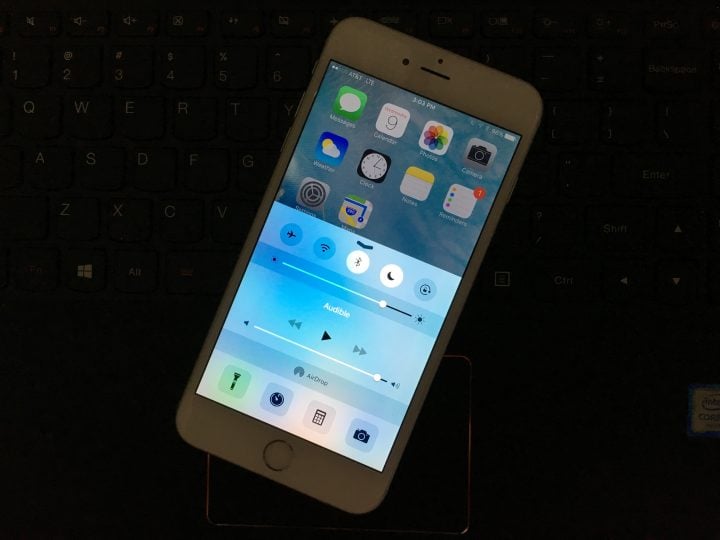 Users who are on iOS 8, or who are using a iOS 9 jailbreak should hold off on upgrading. There is no way to go back to iOS 8 and there is no iOS 9.2 jailbreak yet.
You are not forced to upgrade and you can reference these reasons to install iOS 9.2 and reasons to wait for more advice.
The slides below offer a closer look at what's new in iOS 9.2. We will share an update after spending more time using iOS 9.2 on the iPhone 6 Plus.
iOS 9.2 vs iOS 9.1: What's New in iOS 9.2
iOS 9.2 Fixes iOS 9 and iOS 9.1 Problems
Perhaps one of the biggest changes with the iOS 9.2 update is that it fixes a lot of iOS 9 problems and iOS 9.1 problems for iPhone and iPad users.
We see small fixes come in targeted updates, but the iOS 9.2 update packs in a lot of new fixes that may solve a problem that annoyed you for the last several months. Here are the new fixes in iOS 9.2.

Fixing an issue that caused mail attachments to be inaccessible for some users with POP email accounts
Resolving an issue for some users that caused attachments to overlap text in mail
Fixing an issue where Live Photos could have turned off after restoring from a previous iCloud backup
Addressing an issue that could cause search in Contacts to display no results
Resolving an issue that could have prevented Calendar from displaying all seven days in week view
Fixing an issue where Camera screen on iPad could be black when attempting to capture video
Addressing an issue that could cause instability in the Activity app when viewing the day of Daylight Savings Time transition
Fixing an issue that could prevent data from appearing in Health
Fixing an issue that could prevent Wallet updates and Lock screen alerts from displaying
Addressing an issue where updating iOS could prevent an alarm from going off
Fixing an issue where some users were unable to login to Find my iPhone
Fixing an issue that prevented some manual iCloud Backups from completing
Addressing an issue where using the iPad keyboard could unintentionally trigger text selection mode
Improved keyboard responsiveness when using Quick Reply
Improved punctuation input on the 10-key Chinese (Pinyin & Stroke) keyboards with new expanded view of punctuation symbols and better predictions
Fixing an issue on Cyrillic keyboards where caps lock would be enabled when typing in URL or email fields

You'll notice that many of these are targeted, but cover things that can easily annoy users. Slow keyboard response in Quick Reply is one of our frustrations with iOS 9.1 that this fixes. Other upgrades fix alarm bugs, iCloud backup problems and much more.

As an Amazon Associate I earn from qualifying purchases.