iOS 9 Release: What We Know So Far
As we inch deeper into the month of May, we push closer and closer to the start of WWDC 2015 and perhaps, Apple's iOS 9 update for iPhone, iPad and iPod touch. Apple still isn't talking about iOS 9 but we've already seen rumors and Apple itself lay the groundwork for an announcement. With that in mind, we want to take a look at what we know about the iOS 9 release including details about iOS 8.4 and Apple's rumored iPhone 6s.
Last June, Apple took the stage at its annual WWDC conference in San Francisco and announced several new products including an update to OS X for Mac (Yosemite) and an update for its iPhone, iPad and iPod touch models (iOS 8). iOS 8 followed in the footsteps of 2013's massive iOS 7 upgrade that delivered wholesale changes to Apple's operating system.
iOS 8 delivered a number of new features, enhancements, tweaks, and fixes but it also brought a number of well-documented problems. Some might argue that iOS 8's problems have completely overshadowed many of the benefits that Apple's new operating system brought to the table.
Over the past few months, Apple's polished iOS 8 through a series of incremental updates. First it was iOS 8.0.1, iOS 8.0.2 and iOS 8.1. Then, the company released a series of iOS 8.1 updates including an iOS 8.1.1 update that endured a quick stay inside the company's beta program for developers. Soon after, Apple strayed into unchartered waters.
Instead of releasing a few smaller bug fix updates in the buildup to WWDC, the company released some substantial upgrades to its operating system. In years past, Apple might've saved many of these features for its next big update. Not in 2015 and not iOS 8.
Several weeks ago, Apple released iOS 8.2. Shortly after that, the company released an iOS 8.3 update that brought an absurd number of bug fixes, new filters for Messages and a new emoji keyboard amongst other changes. And with WWDC 2015 and iOS 9 in sight, the company is poised to deliver another major update for iOS 8 users.
May figures to be a busy month for Apple, for iOS, and for iPhone, iPad and iPod touch users around the world. June should be as well, especially if Apple decides to announce an iOS 9 release on stage next to an Apple TV as some rumors suggest. With that in mind, we want to take a look at everything we know about the iOS 9 update. This roundup includes what's coming before it, what could be coming with it, and what could arrive alongside it when it's released to users around the world.
Here's what you need to know as we kick off the month of May.
iOS 8.4 Release
Before we get to the iOS 9 release, it's appropriate to talk about the update that will almost certainly precede Apple's next big iOS release for iPhone, iPad and iPod touch. That update is iOS 8.4, an update that currently sits in the company's two beta programs, one for the public and one for developers.
Last week, Apple released its second beta for developers and first for those in the public beta program. What this means is that an iOS 8.4 release date is inching closer. Problem is, we still don't know when Apple plans to release it.
iOS 8.4 release date rumors have mentioned a summer release though we haven't seen anything specific pop up for awhile. iOS 8.4 beta 2 users claim that there is still a lot of work to be done so iPhone and iPad users shouldn't expect Apple to release the update in the near future. We should see at least one more beta release.
iOS 8.4 is an important piece to the iOS 9 puzzle. First off, it's laying the groundwork for Apple's streaming music service. The update's big change is a revamped Music application that comes with a number of new enhancements. Apple's new streaming service is expected to debut alongside iOS 9 at WWDC 2015 in early May though it's not clear how Apple will implement it or when it will be released to the public.
Apple's iOS 8.4 update is also important because it will likely serve as a main bridge to the iOS 9 release given that Apple doesn't appear to have an iOS 8.5 update in the pipeline. Apple typically releases its new updates in the fall so that means that iOS 8 users are going to want to get acquainted with iOS 8.4. It should be around for awhile.
Look for iOS 8.4 update and release details to pick up as we push into the month of May, closer to start of WWDC 2015 and the arrival of Apple's new Spotify competitor.
iOS 9 Launch
Apple still hasn't confirmed an iOS 9 update or an iOS 9 release but all signs point to an arrival at a familiar event, on a familiar date, during a very familiar keynote address to Apple's developers.
For the past several years, Apple's introduced its yearly iOS and OS X updates during its WWDC keynote. And while the company hasn't come right out and confirmed a new iOS update for WWDC 2015, there are some clues.
Apple's WWDC 2015 kicks off on June 8th and it's on that date that the company is expected to address its developers. In its press release for WWDC 2015, Apple states that "at WWDC, Apple's renowned developer community will come together to learn about the future of iOS." The statement doesn't mention iOS 9 by name but it's a sign that we'll probably see more than an iOS 8.4 update announced on stage.
In the WWDC 2015 information section, Apple outlines what developers can and cannot do with pre-release information disclosed at the event. This is further proof that we will likely see the iOS 9 update arrive during the keynote and WWDC 2015. Apple's ship isn't as tight as it used to be but it still likes to keep some things under wraps.
The timing makes a ton of sense. It's WWDC and Apple will need to test the update ahead of its public release. And what better way to do that then to announce the update during its live stream and release the iOS 9 beta to testers shortly after the event.
iOS 9 Beta
When Apple first released its iOS 8.3 beta, it released it to developers in its paid developer program. Status quo. Part for the course. It did the same with its iOS 8.3 beta 2.
The arrival of iOS 8.3 beta 3 saw two releases, one for developers and one for the general public. Apple's new Beta Software program allows non-developers to test early iOS software for free ahead of release.
The iOS 8.4 beta is also now open to the public as Apple seeks outside assistance to help perfect its incoming update. We're sensing a trend here and there's already talk of a public iOS 9 beta.
The iOS 9 update is also expected to be included in Apple's beta program and it could include a public beta. The public beta will reportedly start this summer, likely after WWDC 2015 and if true, it would allow thousands of iPhone and iPad users that aren't registered in the developer beta program to try the software ahead of a release later this year.
We've heard that Apple might approach the iOS 9 beta the same way that it approached iOS 8.3 and iOS 8.4. The two betas arrived for developers before they landed for the non-paying public. So while we should see an iOS 9 beta emerge shortly after WWDC, it may be limited to developers.
iOS 9 Release Date
iOS 9 release date rumors have centered on a release this fall. Not surprising given that Apple always releases new iOS updates alongside new iPhones and the iPhone 6s release is rumored for the fall.
The iPhone 6s is expected to feature a number of new features including iOS 9, an improved design, new display technology, upgraded specifications including a new processor, and changes to the camera.
iOS 9 Features
Apple's done a good job keeping its iOS 9 update out of the rumor mill though we've seen a few details leak out in the lead up to WWDC and a potential announcement.
While iOS 8 and iOS 7 both introduced design changes and a flood of new features, Apple's rumored to be taking a different approach with its upcoming iOS 9 update.
We know that Apple is already testing iOS 9 in behind the scenes and a recent 9to5Mac report suggests that the focus of iOS 9 won't be adding a ton new features. Instead, iOS 9 will reportedly focus on fixing bugs and improving performance and the stability of the iPhone and iPad. It's not clear what that entails just yet though we could learn more in May and should learn more in June.
We've outlined a number of iOS 9 features that we'd love to see Apple include with its next update these, like many of the iOS 9 concepts that we've seen, could be left out.
9 Features We Want from the iOS 9 Release
Siri That Works With Other Apps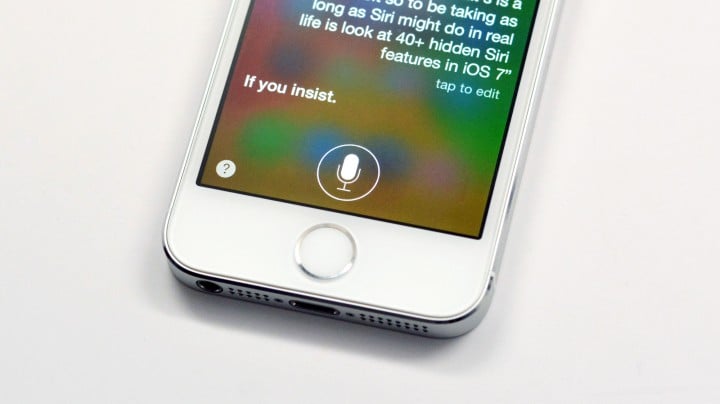 Siri can open other apps, but it cannot control them in the ways we want. In ISO 9 we want Siri to move beyond opening Spotify or Nest and into allowing developers to connect to Siri for controls.

Read: 41 Siri Tips & Tricks
Ideally iOS 9 could allow users to say, "Hey Siri, play Daft Punk on Spotify," and users could listen to the music they want in the app that they want. Apple may choose to keep Siri controls to iTunes, iTunes Radio and maybe Beats, but that doesn't mean we'll like it.
The options are endless, but we would definitely use Siri to turn on Hue Lights, control the Nest thermostat and many other apps if Apple opened up support.

As an Amazon Associate I earn from qualifying purchases.