iPad vs iPad Pro: 9 Reasons Why the iPad Pro is Better
What's the difference between the iPad vs iPad Pro? The iPad Pro is a much better than its $329 iPad sibling, but it comes at a very steep cost. This guide will help you understand why the iPad Pro is more expensive and if it's worth paying a premium, or just sticking with the cheaper iPad.
Before we dive into the iPad vs iPad Pro debate, it's worth noting that I've bought and used every iPad model, starting with the original iPad. My current iPads include the standard iPad, the iPad mini 4, the 10.5″ iPad Pro and the 12.9″ iPad Pro.  I use the range of iPads for work, entertainment, and to help my young son learn.Here is a quick summary of why the iPad Pro is better than the standard iPad:
iPad  vs iPad Pro
iPad Pro has bigger display
iPad Pro is easier to read outdoors
iPad Pro has a dock connector for better accessories
iPad Pro comes with much more storage
iPad Pro supports the Apple Pencil
iPad Pro has better speakers
iPad Pro equipped with better cameras
iPad Pro has a faster processor
iPad Pro has room to grow
Do you actually need an iPad Pro?
If nothing in the above list of features really speaks to you, you may be better off with a standard iPad. The $329 iPad is good enough for many people, especially those who will be primarily consuming content or using it mostly at home. The standard iPad is also the only way to go if you're on a tight budget. Apple has a long history of charging steep premiums for added features and functionality and the iPad Pro's no exception. While the iPad Pro is clearly the superior device, many users will find it difficult to pay nearly twice as much for it than the standard iPad. If you don't feel strongly drawn to the iPad Pro after reading this comparison, then you'll probably be just fine with the standard iPad. Remember to test out your iPad or iPad Pro thoroughly while you're within the return period so you don't have any long-term regrets.
iPad Pro Has a Bigger Display than the New iPad
The iPad Pro's 10.5″ display is bigger than the standard iPad's 9.7″ display. While that might not sound like that much, there's a very noticeable difference. That's because the iPad Pro's display is about 20% bigger than the standard iPad's display. In the photo above, you can see how the iPad Pro's display extends further to the edge of the device in the above photo than the standard iPad's.
The larger display is very noticeable when using the iPad Pro with a keyboard. That's because the 10.5″ iPad Pro's display resembles a laptop's in this mode.
The bigger display is also very useful when using the iPad Pro in split-screen mode. This mode lets you put two apps or webpages side-by-side for multi-tasking. The extra 20% of workspace makes a world of difference.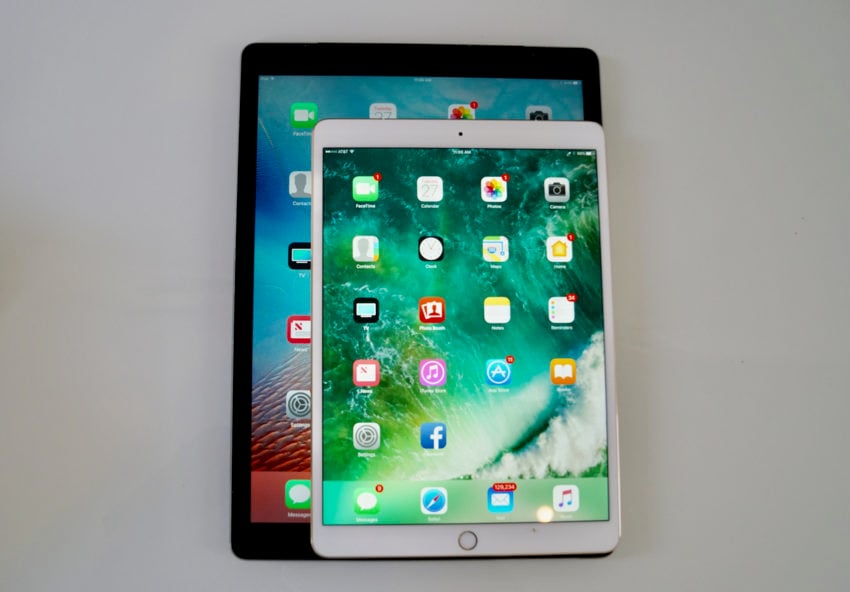 Obviously, the 12.9″ has a much bigger screen than either the standard iPad or the 10.5″ iPad Pro. The 12.9″ iPad Pro is a good option for those that will be using it as a laptop replacement or as an entertainment machine at home. It is far less portable, but its bigger display is worth the tradeoff for some people.
iPad vs iPad Pro: Outdoors and Bright Lights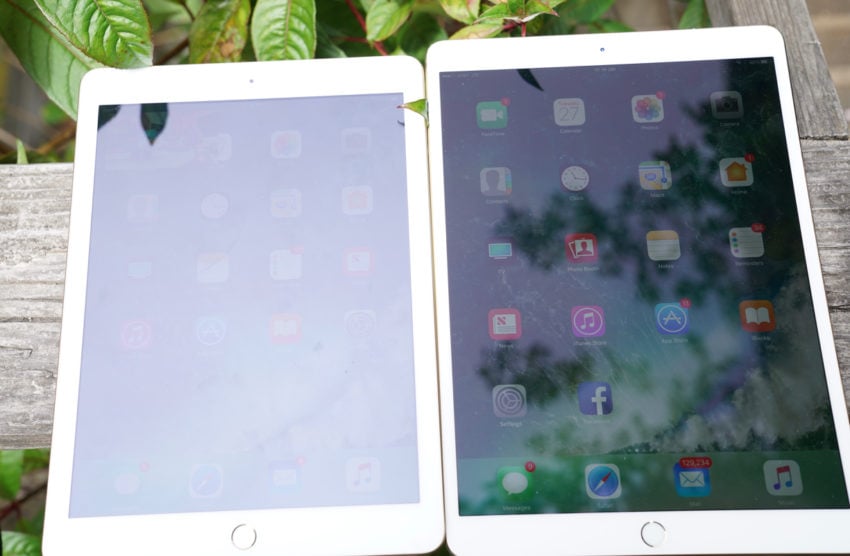 If you're going to use an iPad outdoors, you're going to want to go with the iPad Pro. That's because Apple put an antireflective coating on the new iPad Pro's display that cuts down on glare significantly. As you can see in the above image, it's much easier to see the iPad Pro's display than the standard iPad's display outdoors.
The iPad Pro's display also cuts down on glare significantly indoors with overhead lights and when near windows. If you're susceptible to being distracted by glare from computer screens, you'll appreciate the iPad Pro's antireflective coating regardless of lighting conditions.
While there are a total of nine points here in comparing the iPad vs iPad Pro, the difference in the displays are by far the most visible.  If you are a college student or professional that isn't tied to a desk, you are exactly who Apple designed the iPad Pro display for. The last thing you want is to lug around an iPad that you can't use wherever you are.
iPad vs iPad Pro: Dock Connector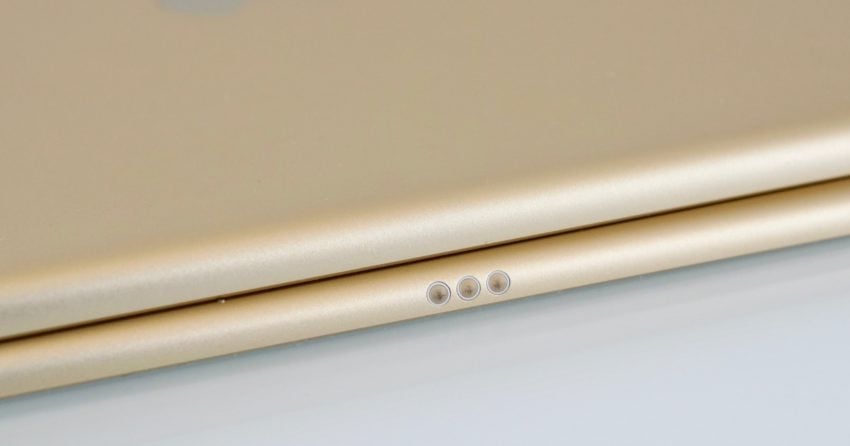 The iPad Pro has three metallic dots on one of its long edges that connect it to keyboards and docks. There are only three iPad Pro accessories out there that actually utilize the dock connector, including Apple's Smart Keyboard, the Logitech Slim Combo Keyboard, and the Logitech BASE Charging Stand. While it would be nice if there were more dock connector accessories available, these three options are all excellent and the direct connection is much more pleasant than pairing Bluetooth keyboards, remembering to power them on, and eventually charging them. The dock provides power to keyboards, which means they don't contain any batteries that add weight like Bluetooth keyboards.
iPad vs iPad Pro Storage
The base $649 iPad Pro comes with 64GB of storage, while the standard $329 iPad only comes with just 32GB. Neither of these storage options are enough for those that want to make the most out of their iPads, especially those that plan to use their iPads as their primary computers. While 32GB might sound like enough at first glance, keep in mind that iOS and pre-installed apps eat up several GB of storage. The $429 standard iPad comes with 128GB of storage, which is enough for those that want to store photos, videos and purchased movies, so long as they subscribe to Apple's iCloud storage.
Even more storage is required for those that want to store entire photo libraries, tons of apps, and enough movies and shows to entertain themselves for extended periods away from Wi-Fi. The 10.5″ iPad Pro can be purchased with 256GB of storage ($749) or 512GB ($849).  The 12.9″ iPad Pro has the same storage options, but costs $150 more.
Those prices are significantly higher than the standard 32GB iPad's $329 price tag. If your plans don't involve storing or creating a ton of content, the standard iPad should suffice, so long as you're clear on the compromise. People that plan on using an iPad for streaming video content, browsing the web and keeping in touch with friends on Facebook will be fine with the 32GB or 128GB iPad. My advice is to go with the 128GB iPad and plan on paying for more iCloud storage as your needs change if the iPad Pro is out of your price range or the other iPad Pro features don't mean much to you.
iPad vs iPad Pro: Apple Pencil
The iPad Pro's optional Apple Pencil adds a whole new dimension to the tablet. While third-party accessory manufacturers have built various accessories to mimic real pens or pencils to work with standard iPads for years,  the iPad Pencil is the first such product Apple's produced itself.  The Apple Pencil is more accurate than any other iPad stylus I've tried and it has a lot more uses than you might think.
I'm not the sort of person that uses the Apple Pencil to create art from scratch, but I do use it for editing photos on my iPad Pro. It's much more accurate to make finer selections than using my fingers. I also find it less frustrating to select small icons  with the Pencil.
My son uses the iPad Pro Pencil to practice writing and drawing. There are some fantastic education apps for young children that even better with the Pencil. For example, his Kindergarten teacher asked that he use an app called Wet, Dry, Try to work on letter formation and fine motor skills.
You can read our full iPad Pro Apple Pencil review here.
iPad vs iPad Pro Speakers
If you plan on listening to a lot of music or watching a lot of video content without a headset, you'll appreciate the iPad Pro's built-in speakers. Both the standard iPad and iPad pro have a pair of speakers on the bottom edge, to the left and right of the Lightning connector. 
Only the iPad Pro has a pair of speakers on the top edge of the tablet. The extra speakers add more volume, which means it can actually fill a room with sound if you're watching a movie with a small group of people. The extra pair of speakers also means that the iPad Pro will play back movies and shows in stereo so the sound matches what's happening on the screen.  Watching movies without headphones on the standard iPad is less than an ideal experience because all of the sound comes out of one side, leaving the other side of the iPad silent.
iPad vs iPad Pro Cameras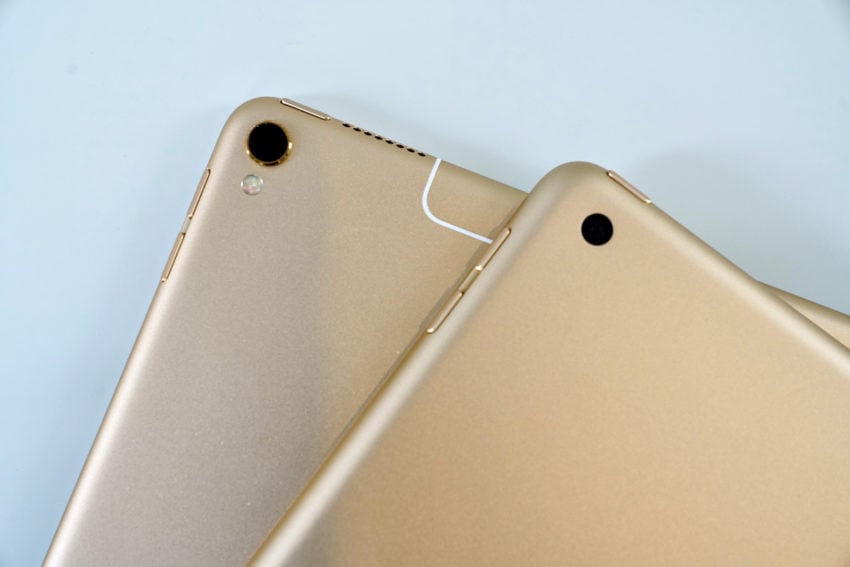 Taking photos and videos with a full-sized tablet is less than ideal compared to using a camera or iPhone, but there are times where you have to work with what you've got. If you're the creative type or just think you'll use your iPad's camera on a regular basis, you might want to go with the iPad Pro.
The iPad Pro uses the same rear camera as the one found on the iPhone 7. You'll notice in the above photo that the iPad Pro's camera stands out from the rest of the case and there's a built-in flash. The 12MP iPad Pro camera has optical stabilization and has a maximum aperture of f1.8. That means your photos shot indoors and in low-light situations will look clearer.
The standard iPad's rear camera only shoots at 8MP and has an f2.4 aperture. That means that it won't capture as much data as the iPad Pro's camera and photos won't be as clear in low light.
If you don't plan on shooting photos and video with an iPad's  rear-facing camera,  you should still consider the differences between their front-facing cameras. The so-called FaceTime HD camera on the iPad Pro captures 7MP photos and 1080p video. It also has an f2.2 aperture. All that means is that your selfies and FaceTime calls will look pretty decent. The standard iPad's FaceTime HD camera shoots at just 1.2-megapixels and records at just 720p.  That means both your FaceTime calls and video messages won't look as good with the standard iPad as they would with the iPad Pro.
iPad vs iPad Pro Speed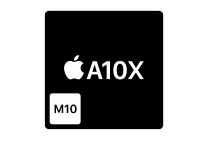 The iPad Pro has something called an A10X processor, while the standard iPad has an A9 processor.  The iPad Pro's A10X chip helps make it significantly faster than the standard iPad. If you plan on using your iPad to create a lot of content or play a lot of the latest graphics-intensive iPad games, then you'll appreciate the extra speed. If you're going to consume content and play more mainstream games, then the standard iPad will serve you just fine.
The difference in processing speed is something that I can really feel when working with photo and video projects. Importing and processing photos on the standard is painfully slow on the standard iPad compared to the iPad Pro.
The iPad Pro will Grow with you
If you plan on holding onto your iPad for several years, the iPad Pro will probably last longer. That's because it will likely be eligible for more updates of Apple's always evolving iOS in the coming years. iPhone and iPad users are often frustrated to find out that they can't use the latest version of iOS. While this isn't a problem if you just use your iPad for web browsing and email, newer apps require newer versions of iOS and you can be left out in the cold.
If the standard iPad's limitations don't bother you and it fits your budget, then by all means get it. However, if you are always looking to do more with your iPad, it may be worth splurging on the iPad Pro. Some of the best iPad apps are being tailor-made for the iPad Pro and you risk missing out if you're using a standard iPad.
Another thing to consider if you're buying an iPad for a student is that what they're doing with their iPads will likely change year after year. Your student might not need an Apple Pencil right now, but she might fall in love with art and get a lot more mileage out of the iPad Pro next school year.
iPad vs iPad Pro
iPad
iPad Pro
Display Size
9.7"
10.5" or 12.9"
Outdoor Readability
N/A
Antireflective coating
Optional Keyboards
Bluetooth/Wireless
Bluetooth/Wireless
Dock Connector
Storage
32GB or 128GB
64GB, 256GB or 512GB
Stylus Input
Third Party
Apple Pencil, w/ pressure sensitivity
Sound
2 speakers, Mono in landscape mode
4 speakers, Stereo in landscape mode
Main Camera
8MP, 1080p f2.4, no stabilization, no flash
12MP, 4K, f1.8 w/ Optical Image Stabilization & TrueTone Flash
FaceTime Camera
1.2MP photos, 720p video
7MP photos, 1080p video
Processor
A9
A10X
Price (WiFi Only)
32GB: $329
128GB: $429
64GB: $649 (10.5"), $799 (12.9")
256GB: $749 (10.5"), $899 (12.9")
512GBGB: $949 (10.5"), $1,099 (12.9")
Price (WiFi + 4G LTE)
32GB: $459
128GB: $559
64GB: $779 (10.5"), $929 (12.9")
256GB: $879 (10.5"), $1,029 (12.9")
512GB: $1079 (10.5"), $1229 (12.9")
If you do end up buying an iPad Pro, there are some excellent cases and accessories for it, which you can view below:
Best 10.5-inch iPad Pro Cases
Apple Leather Sleeve for 10.5-inch iPad Pro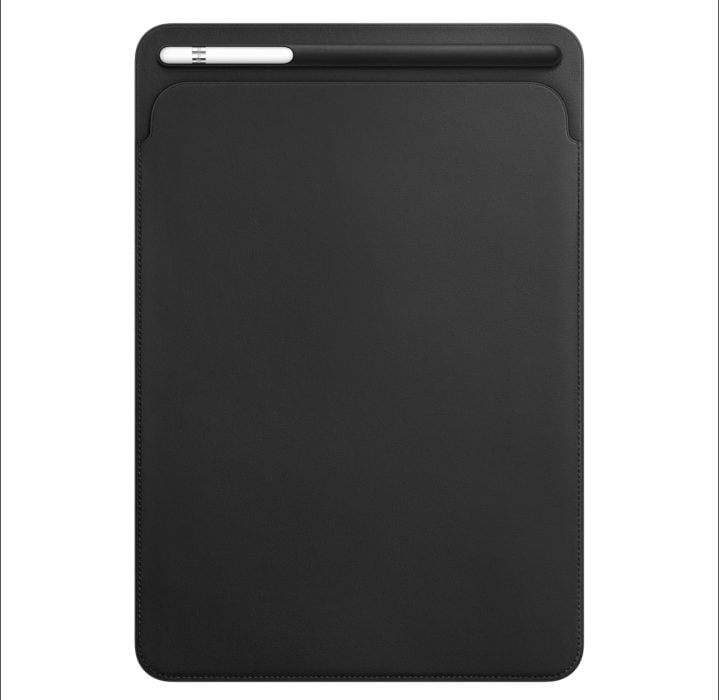 The Apple Leather Sleeve is a fashionable leather 10.5-inch iPad Pro case that holds your new iPad and the Apple Pencil. This is not a cheap iPad Pro case, clocking in at $129 and it will not protect your iPad Pro while you are using it.
Even with those limitations, it is one of our favorites due to the look and the protection that it provides to the Apple Pencil. The slip at the top allows you to store the pencil safely without worrying that the tip will break or the cap will disappear.
This total package is slim enough to slide into a backpack when you need to carry this on a trip, yet sturdy enough to function as a standalone case to go to the coffee shop or work.
$129 at Apple

As an Amazon Associate I earn from qualifying purchases.