iPhone 6 Release Date & Feature Video Roundup
Here is everything you need to know about the iPhone 6 release date and potential features in an iPhone 6 video that rounds up the key details and important rumors.
From two new iPhone 6 models with larger screens and an all new iPhone 6 design that complement upgraded specs to rumors about when you can buy the iPhone 6, we have you covered.
The new iPhone for 2014 is the iPhone 6, or at least that's the name we are using until Apple makes an official announcement. With two models it is possible one will be the iPhone 6L or iPhone 6 Air, but for now it's just the iPhone 6.
We've already gone hands on with the iPhone 6 4.7-inch and iPhone 6 5.5-inch mock-ups based on leaked schematics and photos — and they fit the iPhone 6 cases that arrived well ahead of an iPhone 6 release from a company with a good track record of producing cases before a new smartphone release.
While we don't know everything about the iPhone 6 features, leaks and reports do tell us a lot about what we can expect from the new iPhone.
If you are thinking about buying an iPhone 5s or iPhone 5c, you should watch our video before you lock into a two year contract with an older phone. Even with deals dropping the iPhone 5s price to $79, there are reasons to wait for the iPhone 6 release date.
The Apple iPhone 6 will take on the Samsung Galaxy Note 4 this fall. Samsung plans to announce the Galaxy Note 4 less than a week before the rumored iPhone 6 event and we should see the iPhone 6 vs Galaxy Note 4 battle come to a head with fast release schedules from both companies.
Our iPhone 6 video roundup offers a closer look at the iPhone 6 rumors using iPhone 6 models and the latest believable iPhone 6 leaks and news.
iPhone 6 Video Rumor Roundup
Watch our 10 minute iPhone 6 video to understand what buyers can expect from the iPhone 6 this fall. From the iPhone 6 release date in late September to the iOS 8 software that will arrive on the iPhone 6 and other devices, there is a lot of information to share.
We dive into the iPhone 6 design to show you what the new iPhone looks like, based on leaks, and explain what you need to know to get ready for the iPhone 6 release date that is less than a month away.
iPhone 6 Features, Specs & Comparisons
For a closer look at the iPhone 6 release date rumors and what you can expect from the iPhone 6, check out these five important details about what you can expect from Apple later this year and be sure to check out our various iPhone 6 comparisons to see how the new iPhone looks next to the best smartphones on the market.
iPhone 6 Release Date Rumors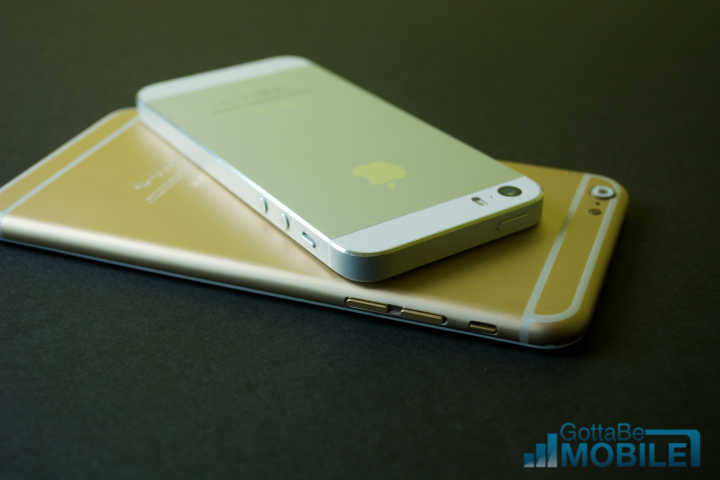 The iPhone 6 release date is September 19th according to Apple's traditional timeline and our best prediction based on current rumors and plans. This may change and there is a chance that we will see two iPhone 6 release dates thanks to a slower start for the 5.5-inch iPhone 6.
Here's how we get to an iPhone 6 release date on Friday September 19th.
Re/Code and The Wall Street Journal report Apple's plans to hold an iPhone 6 event on September 9th.
From this date we can work out that the iPhone 6 release date is roughly a week and a half later, on September 19th. This is the timing Apple used for the last several iPhone releases.
If Apple decides to offer iPhone 6 pre-orders expect them to go live at midnight Pacific on September 12th, but this is not a given.
The larger 5.5-inch iPhone 6 release date may arrive later on the last Friday in September or even in October.
Expect to see Apple Stores and carriers open early on the iPhone 6 release date with lines around the store to get an iPhone 6 right away, even in small towns.