iPhone 6s iOS 9.0.2 Review: Should You Install It?
Last week, Apple released its second iPhone 6s iOS 9 update in the form of iOS 9.0.2. We've spent a week with the new software and today we want to take a look at how it's performing ahead of the iOS 9.1 release.
When the iPhone 6s arrived on September 25th, it was running Apple's iOS 9.0 update right out of the box. iOS 9.0 was Apple's first iOS 9 update and the update that delivered all of the new features and enhancements to iPhone, iPad and iPod touch owners.
Those who setup the iPhone 6s on its release day were greeted with a prompt to install an iOS 9.0.1 update. iOS 9.0.1 was Apple's first iOS 9 bug fix update and it delivered a few fixes for glaring iOS 9 problems.
A short time later, Apple introduced another iOS 9 update in the form of iOS 9.0.2. iOS 9.0.2, like iOS 9.0.1, arrived with bug fixes for the iPhone 6s and Apple's other iPhones and iPads.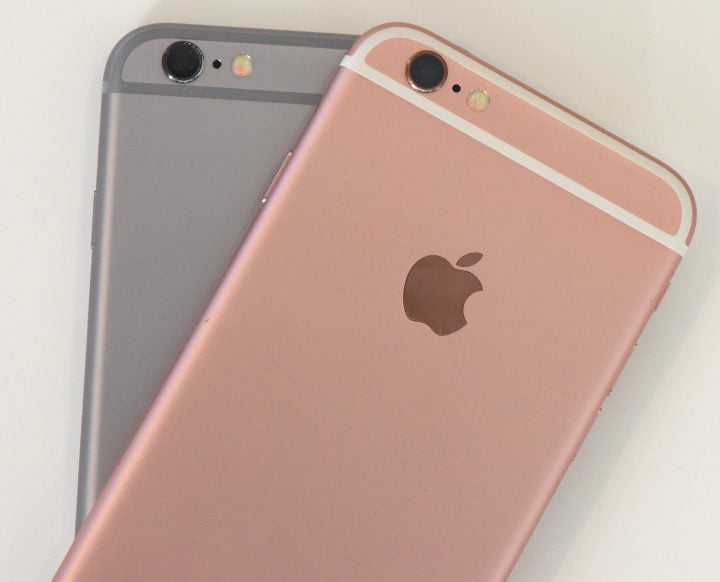 The iPhone 6s iOS 9.0.2 update is the most current update for Apple's flagship and it's an update that I've been using since Wednesday.
While the iOS 9.0.2 update is small, about 70MB for the iPhone 6s, it has the potential to have a big impact on your new iPhones performance. If you're new to the iPhone, note that even the smallest iOS updates can cause problems. And yes, I'm already hearing about iPhone 6s problems.
With those issues in mind, I want to provide some additional feedback about the iPhone 6s iOS 9.0.2 update.
iOS 9.0.2 Review: iPhone 6s
This review is aimed at those of you who are feeling a little bit anxious about moving to the iPhone 6s iOS 9.0.2 update. Maybe you've heard about iOS 9.0.2 problems, maybe you've been burned by an iOS update on a past iPhone.
Before I take a look, I need to remind you that mileage always varies when it comes to iOS software updates. I don't use my iPhone 6s the same way that you do and I don't have the same exact apps that you do. If I do, that's weird.
This is why you should use this review as a general guide to the iPhone 6s iOS 9.0.2 update. I encourage you to seek out more feedback about the update if you're still not convince after you hear what I have to say.
Apps
The iPhone 6s is now my daily driver which means that I spend most of my day with it. And during this past week, I've spent a ton of time using the various apps I have installed on it.
While I've run into some issues on my old iPhone 6, I haven't noticed any app performance issues on my iPhone 6s. It's a little bit odd but newer phones (and their hardware) are typically more stable than old phones so it's not too surprising.
Asana, Slack, YouTube, Twitter, Instagram, Gmail, Hangouts, Dark Sky, Amazon, SoundCloud, Spotify, and Xbox One Smartglass are all behaving. So is Google Chrome. (Chrome has been giving me fits on the iPhone 6.)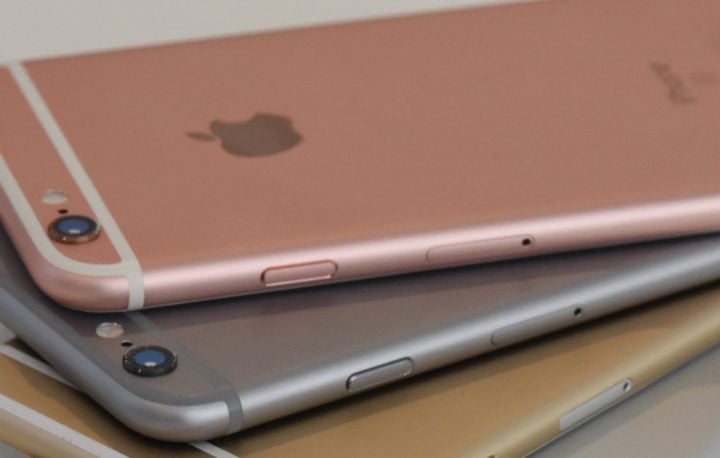 I can't speak for every single application in the App Store. If you're seeing a problem with an app, try the latest bug fixes, especially if that bug fix update comes with support for iOS 9.
If the update is getting bad reviews or the developer has been slow to issue support for iOS 9, try reinstalling the app to see if that works.
iOS 9.0.2 Battery Life on iPhone 6s
I've been seeing complaints about bad iPhone 6s battery life though the issues don't appear to be affecting a majority of iPhone 6s users. I fall into what I think is the majority.
So far, iPhone 6s battery life is treating me well. I didn't notice any issues on iOS 9.0 or iOS 9.0.1 and iOS 9.0.2 is holding up nicely. I haven't encountered any abnormal drain when the phone is in use or when the phone is in standby.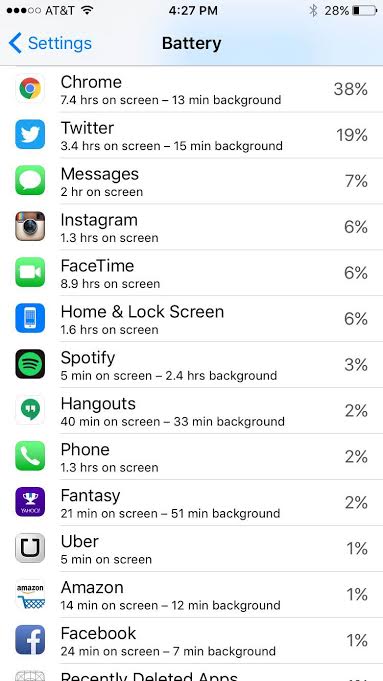 I've been keeping a close eye on my apps using iOS 9's battery usage tool and I've also been putting my phone into Low Power Mode when it drop to 20% and 10%. If you aren't doing either of those things, I highly recommend changing your habits.
If you're noticing something wrong with your iPhone 6s battery life, take a look my list of tips and tricks. They should help.
Wi-Fi, LTE & Bluetooth
I've been testing my iPhone 6s on various routers, Bluetooth devices and AT&T's LTE network. And so far, I haven't discovered any problems.
I've successfully paired with Bluetooth in a car, Bluetooth speakers and Bluetooth headphones. I haven't seen any dropped connections and the quality is normal.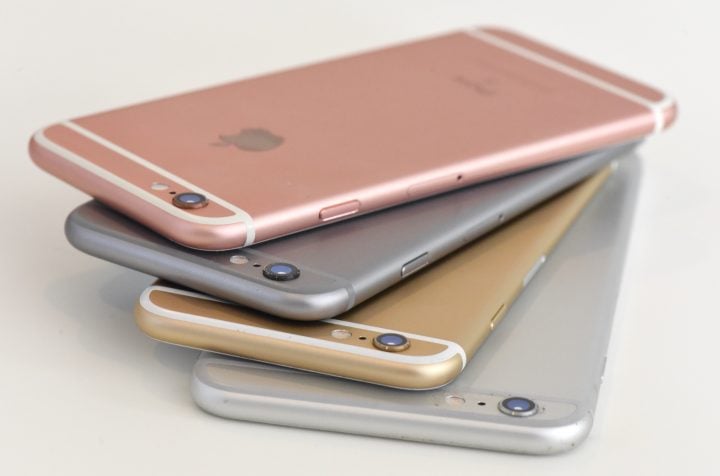 I've been able to connect the iPhone 6s to various routers and I haven't experienced any issues with download speeds, upload speeds or the connections themselves. I still get good range.
AT&T's LTE network is also working just fine. I bought a T-Mobile iPhone 6s to run on AT&T's network and I've had no problems whatsoever.
UI Speed
iOS 9.0.2 hasn't been kind to my iPhone 5 but it's cooperating with my iPhone 6s. The UI is still extremely fast and fluid and I haven't seen any weird lag or slowdown on my iPhone 6s. Some iPhone 6s users have reported random sluggishness but I haven't seen any. At least not yet.
Should You Install the iOS 9.0.2 Update?
iOS 9.0.2 fixes some really annoying bugs. Those alone make it worthy of consideration. It also helps that I, along with many others, are having a great experience with Apple's latest update.
If you do some prep work before you install it, I think you're going to be just fine. It's the people that don't prepare for iOS updates that run into the most trouble.
If you don't care about bug fixes or security fixes, you have the option of waiting for the iOS 9.1 update to arrive. iOS 9.1 is the first milestone update for the new operating system and it's expected to arrive this month or next.
One thing of note: There is a nasty iCloud issue that could break your iPhone 6s if you use an iCloud Restore from an old iPhone to a new iPhone and the phones aren't on iOS 9.0.2. If your iPhone 6s just arrived, keep this in mind.
10 Things to Know About the iPhone 6s iOS 9.0.2 Update
iPhone 6s iOS 9.0.2 Performance
We've been using the iPhone 6s iOS 9.0.2 update for a few days now and so far, the update has performing up to our standards.
We haven't run into any issues with battery drain, app performance, connectivity, or speed. We also haven't run into any catastrophic, game-changing bugs. Performance has been steady and we expect it to remain steady as we move away from the iOS 9.0.2 release date.
If you need more details, take a look at our feedback. If you need more than that, you'll want to poke around on YouTube and on Apple's discussion forum for additional thoughts from iPhone 6s users. If you're not sold on the upgrade, take your time and dig into early reviews.

As an Amazon Associate I earn from qualifying purchases.