Lenovo ThinkPad X280 Review
Lenovo's new ThinkPad X280 makes a compelling case for why businesses users should be more open to design changes when buying a new PC.
Available for $1,061.10 from Lenovo.com, this business notebook has new ways of protecting privacy, a new generation of powerful Intel processors inside, a lighter profile and long battery life. Whether it's a smart buy for you depends on how essential a removable battery, Ethernet port and older docks are to your workflow.
[letsreview]
Lenovo ThinkPad X280 Design & Internals
ThinkPad X280 buyers will certainly recognize this notebook as a ThinkPad. It has the same black magnesium chassis and matte plastic lid as the rest of the ThinkPad family. Like the others, it has passed 12 military tests for durability. That includes testing for temperature shock, mechanical shock, and drops.
The laptop's power button sits above a backlit keyboard that glows in the dark. Below this keyboard is a spacious multi-touch trackpad and a TracPoint button that other notebooks don't have and business users demand.
The ThinkPad X280's 1,920 x 1,080 matte display doesn't have gloss or seriously thin bezels. It's a standard screen in every sense and that's ok. The full-HD model has a touch display, but you can step down to a 1,366 x 768 display if you don't need highly detailed visuals to get your work done.
There's no seam or battery eject button on the bottom of the ThinkPad X280 because it doesn't have a removable battery like the model it replaces. This allowed Lenovo to whittle down the device's thickness and weight. Fast-charging technology and a battery that lasts 15 hours offset the loss of removable batteries.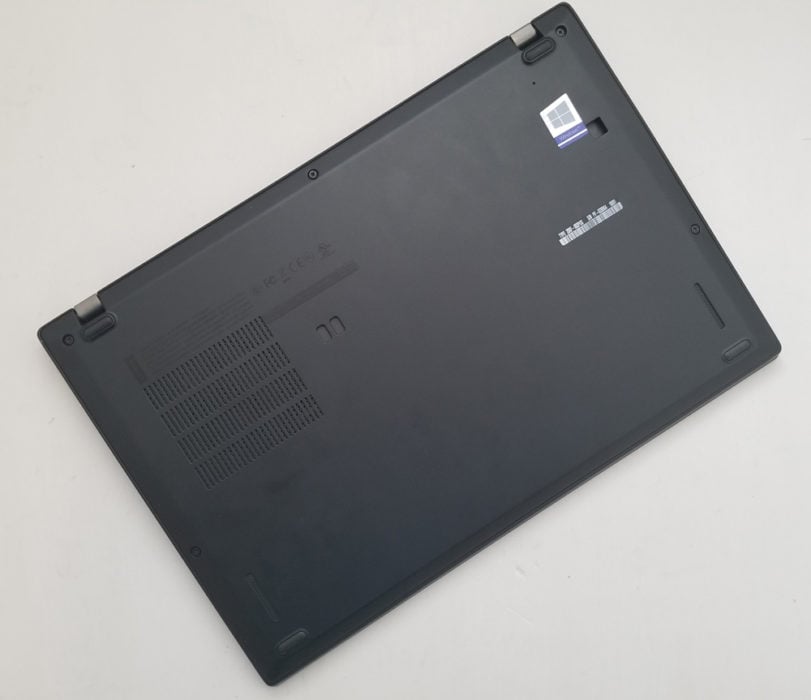 Ports are important for any notebook, especially one that's aimed at businesses. Every ThinkPad X280 has a Thunderbolt 3 port, a USB Type-C port, 2 USB Type-A ports, 1 HDMI port, a headphone jack and a MicroSD card reader. That, in theory, means you can get work done on this PC without buying tons of adapters and cables.
Ensuring the ThinkPad X280 passes those military-grade durability tests and has the new features it needs hasn't ballooned the device's weight. At 0.67-inches thin and 2.49-pounds, the ThinkPad X280 is thinner and 20% lighter than the business notebook it replaces.
Internals
Buy your ThinkPad X280 from Lenovo.com to get the features and specs you want. There, you can choose between the 12.5-inch 1366 x 768 standard display and 1,920 x 1,080 12.5-inch display with multitouch. You can also add up to 16GB of RAM and 1TB of storage. By far, the most impressive thing about this notebook's updated internals are the new 8th Generation Intel Core processors that it supports. These processors have four cores instead of two for better performance.
Gotta Be Mobile's review unit had an 8th generation Intel Core i5 processor, 8GB of RAM, 512GB of storage and the 12.5-inch 1080p touch display. It also featured Lenovo's upgraded fingerprint sensor and ThinkShutter camera module. It didn't have the optional LTE connectivity that allows you to connect to the internet without searching for Wi-Fi. A model matching these specs costs $1,565.10 from Lenovo.com.
Lenovo ThinkPad X280 Experience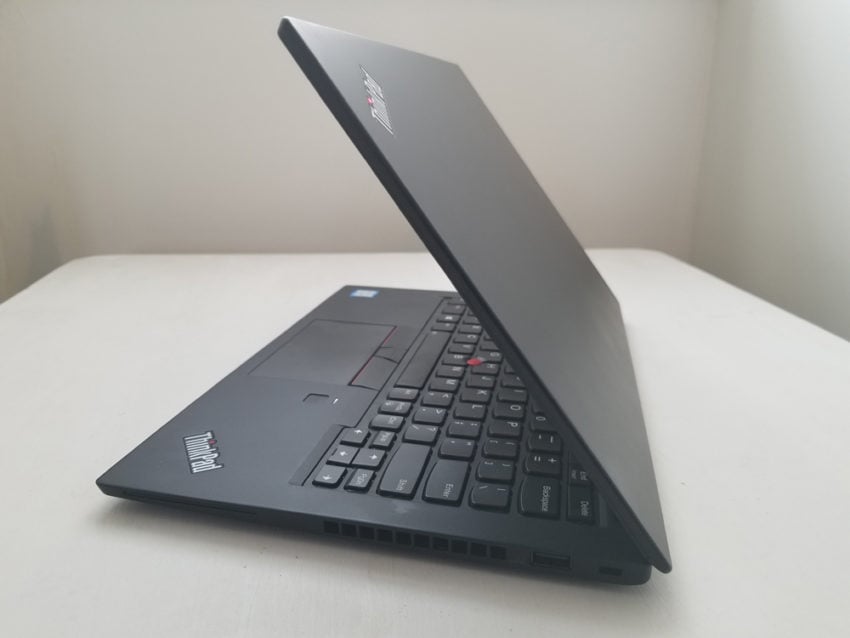 On paper, the ThinkPad X280 is more secure, more powerful and easier to carry than its predecessors. These things are also true in real life, but more nuanced than you'd expect.
Performance-wise, this laptop is absolutely no slouch. Not one productivity program, an app from the Windows Store or feature of Windows 10 drags down this device's processor. There's no painful browser refresh as you switch between apps or multiple browsers. Push the notebook with dozens of apps and the worst thing you can expect is a lot of fan noise. That quad-core processor needs lots of cooling when under stress. Close some apps and the laptop goes whisper quiet.
Lenovo's security upgrades are also promising.
If you're someone that covers your front-facing camera with tape or a sticky note, you will love the new ThinkShutter camera. Slide the shutter to the left to left to block yourself from the 720p web camera built into the lid. Then, slide it back to the right when you're done. It's a simple idea that addresses a real concern people have for their privacy.
My only problem is that upgrading the standard camera to a Windows Hello camera costs you the ThinkShutter. For practical purposes this makes sense, but that's definitely something to keep in mind as you configure your system.
Lenovo has isolated the fingerprint reader's inner-workings with better security in mind. Meaning, it stores your fingerprint for Windows Hello locally instead of on your hard drive. This makes it harder for someone to steal your fingerprint, according to Lenovo. The change hasn't made the fingerprint reader any slower, so that's a net gain.
Finally, the ThinkPad X280 is certainly a portable powerhouse. The laptop doesn't get lost in your bag, but it's not the behemoth that other business notebooks are either. It's thin enough that you don't feel uncomfortable carrying it from meeting to meeting in your hand.
Lenovo had to drop the full-size Ethernet port, dedicated power plug and external battery to reduce the notebook's size. Others will feel differently, but none of those compromises ruined my productivity. There are clever fixes for each loss.
Ethernet is typically something you use at your desk and Lenovo makes clever side docks to address that. The Lenovo Basic Docking Station costs just $199.99. If you were relying on Ethernet at your desk, you probably need the extra ports that this dock provides anyway. Lenovo also makes the $29.99 Ethernet Extension adapter, though it's not available online yet.
Long battery life helps offset the lack of a removable battery. Lenovo cites 15 hours of battery life with this notebook. Turn on Windows 10's Battery Saver utility and you can hit that estimate with a few web browser tabs open, your favorite productivity apps open and the display at 25% brightness. With the display at 50% brightness, I got around 11 hours of battery life.
That's a respectable time between charges. Dell claims its Latitude 7380 lasts 17 hours, and it doesn't have the ThinkPad X280's powerful quad-core processor. Coming from a 2017 Surface Pro that gets nowhere near that kind of battery life or horsepower, I appreciated being able to work away from a charger for an entire day and not feel like I should have sprung for an expensive processor upgrade.
Of course, battery life depends on what you're doing. The harder you push that quad-core Intel processor inside the ThinkPad X280, the less time you have until your next charge.
The ThinkPad X280's fast charging technology also offsets the lack of removable battery and longer battery life. It gets the notebook back to 80% battery capacity in an hour. Every Windows 10 PC needs this feature.
Lenovo ThinkPad X280 Specs
Processors & Graphics
1.60 GHz 8th Generation Intel Core i5-8250 processor with Intel UHD 620 Graphics

(Up to 1.9GHz 8th Generation Intel Core i7-8650U processor)

Memory & Storage
512GB SSD and 8GB of RAM

(Up to 1TB SSD & 16GB of RAM)

Display
12.5-inch 1,920 x 1,080 FHD display

(Optional 12.5-inch 1,366 x 768 HD display)

Ports & Extras
Thunderbolt 3 port

1 USB 3.1 Type-C port

2 USB 3.0 Ports

1 HDMI Port

1 Ethernet Extension Connect

Headset jack

MicroSD card Reader

Backlit & spill-resistant keyboard with TracPoint

Camera with Privacy Shutter

Kensington Long Slot

DTPM 2.0 Chip

(Optional Fingerprint Reader)

(Optional Windows Hello Camera)

Battery Life
15 Hours, according to Lenovo
Dimensions and Weight
12.11-inches x 8.26-inches by 0.70-inches

2.49-pounds (For model without Touch)
Should You Buy the Lenovo ThinkPad X280?
Unless you're a huge, huge fan of removable batteries and a full-size Ethernet port, there's very little wrong with the Lenovo ThinkPad X280. The laptop is everything that Lenovo promises: a thinner, lighter and more powerful workhorse that still lasts a long time away from a charger.
At $1,106.10 from Lenovo.com, I have no problem recommending it to anyone that needs a solid PC with lots of power and battery life. Changes aren't always bad. This notebook proves it.