2017 Surface Pro Review: More Money, Less Problems
The 2017 Surface Pro doesn't try to change the formula that made the Surface Pro 4 and Surface Pro 3 such great Windows 2-in-1s. That appears to have been the right call.
The 2017 Surface Pro doesn't have a single practical feature that was not in Microsoft's previous model. Like every Surface Pro before it, a kickstand still folds out from the back of the device and you can easily turn it into a laptop by adding one of Microsoft's Type Covers.
However, despite its similarity to previous models, the 2017 Surface Pro is a better laptop and tablet than the models it replaces. Longer battery life, a clever change in its shell, new processors and an improved kickstand certainly move it in the right direction.
In fact, it'd be the best Windows 2-in-1 anyone can buy if Microsoft hadn't stumbled on its price. With a $799.99 starting price, add accessories and RAM and this tablet gets very expensive quickly.
2017 Surface Pro Design
The 2017 Surface Pro is a massive tablet with a 12.3-inch display and a shell made of unpainted aluminum. Thick bezels on all four sides of the display give you a place to rest your fingers away from the touchscreen. It feels better in your hands than older Surface Pros thanks to newly tapered edges and gently curved corners. At most, the new Surface Pro weighs 1.73 pounds. All versions of it are 0.33-inches thick.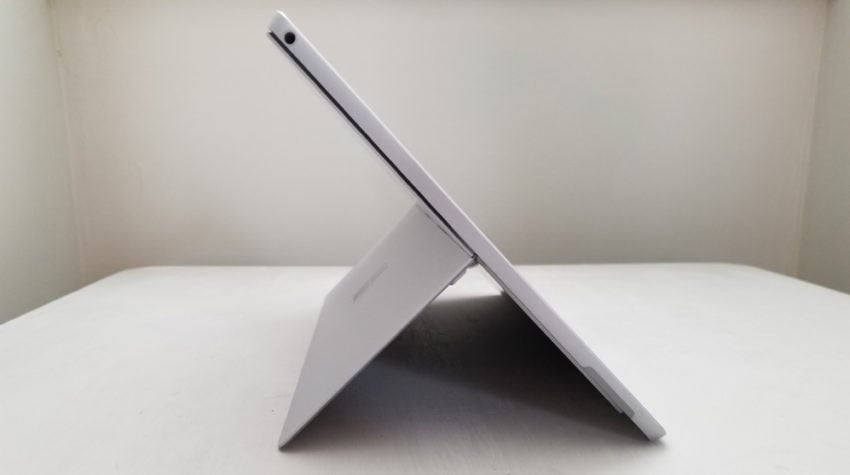 Microsoft hasn't changed the ports on the 2017 Surface Pro. A Surface Connect port, which Microsoft refuses to replace with USB Type-C or Thunderbolt 3, is on the tablet's right edge. A Mini DisplayPort and a full-size USB Port sit just above Surface Connect. There is only a headset jack on the left edge. Below this jack is a magnet that holds your Surface Pen when you aren't using it.
The last port, a MicroSD Card slot, is hidden behind the kickstand that covers half the back of the 2017 Surface Pro. With it fully extended, the device can lay at 165-degrees on a flat table. This is for users that draw on their Surface Pro, which is why Microsoft calls it Studio Mode.
The power button and volume controls are on the top edge of the Surface Pro because you're only meant to use them once you've detached one of Microsoft's Signature Type Covers. These keyboards lock into a long magnetic groove that runs along the bottom edge of the 2017 Surface Pro. Microsoft hasn't changed this port at all, so upgraders can skip spending $159.99 on a new one.
Read: Best Surface Pro Keyboards
2017 Surface Pro Internals
You can buy a 2017 Surface Pro with a 7th Generation Intel Core m3, Intel Core i5 or Intel Core i7 processor. Think of these models as being on a spectrum that runs from good to best.
The Intel Core m3 model is for users that don't ask for much from their PC. It has just enough RAM and processing power to make editing images, sending email, taking notes, browsing the internet and creating documents quick and easy. There's no fan inside, so it feels like you're using an iPad instead of a laptop when you're reading on it in bed.
The most expensive 2017 Surface Pro devices use an Intel Core i7 processor and Intel Iris Plus 640 graphics. Their raw power and fans make them great for rendering 3D models, editing 4K video and playing today's most demanding video games on lower settings.
I tested the Intel Core i5 model, which slotted nicely between these two extremes. It can handle almost any task that you throw at it. I edited HD video on it, for example. On a few occasions, I used it to play a casual round in Halo Wars 2. There was no exhaust fan whirring in the background as I tried to enjoy a late-night movie on the couch or listen to music.
At first glance, it doesn't appear as if Microsoft has made any changes to the 12.3-inch 2736 x 1924-inch display in the Surface Pro. It's still spacious enough for all the tapping and swiping that using Windows 10 without a mouse or keyboard requires.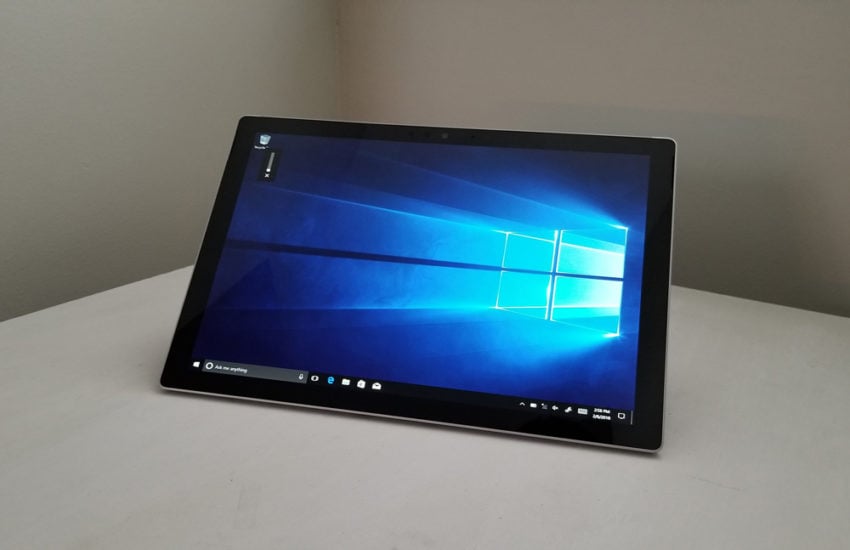 Look beyond the resolution and size and there are some improvements for sure. A new enhanced color mode boosts reds and blues from a button within Windows 10's Action Center. This makes an already solid display look even better. The 2017 Surface Pro is sensitive to 4,096 different levels of pressure from the Surface Pen. Placing a Surface Dial on its screen reveals options for controlling music or pen tip width, depending on the app you have open.
I'm forced to remove my glasses to sign in with the Samsung Galaxy S8+'s face scanner, but Windows Hello works well with them on and off on the 2017 Surface Pro. The 8-megapixel camera on the rear of the device is good enough for document scanning and taking a picture when your phone isn't nearby. I still wouldn't use it for much more than that.
2017 Surface Pro Performance & Experience
The trick to making a good Windows 2-in-1 has always been balancing the needs of tablet users with what is required to be a good Windows laptop.
Performance is a big part of this equation. I regretted buying my Surface Pro 4 with Core m3 processor because it felt sluggish, no matter how fresh its installation of Windows 10 was. In my quest to get a PC that was closer to the iPad Pro, I forgot to take performance into account. You get the best of both worlds with the 2017 Surface Pro with Core i5 Processor and 8GB of RAM. It's not sluggish and there's still no fan noise.
Read: Best 12.9-inch iPad Pro Alternatives Running Windows 
I didn't need the tablet's kickstand to go any lower than it already did in the previous model, but Microsoft has also made the mechanism inside stiffer and that's a good thing for everyone.
The speed at which the 2017 Surface Pro can detect a stroke from the Surface Pen sometimes feels unreal and that's something artists and notetakers will appreciate. The new tilt detection and 4,096 different levels of pressure detection this device supports did impress me. The screen is too slick to trick you into thinking you're writing on paper, but the new Surface Pen does feel like you're working with a real pen. Besides drawing and sketching, I can think of no real reason why anyone should spend $99 on the Surface Dial.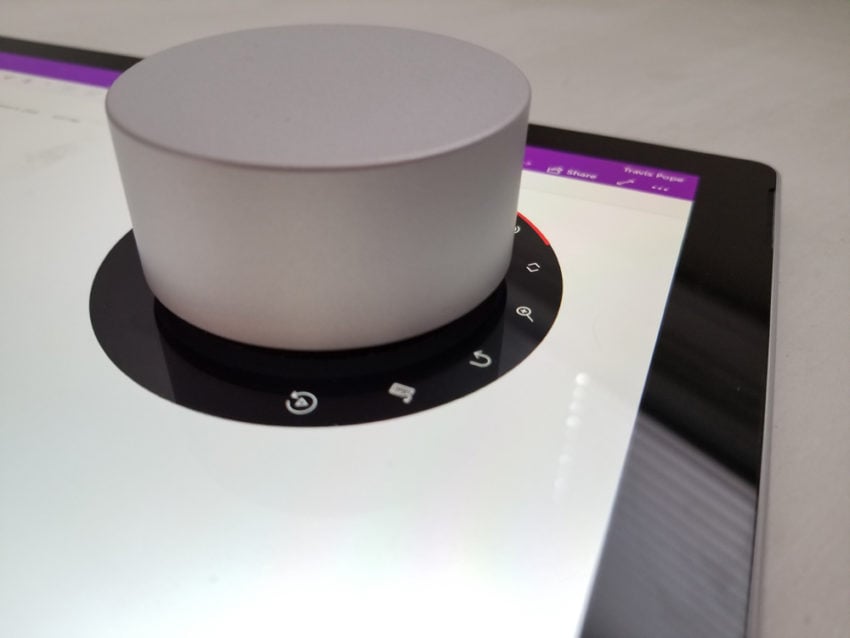 Poor power management has always shattered any illusion that previous Surface Pros could completely replace your tablet and laptop. Even the more tablet-like Surface Pro 4 with Core m3 processor had this problem. You'd lose 30% off your charge with it just sitting in your bag. That's normal for laptops, but not for tablets.
Thankfully, I've not experienced this issue with the 2017 Surface Pro. Microsoft says that any model can last for 13.5-hours of video playback, but I only care about the device lasting through my workday, which it now does. I got 9 hours on a single charge, with adaptive brightness on and Windows 10's Performance Meter switched to give me longer battery life. More importantly, it still has a charge when I wake up in the morning.
The True Cost of Using the Surface Pro
You need some accessories to get the most from the 2017 Surface Pro. That's where things get problematic. Microsoft has raised the price of a great Surface Pro experience without most people noticing.
No Surface Pro is complete without a Type Cover, so count on paying $159.99 or tracking down one of the older covers. These new Signature Type Covers are the same as the older covers, but with a softer Alcantara fabric skin. For comparison, a Surface Pro 4 Type Cover cost $129.99 at launch.
Read: Best 2017 Surface Pro Deals
Only Microsoft's new Surface Pen unlocks the full 4,096 different levels of pressure the 2017 Surface Pro can detect, which would be fine if the company still included one with every device. You buy them separately now, and they've gone from $69.99 to $99.99 each.
Add all this up and you're looking at an extra $260 to take advantage of all the features that Microsoft improved for this device. I'm excluding the Surface Dial since it's cool, but not remotely essential. The cheapest 2017 Surface Pro costs $799 online, but it's really $1050 to do everything that Microsoft shows in its ads. Add more RAM or storage space and adopting the Surface Pro becomes a runaway train heading straight for your wallet.
Read: Best 2017 Surface Pro Accessories
2017 Surface Pro Specifications
Processor & Graphics
7th Generation Intel Core i5 Processor

·       (7th Generation Intel Core m3 & Intel Core i7 Optional)

Intel HD Graphics 620

·       Intel HD Graphics 620 for Core i5 & Intel Iris Plus Graphics 640 for Core i7)

Memory & Storage
4GB of RAM

·       (8GB & 16GB of RAM Optional)

128GB Solid State Drive Storage

·       (256GB, 512GB & 1TB of Storage Optional)

Display
12.3-Inch 2736 x 1824 Touch Display

4,096 Levels of Pressure Sensitivity from Surface Pen

On-Screen Use of Surface Dial

Ports & Extras
·       1 USB 3.0 Port

·       1 Mini-Display Port

·       1 Headset Jack

·       MicroSD

·       Surface Connect

·       Wireless AC Wi-Fi & Bluetooth 4.1

·       5-megapixel Camera with Windows Hello

·       8 Megapixel Rear-Facing Camera

·       TPM Security Chip

Battery Life
9 Hours of Battery Life

·       13.5 hours of video, According to Microsoft's Benchmarks.

Dimensions & Weight
11.5-inches x 7.23-inches x 0.33-inches

1.70-Pounds

·       (1.69-pounds for Core m3 and 1.73 for Core I7)
Should You Buy the 2017 Surface Pro?
For newcomers, this is a solid Windows 10 2-in-1 ruined only by a ballooning price tag. This 2017 Surface Pro finally delivers the all-day battery life users need and its previously great screen is made better by the new enhanced color mode that you can turn on and off. Artists will love the super-fast strokes that the Surface Pen is capable of and the improved kickstand. Microsoft also gets credit for solving the Surface Pro's lingering battery drain problems.
Buy the 2017 Surface Pro if you have the cash. Otherwise look into the less feature-rich, but still great Lenovo Miix 520.
[letsreview]