Lenovo ThinkPad Yoga 370 Review  
Distractions fill our lives, but there's no reason your work PC has to add to the noise. The Lenovo ThinkPad Yoga 370 is for people who value a distraction-free, feature-filled Windows 10 experience as much as they do a clean desk and a nice notebook to jot things down. 
The ThinkPad Yoga 370 provides a distraction-free experience by sticking to the staid, classic design of other ThinkPad notebooks. You can only buy it in silver or black, and either version that you choose looks like a laptop PC. But, despite its unassuming design, buyers reap the benefits usually reserved for Windows 2-in-1s with more exciting designs. The ThinkPad Yoga 370's keyboard disappears into its body as you morph it into a tablet. Fast charging, a Thunderbolt 3 port and a fingerprint reader let you prepare for the future. 
Unfortunately, fan noise and modest battery life can bring down any Windows 2-in-1, and the Lenovo ThinkPad Yoga 370 is no exception to that rule. Less than stellar battery life and a fan that never stops mar this otherwise solid $1,111 Windows 2-in-1. 
ThinkPad Yoga 370 Review: Design & Internals
The ThinkPad Yoga 370 was built to last. It doesn't have stunning looks, but it does have a rigid hybrid carbon fiber frame that doesn't flex or bend. This frame meets the same moisture and durability standards that 2017 ThinkPad X1 Carbon does. Models come in black or silver.  
At 3.03 pounds, the ThinkPad Yoga 370 is not the lightest Windows 2-in-1 you can buy. And, at a seventh-of-an-inch-thick, it's also not the thinnest notebook you can buy. Smaller bezels on the left and right edge of the ThinkPad Yoga 370 allow it to hold a 13.3-inch display instead of the 12.5-inch display the Yoga 260, its close cousin, offers. More screen real-estate at least puts that heft into perspective.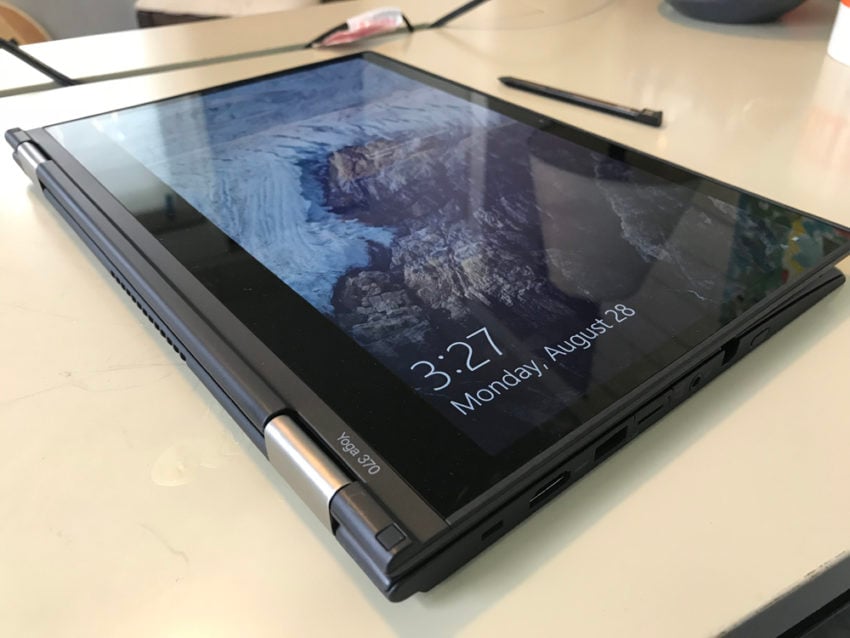 You can use the ThinkPad Yoga 370 on your desk without running cables to both sides of the machine. A charging port, USB 3.0 port and expansion card slot all sit on the left side. This side also has two ports you may not have seen before. The first, a Thunderbolt 3 port, lets you easily connect to a new generation of docking accessories and transfer files quickly. The second port you may not recognize is a Mini-Ethernet port. Mini-Ethernet provides a physical way for you to connect to the internet or a local network. Lenovo includes an adapter for this port with every ThinkPad Yoga 370. 
The power button, headphone jack, MicroSD card slot, headphone jack, HDMI port, USB 3.0 port and HDMI port are on the right edge of the system. This is also where the ThinkPad Pen slides into the ThinkPad Yoga 370 for fast charging and safe heaven.  
Gotta Be Mobile's ThinkPad Yoga 370 came with Intel HD 620 graphics, an Intel Core i5-7200U processor, 8GB of RAM and a 256GB solid state drive from Toshiba. It also had a fingerprint reader and a 13.3-inch 1080p FHD touch display. The fingerprint reader, backlit keyboard, 720p web camera and ThinkPad Pen come built into every configuration you can buy.
You can boost performance and available storage by adding more RAM, a bigger SSD and a faster processor at Lenovo.com. There, options include up to an Intel Core i7-7600U processor, 16GB of RAM, 512GB of storage and Windows 10 Pro.  
ThinkPad Yoga 370 Review: Experience
Using the ThinkPad Yoga 370 daily, you begin to appreciate its rather staid look and conservative take on notebooks that become tablets.  
Lenovo's Yoga 910 has a watchband hinge that connects the keyboard deck to the display, but the ThinkPad Yoga 370 uses two silver hinges. They're not as attractive as the watchband design, but they're stiffer, and the notebook's display barely wobbles as you type. Wobbly displays can ruin a Windows 10 notebook that also has touch, like the Microsoft Surface Book.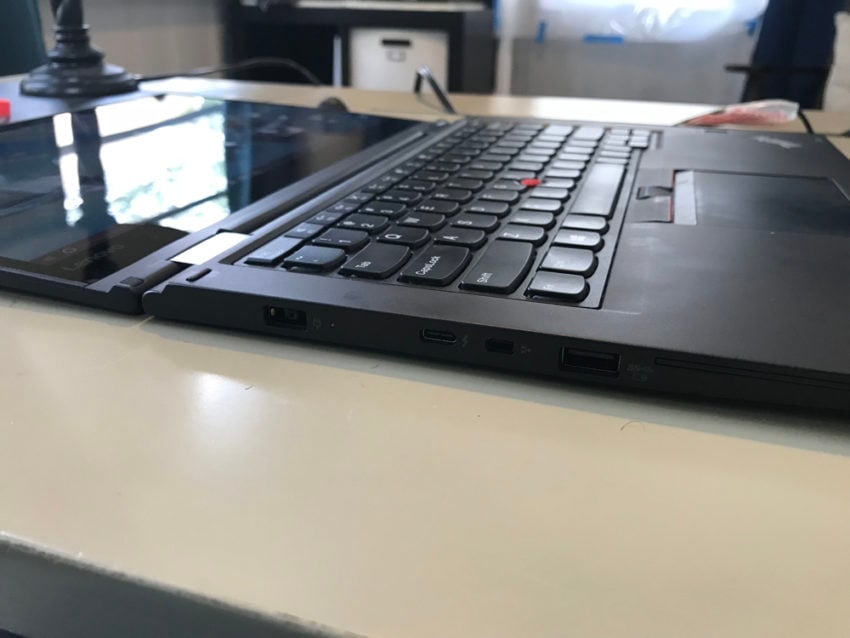 The rest of the ThinkPad Yoga 370 notebook's experience is solid, too. Keys on the backlit keyboard have plenty of travel. Also, there are enough keyboard shortcuts that you can go for hours without changing settings in Windows 10 with your mouse. Smartly, Lenovo continues to let users switch the Function Key and the Control Key with a software toggle. This solves one key problem that touch typists might have switching between the built-in keyboard and a keyboard accessory.  
When you need a mouse pointer, you have two options. The ThinkPad Yoga 370 has a plastic, button-less trackpad and a TrackPoint embedded in its keyboard deck. The trackpad's gesture support allows you to switch apps and get a look at everything that's running on your PC without clicking buttons in Windows.
As a notebook that transforms into a tablet, the ThinkPad Yoga 370 handles well too. No, it's not as thin as a traditional tablet would be. The keyboard does retract though, so you don't feel like you might accidentally damage the space bar as you navigate Windows 10 with touch and sign documents like you're holding a legal pad. 
Expect a solid writing experience from the ThinkPad Yoga 370. The ThinkPad Pen that comes with the notebook can detect 2,048 different levels of pressure as you scribble notes in Microsoft OneNote or draw in your favorite app. There's very little delay between the time you write something down and it appears on-screen, thanks to Wacom's digital pen technology. Fifteen seconds of charging gets you 100 minutes of drawing and writing. Anyone that's spent an afternoon going from store to store to buy the AAAA batteries other digital pens use will appreciate this feature. 
Though the inking experience is solid, some nice-to-have features are missing. You don't get an eraser cap, quick-launch shortcuts to your favorite writing apps or removable tips with the ThinkPad Pro Pen, unfortunately. As this machine isn't for artists specifically, that's ok. However, it's something you should be aware of if you use these features on something like Microsoft's Surface Pen already. 
As can be said with any ThinkPad that has 8GB of RAM and an Intel Core i5 processor, the ThinkPad Yoga 370 is no slouch. It can handle productivity programs and apps from the Windows Store without issue. Just be aware that the harder you push the system, the more noise its fan makes. This fan noise can go from reasonable to obnoxiously loud in seconds, and it never stops. You won't mind this fan noise in Notebook Mode, but it could be a little irksome in Tablet Mode. That's because the system's fans sit on the ridge where you'd naturally grip the device to hold it like a book.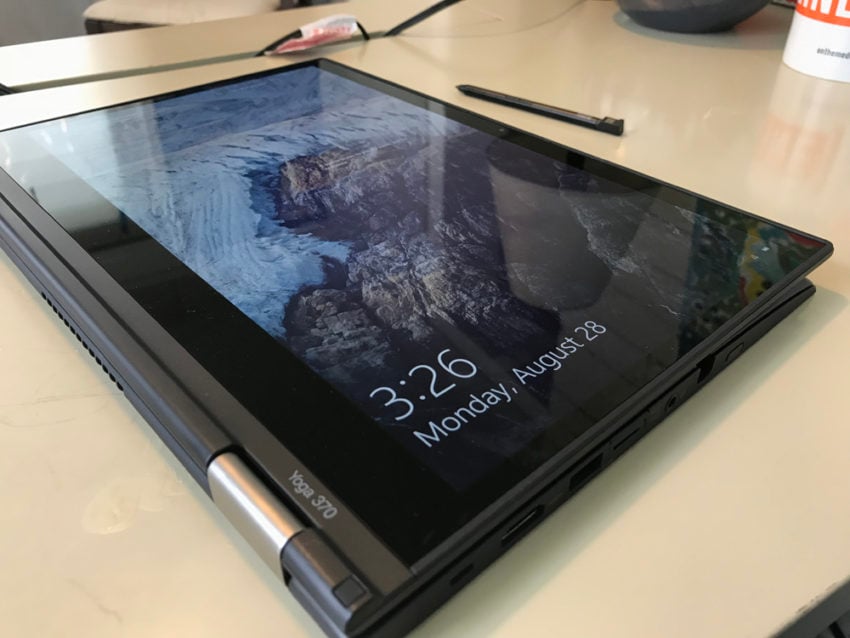 Though certainly not great, it wasn't the fan noise that tarnished my experience with the ThinkPad Yoga 370. It was the system's disappointing battery life. Lenovo says that users can expect 12 hours on a single charge. I averaged about 6 hours with twelve tabs open across two different browsers. My office is a reasonably bright room, forcing me to turn up the ThinkPad Yoga 370's screen brightness to 50% for the best experience too, decreasing battery life even more. 
To keep this issue in check, the ThinkPad Yoga 370 has built-in quick charging technology. The technology gets the battery back to 80% of its total capacity in a little over an hour, and it works just as Lenovo describes. Quick charging is a feature I wish every notebook had.
ThinkPad Yoga 370 Review: Specifications
Processor & Graphics

 

7th Generation Intel Core i5-7200U Processor

 

(7th Generation Intel Core i7-7600U Processor Optional)

 

Intel HD Graphics 620 

Memory & Storage

 

8GB of DDR3 RAM

 

256GB Solid State Drive 

(512GB of Storage Optional)

 

Display

 

13.3-Inch 1920 x 1080p FHD Display

 

Ports & Extras

 

1 Thunderbolt 3 Port

 

2 Full-Size USB Type-A Ports 

 

1 Headset Jack

 

HDMI

 

MicroSD

 

Wireless AC 8625 & Bluetooth 4.1

 

720p Web Camera

 

Fingerprint Reader & TPM Switch for Windows Hello

 

Backlit Keyboard with Retractable Keys

 

ThinkPad Pro Pen Included

 

Battery Life

 

6 Hours of Battery Life 

 

12.5 Hours, According to Lenovo's Benchmarks.

 

Dimensions & Weight

 

12.30-inches x 8.75-inches x 0.70-inches

 

3.03-pounds 
ThinkPad Yoga 370 Review: Should You Buy?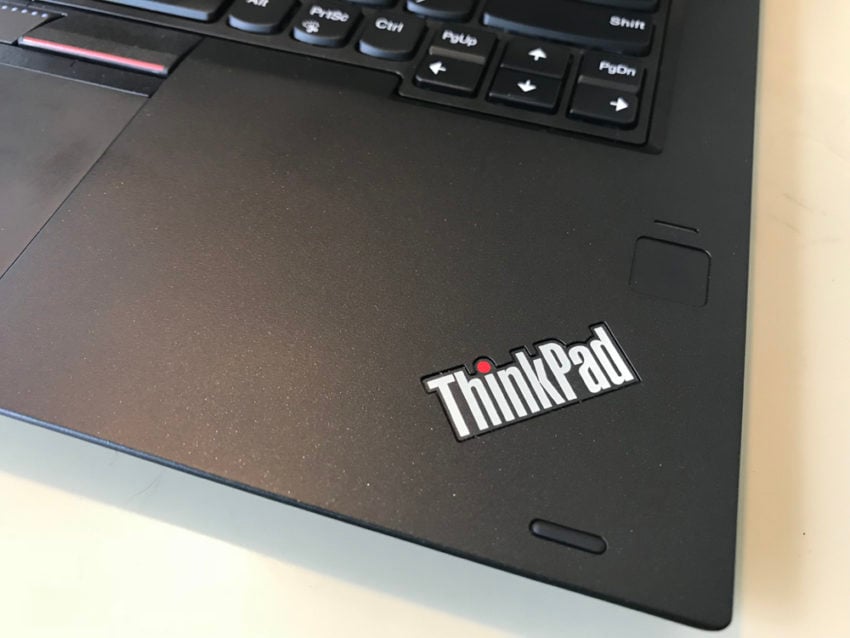 If you are shopping for a durable business notebook that can double as a tablet when the need arises, the ThinkPad Yoga 370 is a fine choice. Apps and programs load quickly and you can stuff it with even more storage and power. Also, you get a decent pen experience and a keyboard that offers plenty of tactile feedback and disappears when you'd rather have a tablet than a notebook PC. No, it's not the most exciting looking PC ever, but durability is more important.
All those great attributes don't necessarily make up for the lackluster battery life though. If you're looking for a computer that will last all day, the ThinkPad Yoga 370 isn't the PC for you, even with the quick charging technology.
Before you buy this machine, be sure to decide whether great performance and a solid tablet experience are worth charging between work sessions.
[letsreview]