Windows 10 Anniversary Update Review: Everything Necessary
Microsoft's Windows Team had an easier task ahead of it after delivering Windows 10. At least, if you're judging its latest projects by the lofty goals the company set for Windows 10, Windows 8 and Windows 7. Windows 7 had to prove that Microsoft could nail-down a basic, no frills operating system. Windows 8 needed to support touch and pen input, allowing device makers to build competitors to the iPad and new device types. Windows 10 had to do the jobs of Windows 8 and Windows 7, but not alienate the users that loved aspects of each. With the Windows 10 Anniversary Update, Microsoft is making some big improvements, but it's nothing compared to what its tried before.
The first of Microsoft's big software updates, Windows 10 Anniversary Update's goal is clear. Microsoft promised that after launching Windows 10, its teams would treat the operating system as a service. In doing so, it committed to upgrading apps on an ongoing basis and delivering features more quickly than it had after previous releases.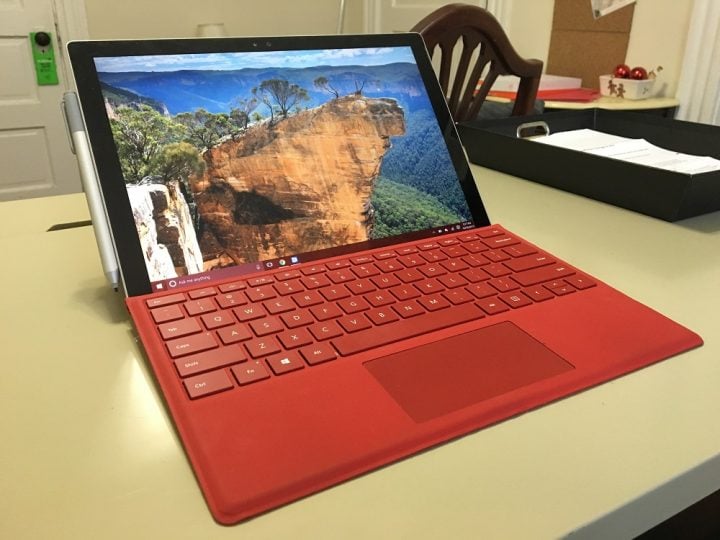 Read: Windows 10 Updates: Anniversary Updates & More
Windows 10 is a series of tiny upgrades for what's still a huge business at Microsoft. It's not all that exciting, but it is solid, which is what you want from an operating system upgrade.
Windows 10 Anniversary Update Review: Cortana Upgrades
Natural interaction is a whale companies have tried to catch for years. As it pertains to personal assistants, Microsoft was years behind everyone else when Windows 10 launched. Apple's Siri and Google's Google Now existed long before Cortana did. What Microsoft got right with Cortana was its wide availability and the Notebook. Cortana is on iPhone, Android and Windows 10 Mobile. By flipping through her notebook, users can add or remove any information that she's gotten about them, plus enable and disable features.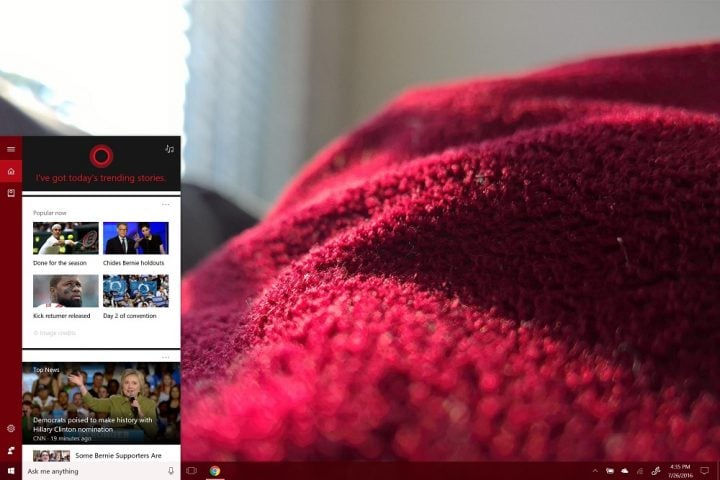 Cortana with the Windows 10 Anniversary Update is just the same as she's ever been, but with some additional tweaks. The personal assistant is now available on any PC, without users having to login first – provided that the PC she's on is powered up. She's picked up the ability to add images to reminders, in addition to text. Notes that users take with the new Sticky Notes app surface more information because of her. Using Microsoft's Groove Music app, Cortana takes playlists and album playback requests, too. That's by far my most favorite feature in this update.
Read: How to Use Hey Cortana with Windows 10
I suspect Android smartphone owners will appreciate Cortana's ability to monitor their phones for notifications, call alerts and text messages more. She'll even let users know when their smartphone battery is low. Though notifications take longer than I'd like to sync, not having to grab my Windows 10 Mobile and Android devices to see and respond to text messages is killer. Avoiding the walk across an entire room only to discover the vibrations I head two minutes before from my phone are Facebook likes on my pictures is great, too.
All the new features are nice, but Cortana still regularly misses parts of my commands or fails to communicate with the servers that power her. If Microsoft has improved her ability to interpret commands, I'm not seeing the benefits.
Windows 10 Anniversary Update Review: Pen & Stylus Upgrades
The stylus updates in Windows 10 Anniversary Update come in two parts. New Settings allow you to manage your device's pen without utilizing some ill-designed, half-working third-party utility. Ink Workspace is a set of upgrades to treat the digital pen as well as Microsoft treats touch and mouse input.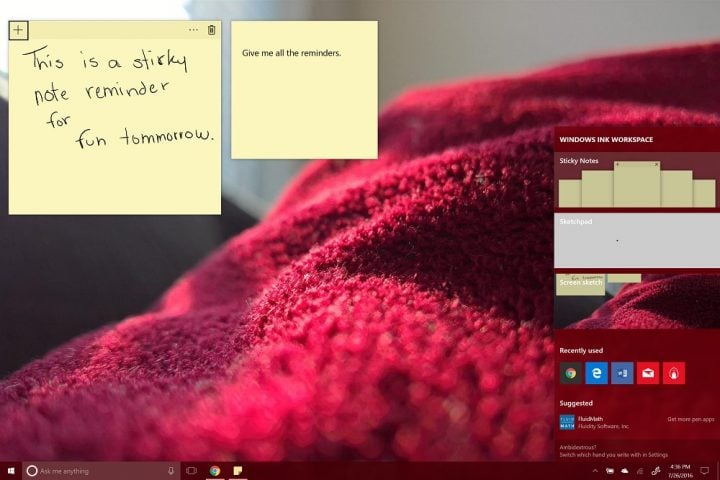 Ink Workspace flies out from the taskbar. A list of recently used apps, all pen-friendly live there. Ink Workspace supplies links to a digital Sketch Pad, Screenshot utility and an upgraded Sticky Notes app. With Sticky Notes, you can leave yourself handwritten reminders, then pin them on the screen. Sadly, they don't sync between PCs. They do let you deep dive into your activities using Cortana. For example, add flight information to a sticky and Cortana goes out and finds more about that flight.
Of the three, Sketch Pad is definitely the most useful. In addition to different pen sizes, users can pull up a ruler to adjust dimensions quickly. I used the feature to measure my dogs foot for a pair of new shoes to protect my hardwood floors. Artistic types and those eager to record every note digitally will come up with more creative ideas, I'm sure. Screen Sketch is specifically for marking up what's on your screen at that moment.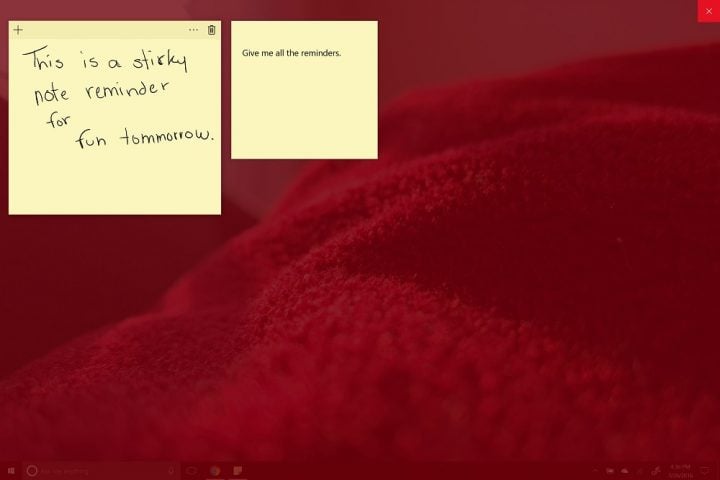 Read: Surface Pen Tips for Surface Pro 4 and Surface 3
Through the Settings panel, users can tell the PC which hand they write with and what they'd like they buttons on the pen to do or not do when they're trying to write. When using Pens, Windows 10 Anniversary Update can be configured to ignore touch input. That's something folks have asked about for some time.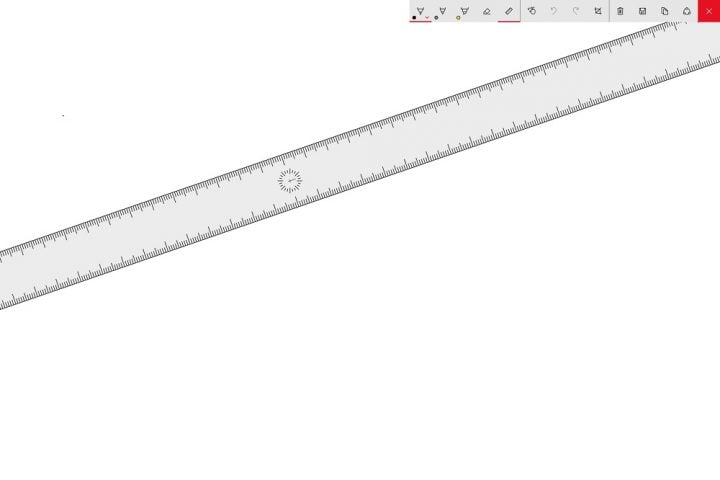 For years, Microsoft has asked professionals and the handwriting-inclined to take pens and styluses seriously, but it forced users to cobble together a decent experience through hacks and third-party apps. As an owner of the Surface Pro 4, I really appreciate Windows Ink and the integrated settings.
Windows 10 Anniversary Update Review: App & Feature Upgrades
There are plenty of must-have improvements outside of inking and Cortana, but you might miss them if you aren't looking for them.
Tweaked Start & Interface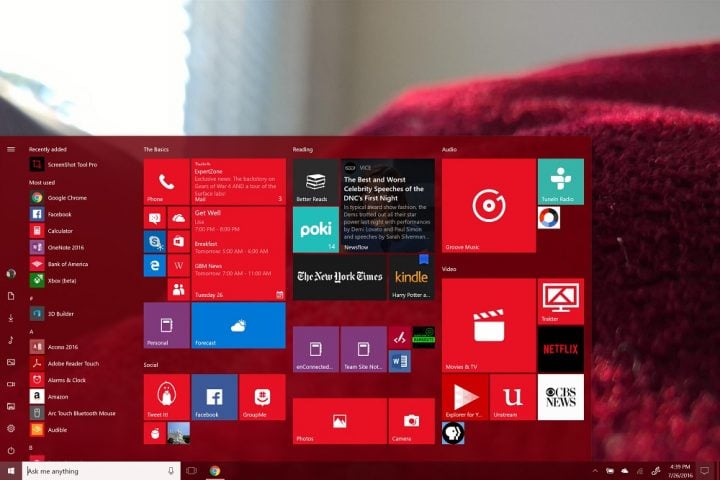 The Start experience has gotten more tweaks. Mouse and keyboard users will appreciate the file shortcuts that are available directly from the left edge of Start. Touch users will love the update's fullscreen app browser. Previously, Start forced touch users to pick through a tiny list that was only mildly touch-friendly.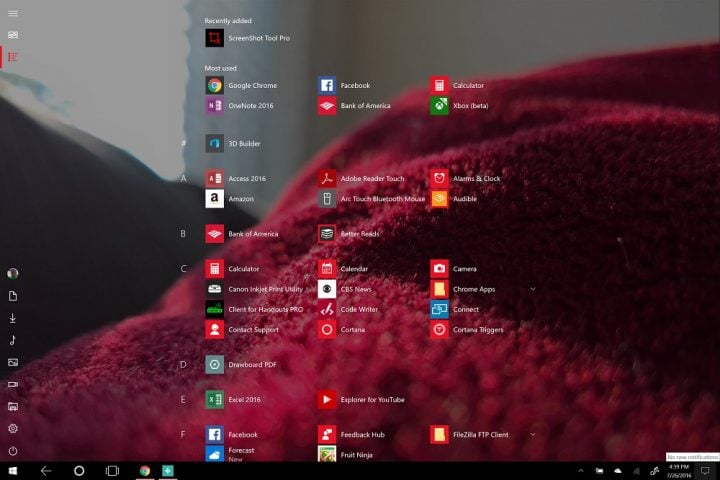 Dark Mode lets users turn the predominantly white Windows 10 mostly dark and gray. After dark, this definitely makes Windows 10 easier on the eyes, but it doesn't apply to a big part of the Windows 10 experience: File Explorer. Also, some of Microsoft's own apps – like Groove — require users to restart them before they reflect color changes.
Refreshed Action Center & Notifications
Action Center gives users one place to look at notifications and quickly make settings changes. In the Windows 10 Anniversary Update, Microsoft has given users the ability to dismiss a single notification from an app, or all of its notifications. When users get a notification, the Action Center message bubble on the Taskbar fills with that app's icon. This saves you from having to open Action Center at all.
Developers can take advantage of visual upgrades that include the picture of the person sending a message or the featured image of an article from their news reader.
Read: How to Kill Notifications in Windows 10 With Quiet Hours
Microsoft Edge
Microsoft Edge gets a key improvement in this latest release, the ability to install Extensions.
Users can install Extensions that limit the number of ads a site can show, give them quick access to Office Online and more. Only Microsoft can approve them, though, as they're only available in the Windows Store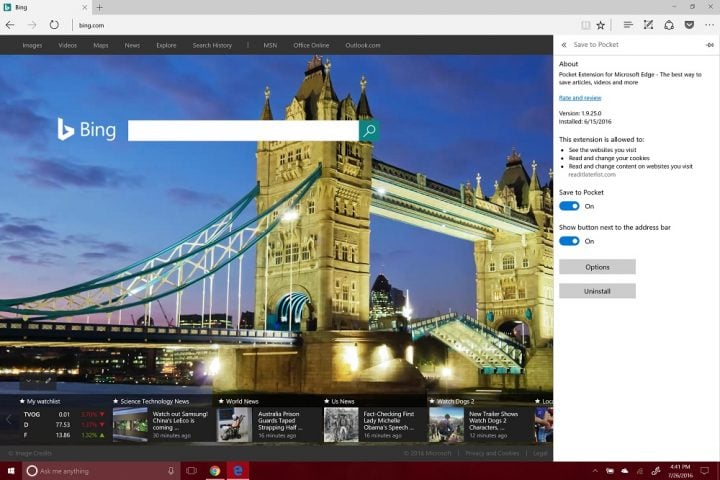 Extensions install and uninstall pretty easily and without issue. Managing their settings isn't hard since they're available from within Edge. Microsoft touts big battery life improvements when users browse in Edge instead of Chrome and Firefox. I can attest to Edge not being as heavy on my Surface Pro 4's battery as Chrome is, for sure.
App Upgrades
Microsoft can't make up its mind on Skype. Skype Preview, available with the Windows 10 Anniversary Update, replaces the separate Phone, Messaging and Skype Video apps from the last release. It's a modern version that syncs messages and handles calls correctly, which is to say Microsoft finally managed to build a decent Skype experience for Windows 10.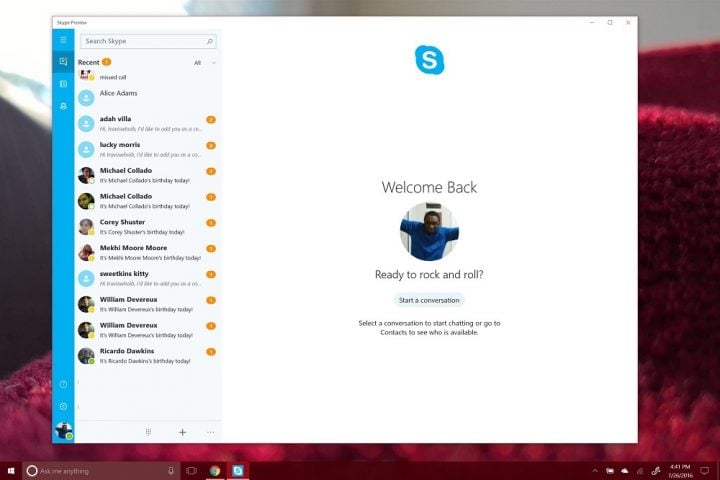 Groove Music picks up playlist support for different modes and themes. Users can pause and change songs with new lockscreen controls. It is still missing crossfade and metadata editing.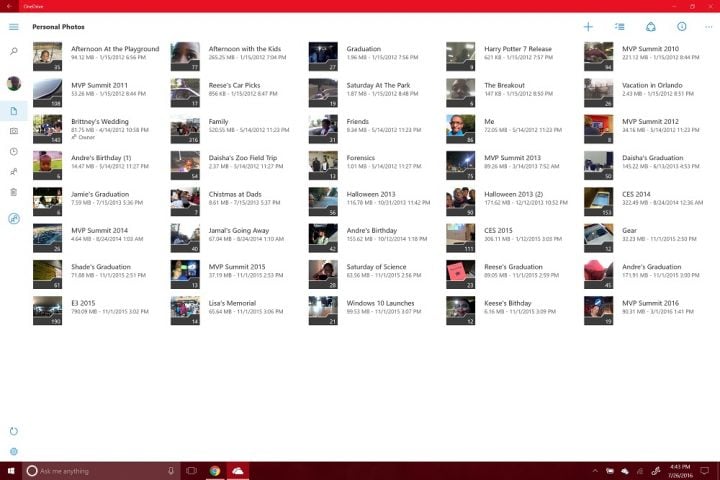 Mail and Calendar support the new notification types that the Action Center offers. Outlook Mail users now get the face of the person emailing them with the notification. Appointments from Calendar surface on the Taskbar's clock when you tap or click on it.
This release adds a dedicated OneDrive client for browsing and uploading stuff to Microsoft's cloud storage service, but there are still two apps to contend with. The older, desktop version still takes way too long to initially sync content. Connect lets users wireless beam content from their smartphone or tablet to their Windows PC. It mostly works well.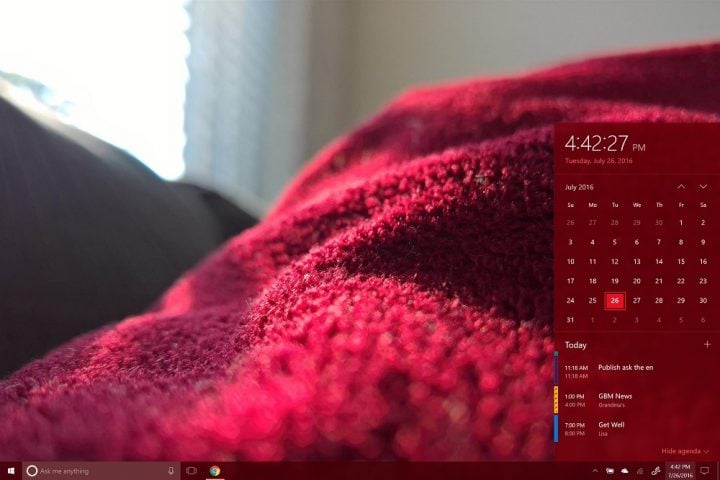 Windows 10 Anniversary Update Review: Bugs & Performance
It's the somewhat quiet truth that Windows 10 suffered from issues at launch. The operating system was buggy, and I'd hopped I wouldn't have to publish another article warning users against being among the first to install the Windows 10 Anniversary Update. Thankfully, it's a pretty solid update.
I've noticed some issues with the lockscreen taking longer than average to load. The Start and Action Center flyouts also take a few seconds too long to surface in Tablet Mode. Neither rises to the level of bugs that Microsoft dumped on users with the last major release. A malfunctioning, resource-hogging OneDrive app does rise to the level of last year's issues. Killing it in the Task Manager solves that problem until Microsoft can do something about it snatching up processing power behind the scenes.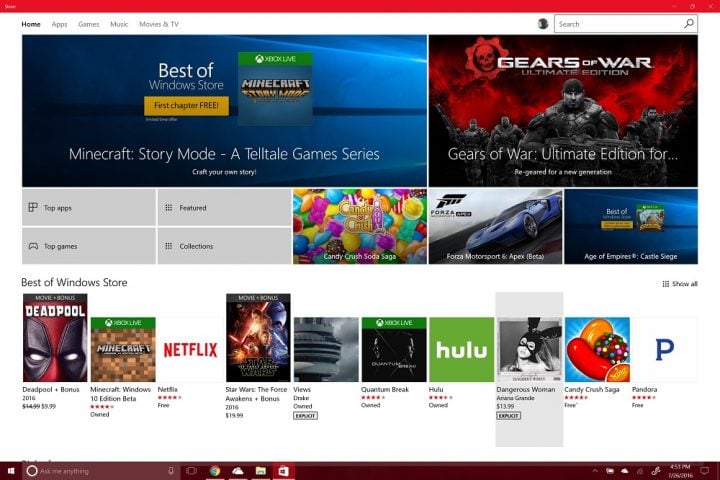 Microsoft Edge has some problems. Edge crashes without warning or reason in the Windows 10 Anniversary Update. Sometimes, the issues seem directly related to Flash advertisements. Other times, the browser will crash when creating a new window from an existing tab. Microsoft argues that web pages load faster in Edge, but they seem to hang. If you're planning to use another web browser anyway, do the upgrade. If Microsoft Edge is your daily browser, remember to keep Internet Explorer pinned to your Taskbar as a back up. At least, for the next few weeks, you'll need it.
As for performance and battery life, I've yet to notice any significant changes. If your PC ran Windows 10 fine, the Windows 10 Anniversary Update will run just as well.
Windows 10 Anniversary Update Review: Should You Download?
If you're on the fence about downloading the Windows 10 Anniversary Update, don't be.
Though there's nothing major, the tweaks and tucks are enough to justify the upgrade. None of these new features come at the cost of battery life or stability, which is what we're really weighing when we ask ourselves if it's worth it to upgrade our operating system. Also, the update is free.
It's also worth pointing out that you may not have a choice but to download Windows 10 Anniversary Update anyway. Windows 10 gives users at home options to delay updates, not avoid them entirely. Your PC will need to install this upgrade eventually.
Good thing, it's a decent, stable release.
17 Anniversary Windows 10 Update Features
Cortana Upgrades
The procession of impressive new features begins with Cortana, Microsoft's digital personal assistant. With the first Windows 10 release, Cortana became cross-platform; there are apps for Android and iPhone now.
With this release, Microsoft is closely tying the assistant to Windows phone and Android. Cortana now stays informed of your device's battery life. She notifies users when your battery is low. She can be asked to track down your iPhone or Android device using its built-in GPS too. The personal assistant now sends directions` directly to your phone when you request them on your Windows 10 PC. The company says that it has improved the setup process for Cortana too.