LG G5 Pre-Order Date, Details & Shipping
On February 21st the LG G5 was officially announced and confirmed to plenty of excited and potential buyers. Since then we've seen the Galaxy S7 and S7 Edge arrive, which set the bar really high. As of today though, April 1st, the LG G5 is readily available from all major carriers in the US. Below is more information for buyers.
Within moments of the LG G5 announcement on Sunday all major carriers in the United States confirmed they'd offer the phone. From Verizon Wireless, AT&T, T-Mobile, Sprint, US Cellular and more will likely be coming.
Read: LG G5 Release Date Breakdown
LG was only able to confirm that the G5 release date would be a big one, and they aim to deliver it to as many people around the globe simultaneously. As in, on the same day. Verizon said it's coming "this Spring" as did T-Mobile, but recently Best Buy has confirmed all the details. The release date is officially April 1st.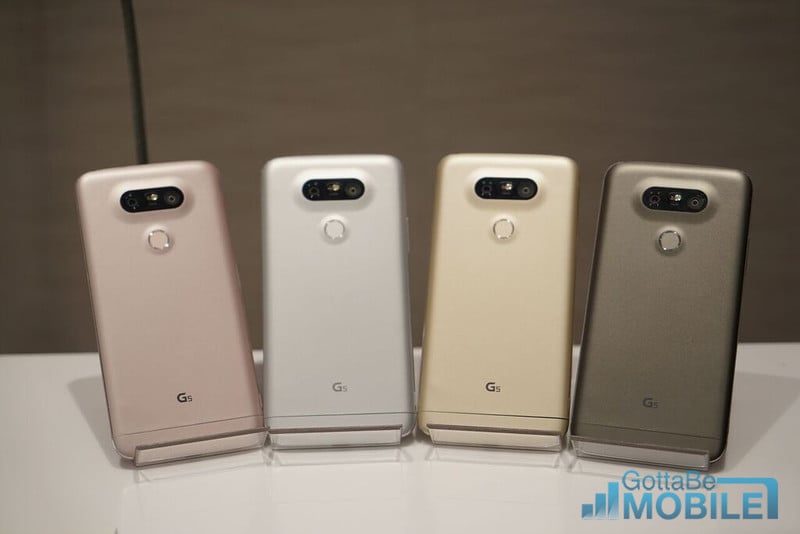 As expected, the LG G5 come with all the latest bells and whistles including a new powerhouse Qualcomm Snapdragon 820 processor with 4GB of RAM, 32GB of storage, an impressive 16 and 8 megapixel dual camera setup on back. It has a premium new metal design, and a world's first modular design with add-ons and accessories that slide into the bottom "magic slot". It's a revolutionary new phone that can be transformed into something much more with quick accessories.
Update: AT&T has already started shipping LG G5 pre-orders. Multiple users in various forums have confirmed it shipped already, and some will get their phone as early as today, March 30th. Did your LG G5 ship yet? T-Mobile is taking orders, not pre-orders, so they should ship ahead of the April 1st release date as well. Keep an eye out for that impressive new metal phone.
Update: Last week LG has confirmed its new LG G5 smartphone won't be available until "Early April" in the United States. Claiming that AT&T, Best Buy, and all other major carriers will begin offering it in "early April" and that's it. However, it looks like pre-orders could start next Friday.
On March 17th news surfaced from what appears to be a reliable source confirming the US Cellular release date, pricing, and deals. Claiming the LG G5 release date will officially be April 1st from US cellular and likely most other US carriers, priced at $639 or $26.50 per month for 24 months. Similar pricing as the Galaxy S7. We should know more in the coming days or sometime next week. That said, if the Best Buy report was accurate pre-orders will begin Friday, March 18th.
Update #2: Starting today, March 18th the LG G5 is available for pre-order at Best Buy for Sprint and AT&T, pre-orders begin March 24th for Verizon Wireless, and T-Mobile has confirmed it will open their own pre-orders on March 29th, ahead of the official April 1st release date.
T-Mobile has also confirmed those who buy the LG G5 (or pre-order) will get a free LG 360 VR camera bundle and a spare 2,800 mAh battery and charging cradle absolutely free, a $280 value. T-Mobile continues to state the G5 will be available for $0 down and $26.25 over 23 months, (24th payment of $26.24, FRP: $629.99).
While T-Mobile is the first carrier to announce pricing, the leaked image above provided by Reddit shares information about AT&T and Sprint. Best Buy is handing out a free $100 gift card, free battery and charger, and a new USB Type-C micro-USB charging adapter so buyers can use old cables with the new, faster, reversible charging port on the LG G5. It looks like Verizon and Sprint are also asking only $99 with a new 2-year contract, as well as monthly payment plans.
Starting March 21st, the LG G5 in all four colors is now available for pre-order from AT&T for just $22.97 a month, or $688 outright. Making it pretty expensive. It is included in AT&T's buy one get one free deal, and buyers can also get the LG Watch Urbane 2 LTE edition. Making it one of few Android Wear smartwatch options that works on it's own (no smartphone attached) thanks to AT&T LTE inside, and can place and accept calls on its own. The LG Watch is $18 a month, $199 with a contract, or $359 outright from AT&T.
Update #3: As of today, March 24th the LG G5 is now available to pre-order from Verizon, Sprint, and AT&T, with T-Mobile coming in last on the 29th. Here are the links to get it right now.
Update: The T-Mobile LG G5 is available now. This isn't a pre-order, but an actual order. The device could ship early ahead of the April 1st release date this Friday.
The LG G5 has a smaller 5.3-inch Quad-HD display, three cameras, a fingerprint scanner for enhanced security, Android 6.0.1 Marshmallow, and a replaceable battery. Something many users want. All carriers now have the LG G5 available in-store, and most have a few freebies to go along with it.
Read: LG G5 Hands-on Video, Specs & More
Pricing will be a bit confusing, as each carrier will do things differently. Not to mention 2-year contracts are somewhat a thing of the past. Instead they offer monthly payment plans. All carriers said they'll offer the G5, but none said when or for how much. So, when can you get it?
LG G5 Pre-Order Date
The company confirmed that pre-orders would be available, but didn't share an exact date. However, now as the weeks leading up to the release have come, it's now available from all carriers in the United States ahead of Friday's release date.
Recently Best Buy confirmed the LG G5 pre-order date is officially March 18th. That is today, but only for AT&T and Sprint. Verizon will quickly follow, then T-Mobile on March 29th. It looks like the global release date is set for April 1st.
Countless leaks over the past month all suggested the LG G5 would be released "before the end of March," and one report suggested Friday April 1st. As we now know, the LG G5 release date is officially April 1st in the United States.
LG G5 Pre-Order Time
As of right now users can head to the links above and pre-order the new LG G5 from AT&T, Sprint and Verizon, with T-Mobile taking actual orders starting today as well. Most orders will ship early, or in time to be delivered on April 1st.
Best Buy began accepting LG G5 Pre-orders on March 18th at 8:00 AM, when stores open, as well as online. As more carriers and LG confirm the news, we will update with links, dates, times and more for potential buyers. Go pre-order one today.
LG G5 Release Date
After all the reports, launch event, madness and months of waiting we finally have an official release date. The LG G5 will be available throughout all major carriers in the United States on April 1st, and available in many regions around the globe on the same day. It took nearly a month for LG to confirm it after the February launch date, but now we know.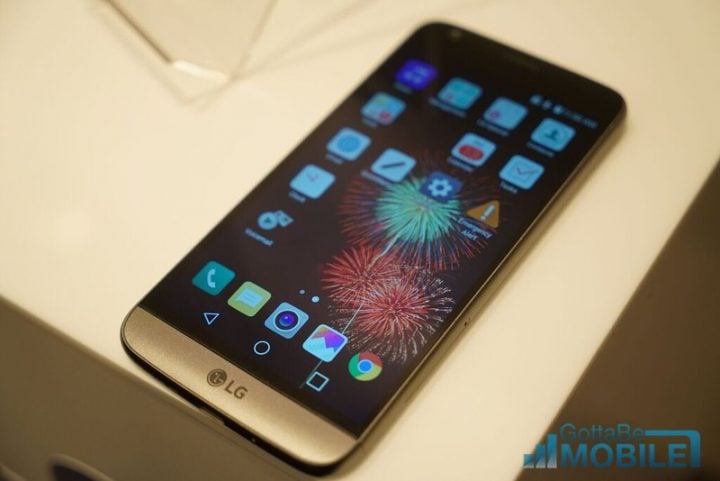 T-Mobile was first to make an announcement, but they're last to offer pre-orders. Now we've heard from Verizon, Sprint, AT&T, T-Mobile and even US Cellular. If you want the LG G5, it's available for pre-order at the links at the top of the page.
The popular website B&H Photo have also listed a fully unlocked LG G5 while will be available to buy on April 1st online, and it works with all carriers, including Verizon. This could be the best route, as it will get updated ahead of all carrier models. Unlocked carrier-free phones are always the best route, as we've seen in the past.
LG G5 Price
At this time LG or partner carriers have yet to formally announce pricing or availability, but we can expect it to launch on all US carriers and globally. Most likely buyers can expect a similar $549-$599 price point as previous years, with monthly payments from carrier plans. T-Mobile's pricing suggests a little over $600, as does US Cellular, but Sprint and Verizon are asking just $99 with a new 2-year contract for those on a budget.
At the same time, we can expect some deals on many of the LG Friends accessories. Like the LG CAM Plus, LG Hi-Fi audio accessory, the LG 360 VR camera and more. Last year LG offered free micro-SD and spare batteries for buyers, and something similar could be in the works for the LG G5 release.
Reports this week suggest the LG G5 will be $639 outright from US Cellular, $26.50 per month for 24 months, and come with a free extra battery and charging cradle, like last year. If true, expect something similar from other big carriers like Verizon or T-Mobile. We'll update as soon as more details are available.
14 Official LG G5 Accessories
LG G5 Replaceable Battery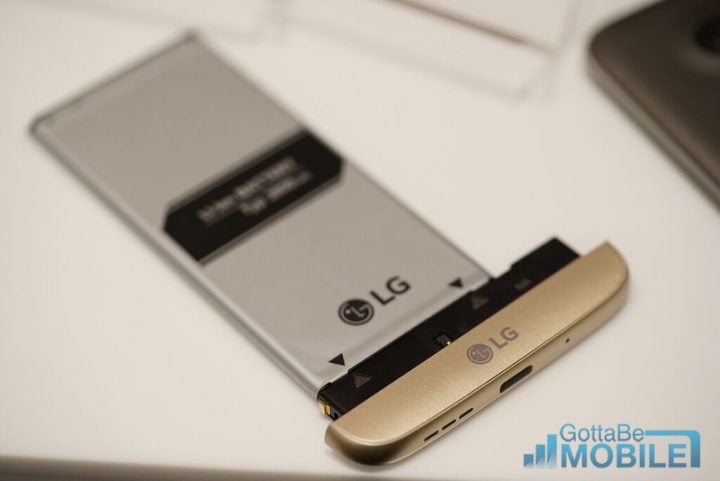 These days most smartphones have a fixed battery, meaning it cannot be removed. LG claims the fastest way to recharge a smartphone or the G5, is to replace the battery. Something that's easily achievable with the LG G5 and its modular design.
Click the little button on the bottom of the LG G5 and the battery is completely removable. The bottom slides out, and the battery can be replaced in seconds. It isn't the biggest battery, being just 2,800 mAh, but it's easy to replace. Additionally, it recharges faster than any LG phone to date, has battery saving features, and runs Android 7.0 Nougat. Meaning battery life shouldn't be a big concern.
Those who grab the LG G5 will want to get a spare battery to easily throw in when the phone is dead. Perfect for traveling or while busy at work when you need to recharge your phone.