LG G5 vs LG G3: What You Need to Know
Now that the LG G5 has been announced with an all metal design and multiple improvements over previous models, buyers are weighing all of their options. Many LG G3 owners are coming up on two-year upgrades, and are wondering what the G5 has to offer and if it's worth the upgrade. Here is how the LG G5 compares to the older LG G3.
On February 21st the LG G5 was finally revealed after months of leaks and rumors. It's LG Mobile's best smartphone release to date. Offering a unique modular design unlike any other smartphone, a metal design, fingerprint scanner and even three cameras. It's a big upgrade.
Read: LG G5 Pre-Order Date & Details
With the G5 official and coming sometime in late March, buyers have a tough choice between getting the LG G4, the new G5, or even something like the Galaxy S7. Those who still love the LG G3 will be surprised to learn about some big-time changes with the LG G5. Here is everything you need to know before you upgrade.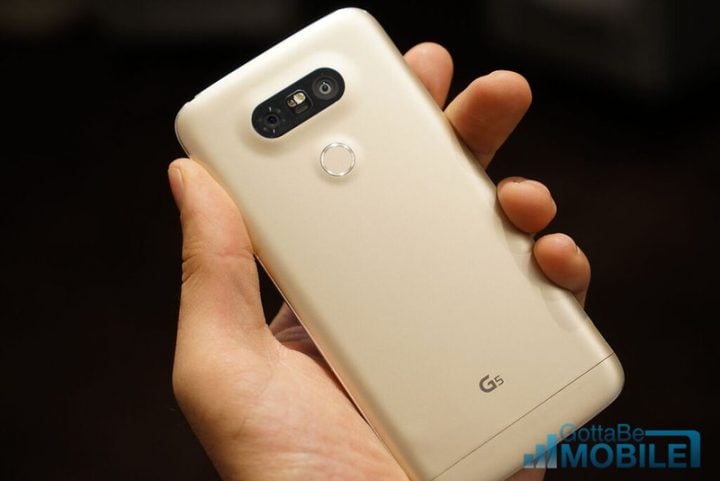 The LG G3 is starting to show signs of aging. Many people still use and love it today, and more will be enjoying it now that the LG G3 Android 6.0 Marshmallow update started in late February on Verizon, and more carriers will be doing the same soon.
That said, it's an old device with outdated internals, a design that's getting long in the tooth, and it doesn't have the latest security features that many owners want in 2016. Last year the LG G4 was announced at the end of April, but the company didn't release it for well over a month in the United States. Many chose to skip it and keep the LG G3. Now that it's nearly two years old, something substantially better is available with double the power, a better design, and more features than most buyers probably need.
This year LG has changed everything, added a metal design and other things to entice even more buyers to try their latest phone. It also has a few extra features and tricks up its sleeve. Like the modular design and magic slot on bottom, the three cameras, and more. Lets get started.
LG G5 vs LG G3: Design
The LG G3 was an impressive phone when it arrived. It had a sleek Quad-HD display, thin bezels and the buttons were on back. The 13 megapixel camera even had image stabilization. It was good, but also a cheap feeling plastic phone. Many loved it, but it still isn't that "premium" experience you'd get with Apple or Samsung.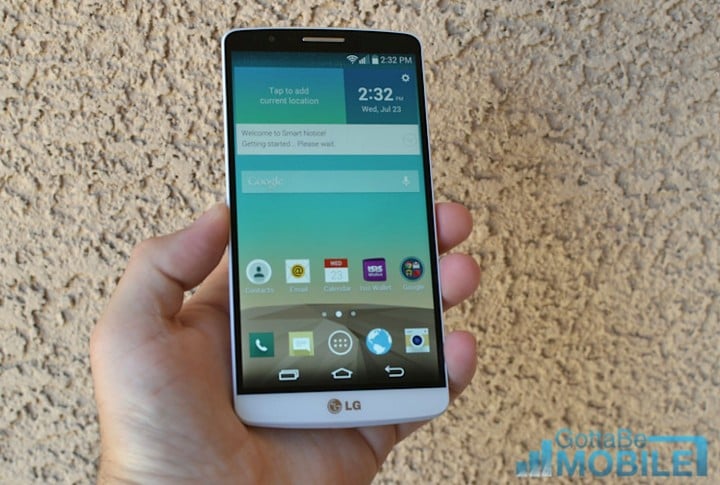 In 2016 though, LG finally got around to changing everything. It's now entirely made out of a unibody metal frame with a new anodizing process for a smooth finish. It has a fingerprint scanner on back, and the entire bottom can be removed and replaced with new modular accessories. Transforming the G5 into a camera, hi-fi media player and more. At the end of the day though it's mainly a smartphone, so lets talk about that.
Around back is where things will differ. There are two cameras, no buttons, and a fingerprint scanner for improved security, quickly unlocking apps, Android Pay and more. Everything G3 owners have been missing. The volume keys were put back on the side, which gave LG room for the fingerprint scanner and dual cameras for better photography.
The entire design is meant to be premium, durable, and fancy. It comes in some beautiful aluminum colors too.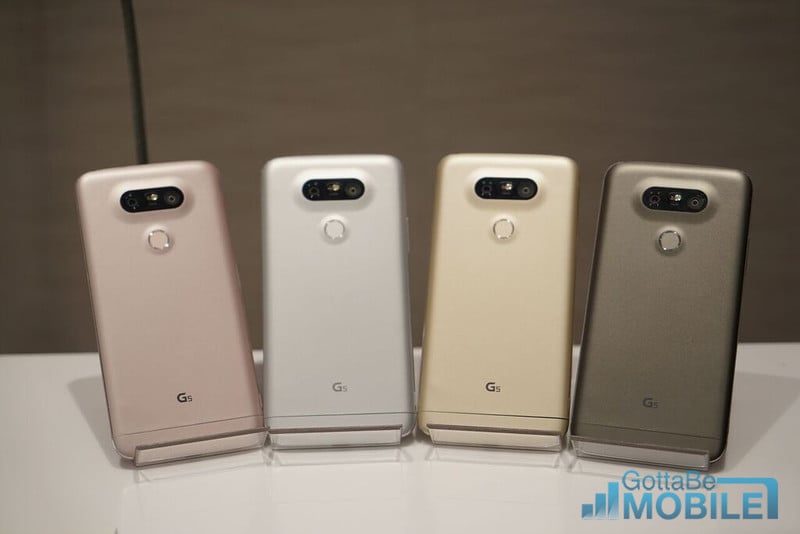 The LG G5 offers a smaller 5.3-inch 2560 x 1440 Quad-HD resolution display. It has three cameras, and no second screen like early rumors. Some may not like the idea of a smaller screen, but it's a very small drop, but that also means more pixels and a better visual experience. The LG G3 had a 5.5-inch HD display. Meaning you have a smaller screen and a Quad-HD resolution. The LG G5 screen is much better than the LG G3.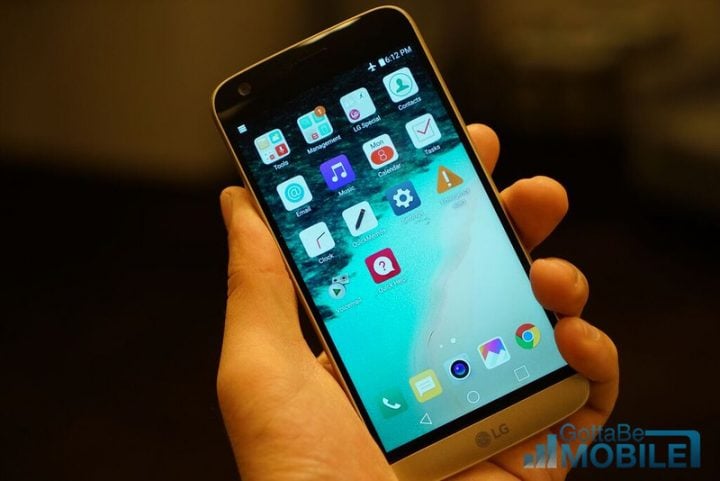 You can see the G3 in there a little bit by looking at the front, but the rear has been completely redesigned to offer the latest and greatest technology the LG G3 simply can't match. If you loved the G3 enough to use it this long, the G5 is a perfect and suitable replacement coming soon.
LG G5 vs LG G3: Specs
The new LG G5 will be one of the most powerful phones released in the first half of 2016, and be very similar under the hood as the Galaxy S7 and many other phones. Even last year the LG G4 had a powerful 6-core processor that was faster than the LG G3, but this year with the LG G5 everything has doubled, and it will be more powerful, efficient, and faster than ever. Here are the numbers and details for those interested.
LG G5 Specs

5.3-inch 2560 x 1440 Quantum HD Display
8-core Snapdragon 820 processor with 4GB of RAM
32GB of storage, micro-SD slot for expansion
16 and 8 Megapixel Dual rear cameras, OIS, laser auto-focus and more
8 Megapixel front camera
2,800 mAh removable and replaceable battery
Android 6.0.1 Marshmallow
Fingerprint Scanner on back (buttons moved to side, not on back like prior years)
Premium All Metal Design
USB Type-C Charging Port
Modular Design
more
There's something called the "Magic slot" where the bottom will slide out to let users replace the battery, add an external bigger battery, a camera module and grip, and other accessories that will be part of the LG "Family" of accessories.
Essentially LG has taken the same poplar design of the LG G3 and LG G4 but made it out of a premium metal material, then managed to keep the features that are most important to buyers. That being a micro-SD slot and a removable battery. Two things Samsung ditched in the Galaxy S6 in an effort to make it out of metal.
LG G3 Specs

5.5-inch 2560 × 1440 Quad-HD LCD Display
Quad-core Snapdragon 801 processor with 3GB of RAM
16GB internal storage (Micro-SD expansion)
13 megapixel rear camera with OIS, laser auto-focus, 2 megapixel front camera
Android 4.4 KitKat, 5.1 Lollipop, and now getting Android 6.0 Marshmallow
WiFi, Bluetooth, FM Radio Antenna, and Infrared laser for remote
3,000 mAh battery with wireless charging (carrier-specific)
more
The LG G3 has an older 4-core processor, a lower end camera, and a cheap plastic design. This year it's the latest and greatest 8-core superchip with 4GB of RAM. Yes, it will be powerful, fast, and smooth. A nice screen, a premium design, two cameras on back for improved photography and a replaceable battery and storage option. Everything many Android smartphones buyers want. We can see why buyers are excited, but there is a downside. If you noticed, the new LG G5 has a smaller 2,800 mAh battery, not the same 3,000 mAh battery that LG has used for the past three years. Don't worry though, it will last just as long, or longer, and recharge nearly 60-70% faster.
Any way you look at it the G5 is faster, more powerful and have more to offer.
Camera
LG has been bragging about the G5 camera on Twitter and Facebook, and with good reason. The G3 had a single 13 megapixel camera which was good back then, but the new G5 has a much better setup.
The LG G5 comes equipped with a main 16 megapixel f/1.8 camera similar to the G4 last year with laser auto focus, image stabilization+ and other things. However, they added a secondary 8 megapixel camera next to it for wider angle shots, improved low light performance, HDR mode, focus effects, advanced lighting and more.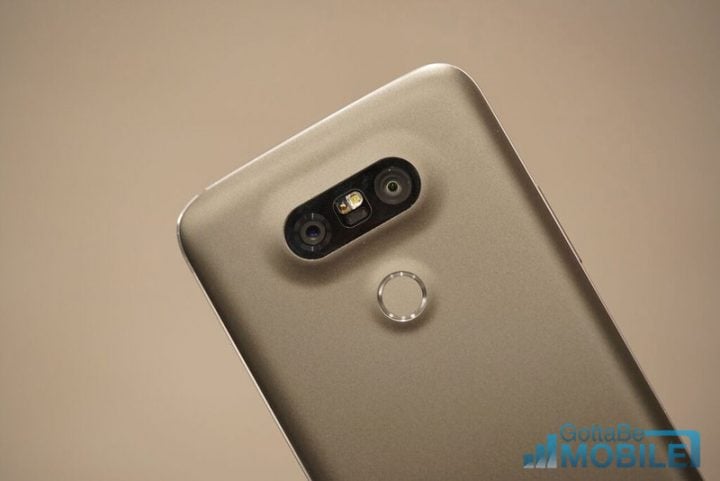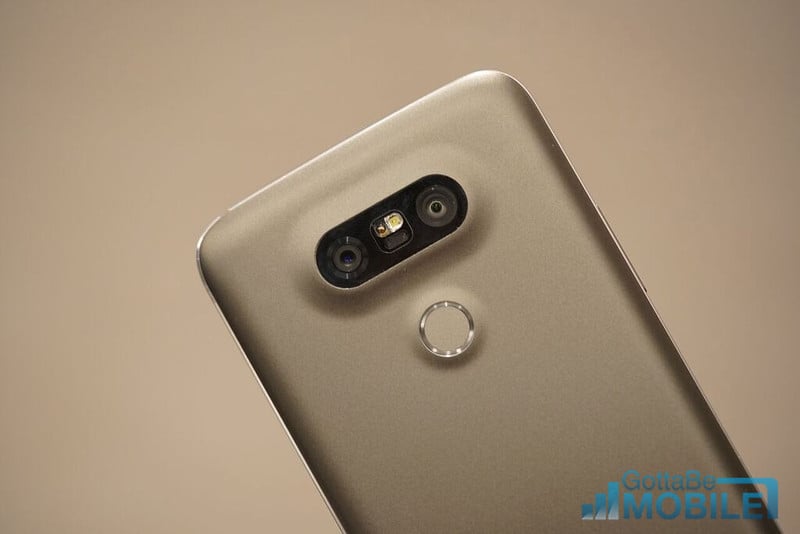 This adds extra features to the settings and controls while taking photos, offers a very wide 135 degree angle for landscape or family photos, post-processing tweaks like re-adjusting the focus point and more. A lot of this isn't new, but LG has some pretty great cameras lately, and the LG G5 looks to follow that trend.
The LG G5 also has an improved 8 megapixel front camera that's easy to use. It auto-focuses and takes a photo every two seconds to get the perfect hands-free selfie.
It will be leaps and bounds better than the 2.1 megapixel front camera on the G3 though, that's for sure. So get ready to take more selfies.
Fingerprint Scanner
Many buyers loved the LG G3 and its buttons on the back. Making it easy to use and fingers naturally rest around back while holding it. With the LG G5 we still have the double-tap to wake the screen, but there's also something better. The volume keys are back to the side, and now there's a fingerprint scanner. One tap and the phone instantly unlocks and turns on all in one swift motion.
This makes the LG G5 better, easier to use, more secure, and unlocks a bunch of opportunities. From Android Pay for wireless payments, more secure apps, and more will be coming throughout 2016 now that almost every phone has a fingerprint scanner.
The LG G3 is still a good phone, but if you want the best technology and extra security, buy the LG G5.
Battery Life
Many LG G3 owners looking to get the G5 may be concerned about the smaller 2,800 mAh battery, but don't be. With the G5 the screen is smaller and more efficient, the 8-core processor is faster and more powerful for apps and games, but also more efficient, not to mention Android 6.0 and LG's own software tweaks all aim to improve battery life. That means the same smaller 2,800 mAh battery will last longer in the G5 than the LG G3. Not to mention the LG G3 is old, and battery life has probably degraded over time.
Those with the LG G3 probably know how long it takes to recharge. Nearly 2 hours if not more. The LG G5 will fully recharge from 0-100% in less than 75 minutes. This is called Quick Charge 3.0 technology, which also lets it recharge from 0-80% in about  35 minutes, which is extremely fast. Meaning a quick drive home will get you enough for an entire night out.
The new USB Type-C charging port is reversible and works either way you plug it in, charges the G5 extremely fast, and can actually charge other devices with the G5 using the Type-C charging cable.
Of course owners will still be able to swap out the battery in less than 10 seconds for a fully recharged one, but this won't be nearly as big of a deal. With a phone that recharges so quick, you won't even need to replace the battery.
Always On Display
With the LG G5 the screen is now only 5.3-inches, but is had the same beautiful 2560 x 1440 Quad-HD resolution, as well as a new "always on" functionality. The small screen has stunning vibrant colors, crisp text with a lot of pixels in a smaller screen, and it looks great from any angle. The "always on feature" is a familiar lower-power mode to display the time, date, incoming notifications and more while the phone is off. Giving users detailed information without ever turning on the G5. Something the G3 doesn't have and can't get with a software update. Here's this new feature in action.
LG claims their new display driver allows the always-on function to use 0.8% of battery life per hour while displaying all of that information. That's less than 8% after an entire 8-hour work day. This goes darker in a dark room or movie theater, and shuts off while in a purse or pocket to preserve every single percentage of battery.
LG G5 Release Date
Those with an LG G3 may want to consider the G4 once the new LG G5 is released, as we'll see plenty of price cuts. It's still a great phone, but with carriers offering cheap monthly payments and discounts, the G5 is the better route to take.
But when will it be available? Well, the LG G5 was announced on February 21st, and LG promised a global release date "in the near future". According to Best Buy pre-orders begin on March 18th, and Best Buy hinted at an April 1st release date. That's just over a month away. So wait a little longer, and get the next best thing.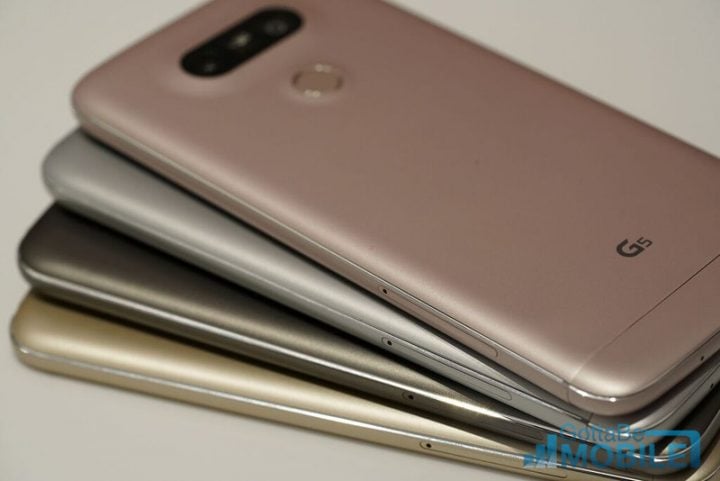 We don't have a concrete date from LG yet, but we're hearing rumors that the LG G5 will be released before the end of March, or the first quarter of 2016. One report claimed March 21st, a Monday, but we'll have to wait and see. All carriers in the U.S. will release it on the same day, according to LG, but we still don't know exactly when. That's still nearly three months earlier than last year, and right on time in terms of the Galaxy S7 release, which is rumored for March 11th. Samsung may beat them to shelves, but only by a few weeks.
LG phones are typically cheaper than the competition too, but that may not be the case now it has all this technology, three cameras, and a metal frame. However, we could see the LG G5 cost around $549 or $599, and maybe come with a free micro-SD card or replaceable battery again like last year as an incentive to choose it over the Samsung Galaxy S7, HTC One M10, and anything else that comes out in the first half of 2016.
If you still have the old LG G3, consider checking out the all-new LG G5 in the near future, and pre-ordering one from Best Buy on March 18th. That or get a heavily discounted LG G4 with a leather back. Stay tuned for more details and check out the slideshow below for even more LG G5 specs and details.
14 Official LG G5 Accessories
LG G5 Replaceable Battery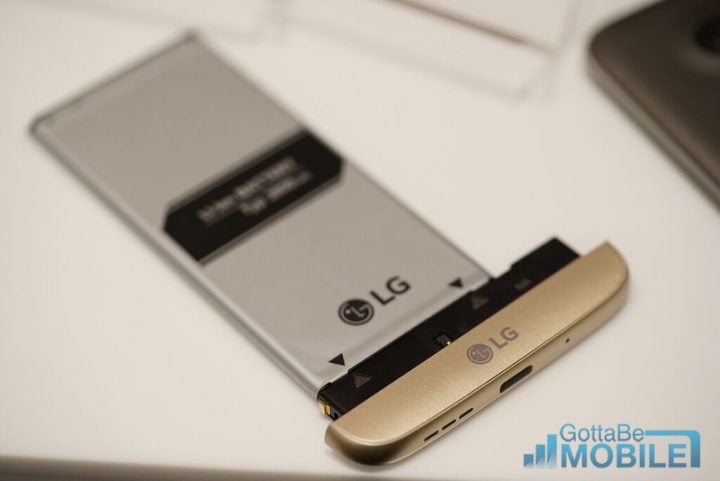 These days most smartphones have a fixed battery, meaning it cannot be removed. LG claims the fastest way to recharge a smartphone or the G5, is to replace the battery. Something that's easily achievable with the LG G5 and its modular design.
Click the little button on the bottom of the LG G5 and the battery is completely removable. The bottom slides out, and the battery can be replaced in seconds. It isn't the biggest battery, being just 2,800 mAh, but it's easy to replace. Additionally, it recharges faster than any LG phone to date, has battery saving features, and runs Android 7.0 Nougat. Meaning battery life shouldn't be a big concern.
Those who grab the LG G5 will want to get a spare battery to easily throw in when the phone is dead. Perfect for traveling or while busy at work when you need to recharge your phone.

As an Amazon Associate I earn from qualifying purchases.