LG G7 vs LG G6: What You Need to Know
With the LG G7 release date quickly approaching here's what buyers need to know, and what to expect. In this guide we'll go over everything that's new, what changed, and how it compares to the LG G6. If you're an LG fan, need a new phone, or are simply looking to upgrade, we have you covered.
LG took the best of the G6 and made it better, bigger, and faster, and that's the LG G7 ThinQ. This phone has a lot of features other phones don't. Features that many LG users absolutely love.
These features include a dedicated Google Assistant button, a wide-angle camera lens, and a built-in Quad DAC for improved audio. Not to mention a big 6.1-inch display, brand new AI technology, and a sleek design updated for 2018.
While there are several excellent Android phones available now or coming soon, the LG G7 arrives on June 1st. Making it one of the best upcoming Android smartphones. So, if you have the LG G6 and want to upgrade, or don't know what to replace your old G4 with, here are all the details.
LG G7 vs G6: Display
First things first, we need to talk about that screen. If you're coming from the 5.7-inch LG G6 or the even smaller 5.3-inch LG G5, this is a big upgrade. Thone phone you want is the new LG G7 ThinQ.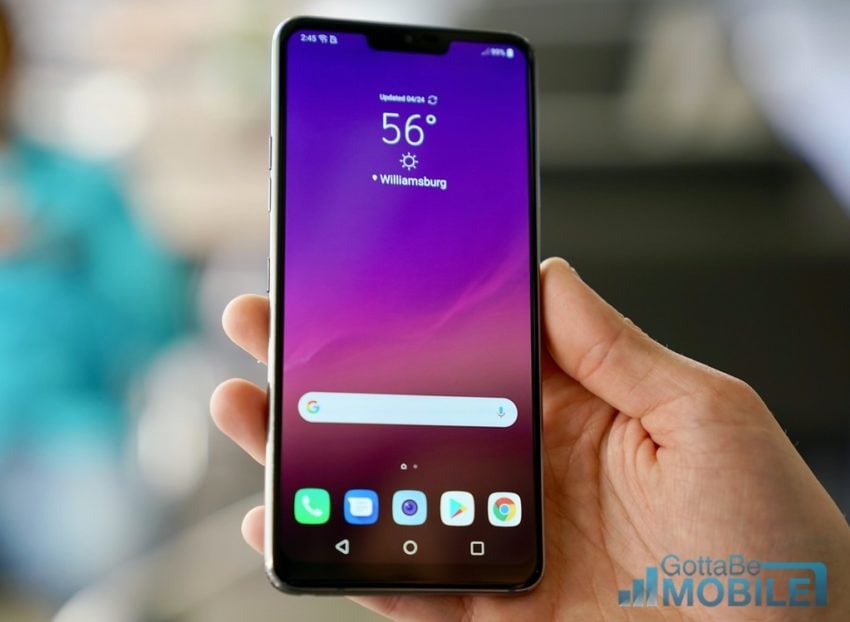 On the LG G7 you get that edge-to-edge design that other phones have. Phones like the Galaxy S9 and iPhone X. LG went with a massive 6.1-inch 3120 x 1440 Quad-HD FullVision LCD display. So yes, it's almost a half an inch bigger than the LG G6. All in a device that's almost the exact same size thanks to shrinking bezels.
It stretches to the very top and bottom of the phone, with almost no black bars or bezels on the sides of the device. It looks great. Perfect for watching sports or Netflix. One thing to keep in mind is that the screen has a new aspect ratio. It's taller and skinnier than older phones. Making the G7 easier to hold and use while still delivering a huge screen. If you've seen a Galaxy S8, Galaxy S9, Note 8 or iPhone X you know what to expect.
And yes, the LG G7 ThinQ has a notch in the screen like the iPhone X. This is something we're going to see throughout 2018 from Android manufacturers. Hopefully, that's not a deal breaker. If so, LG has a neat software trick that will completely hide the notch, or let you customize it as you'd like. Almost like a secondary screen.
LG G7 vs LG G6: Design
If there's one thing the LG G6 and LG G7 have in common, it's the design. And while they do look different in some areas like the screen or cameras on the back, they both have a premium high-end design. In recent years LG has made a big attempt to take on Samsung and Apple with premium build materials, and the LG G7 doesn't disappoint. Here's LG telling GottaBeMobile about the design, AI, and how they created this new phone.
With both the LG G6 and G7 you'll get a phone that's all metal and glass. As in glass on the front and the back. Unlike older LG phones, this doesn't have a removable back or battery. However, that sealed design choice makes the phone more premium, adds water-resistance, and gives you wireless charging. Three things everyone can appreciate.
You'll notice two cameras and a fingerprint scanner on the back of both phones. These are different too. On the LG G6 the fingerprint scanner doubles as the power button, and you can click it. With the LG G7, it's only a scanner and there's a dedicated power button on the right side of the phone. Other than that, these two phones look pretty similar.
In closing, both phones have a 3.5mm headphone jack, USB Type-C, and a speaker on the bottom.
LG G7 vs LG G6: Specs
If there was one downside to the LG G6 last year it's that the phone was underpowered compared to the competition. It had outdated specs on the inside the day it arrived. With the LG G7, you get one of the most powerful phones available in 2018.
LG G7 Specs
6.1-inch 3120 x 1440 Quad-HD Full-Vision LCD Display
8-Core Snapdragon 845 Processor with 4GB of RAM (same as Galaxy S9)
64GB storage with microSD expansion
Android 8.0 Oreo with LG UI and AI 2.0
16-Megapixel f/1.6 main camera, 16 MP f/1.9 wide-angle lens
8-Megapixel front selfie camera
Hi-Fi Quad DAC, Boombox Speaker, Google Assistant button, FM Radio
3,000 mAh battery with fast and wireless charging
IP68 Water & dust resistant, USB Type-C
Platinum Gray, Black, Blue, and Rasberry Rose Gold color options
As you can see, the LG G7 has everything one would want from a high-end phone. A big and bright screen, three cameras, lots of power, and 64GB of storage. Then, as usual, LG kept the award-winning Quad DAC for improved audio. Furthermore, the new "boombox" speaker on the bottom reportedly gets twice as loud as most phones on the market and has more bass thanks to some new technology. That's exciting, even if it's not front-facing.
The LG G6 isn't nearly as powerful and runs on internals from devices that arrived in 2016, not 2017.
LG G6 Specs
5.7-inch 2880 x 1440 QHD+ IPS Display 18:9 aspect ratio
Snapdragon 821 Processor with 4GB of RAM
32GB of storage and microSD card support
Android 7 Nougat with LG UI
Dual Rear 13MP cameras — one is a wide angle camera
5MP Front Camera with OIS and wide-angle
Fingerprint Scanner
3,300 mAh battery with Wireless Charging, Quick Charge, etc
USB Type-C Port, Always-On Display, 3.5mm headphone jack
IP68 Dust & Water Resistance
With the LG G7 you get double the storage, a much faster processor, and the latest Android 8.0 Oreo software. Both cameras are better too, at 16-Megapixels, as is the front camera. If there's one major downside to the LG G7 it's battery life. As you can see, the LG G7 has a small 3,000 mAh battery powering a large 6.1-inch screen. Compare that to the LG G6 rocking a 3,300 mAh battery for a 5.7-inch screen. We're worried that battery life might be an issue for some.
LG G7 vs LG G6: Cameras
Another important aspect of these two phones are the cameras. All three of them are better in 2018. Just like many LG phones, the new LG G7 has two cameras on the back. However, unlike previous years, they're both pretty darn good.
With the LG G6 you had a 13MP camera, then a lower quality wide-angle lens that was still 13-megapixels. This year LG went with two 16-megapixel cameras that are both very high-end sensors. One is incredibly fast and takes great low-light photos thanks to a f/1.6 aperture. Then, the secondary 16MP sensor has a wide-angle for better photography in specific situations. LG said the G7 sensor isn't as wide as before but takes better photos.
Then, there's a new AI Camera mode on the LG G7 that uses artificial intelligence to take better photos, adjust lighting, or adds filters automatically. It can recognize a situation and change the camera settings for the best possible photo. We'll test this out more in our full review.
You'll also enjoy optical image stabilization, even in video, HDR mode, and portrait style bokeh photos with both the front and rear cameras. Just like the iPhone X. The front-facing camera is better too. So while the G6 still takes pretty decent photos, if you love snapping them, you'll want the G7.
LG G7 vs LG G6: Release Date & Price
In closing, when can you get LG's new phone and how much will it cost? Well, we don't have all the answers yet, but the wait is almost over. In fact, you can get the new LG G7 ThinQ starting around June 1st from most carriers in the United States. With pre-orders kicking off around May 24th.
LG didn't announce pricing or full availability yet, but we're assuming all carriers in the US will have it starting June 1st for around $699 or so. Not only is that a decent price, but it's cheaper than most of the Android competition.
As a comparison, the LG G6 is nearly a year old and still available from most carriers. You can snag the LG G6 today from T-Mobile for only $450, which is a pretty great deal. That said, if you want the best of the best from LG, you'll wait a few weeks and get the LG G7.

This article may contain affiliate links. Click here for more details.