OnePlus 6 Release Date, Rumors, Specs & Features
The next big smartphone coming soon to take on the Galaxy S9 and iPhone X is the OnePlus 6. In fact, it's coming on May 16th. And while the company is still slowly becoming a household name, millions of potential buyers are anxiously awaiting its next phone. Here's everything we know about the upcoming OnePlus 6, its notch, and the bigger display that will take on the Galaxy S9+.
Back in November of 2017, the OnePlus 5T hit store shelves. Offering a flagship Galaxy S8 like experience for half the price of the competition. Featuring an edge-to-edge display and dual rear cameras. However, for 2018, the OnePlus 6 is going to increase the screen size yet again, without increasing the price.
Read: 7 Best Galaxy S9 Alternatives Worth Buying
We're expecting a bigger edge-to-edge screen with a "notch" similar to the iPhone X. This gives you more screen in roughly the same size package as the OnePlus 5T. Then, expect an improved camera, high-end specs, a fast new face unlock technology and more. With a May 16th launch event confirmed for London, here's what we're hearing so far, and all the latest leaks and rumors.
Over the past few weeks, we've seen several important OnePlus 6 rumors, leaks, and videos that are giving us a good idea of what to expect. The video above confirms the final design, and here's another photo from the popular leakster.
OnePlus 6 Release Date
First things first, when can you buy the OnePlus 6? Well, May 22nd most likely. And while that's a question we can't answer yet, all signs point to May 22nd. May 16th is the launch event, and we're hearing pre-orders will start right away.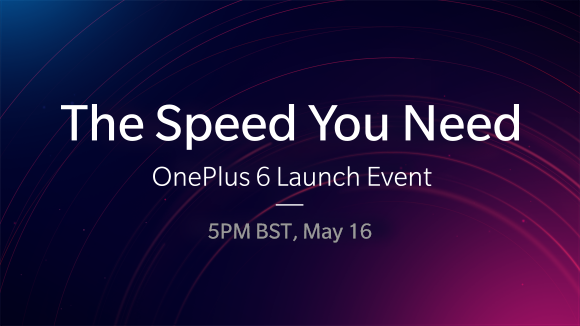 The OnePlus 5 release date was in June of last year, followed by an improved OnePlus 5T in November. We're expecting something similar this year.
Basically, following the May 16th launch event, we're expecting a quick release date. OnePlus is hosting "pop-up" stores on May 22nd in New York City and select regions, so most rumors believe the official release date is May 22nd. Either way, expect pre-orders right away and the phone can be yours sooner than later.
Bigger OnePlus 6 Display
The biggest change you can expect this year, again, will be on the display. And that's because they're following a trend we're expecting to see plenty of in 2018, which is the "notch". Basically, the OnePlus 6 screen will look similar to the iPhone X, only with a smaller and more sophisticated notch.
Last year OnePlus finally decided to compete with Samsung, LG, Google and others and offered an edge-to-edge 6-inch screen. They're taking things even further in 2018, and we're hearing the OnePlus 6 will have a beautiful 6.28-inch Quad-HD AMOLED screen that will compete with Samsung's Galaxy S9, Note 8, the LG G7, and even the upcoming iPhone 11.
However, OnePlus will utilize the popular notch design we've seen from Apple and the Essential Phone. This allows them to put a bigger screen in a smaller package, with fewer bezels on the top and bottom. So while they'll offer a big screen, the phone will physically be smaller and easier to hold than most phones with this size of a screen.
Read: OnePlus 6 vs LG G7: Which One to Buy?
So yes, the screen will stretch as close to the edge of the body as possible. That small notch houses some sensors, the front-facing camera, and the speakerphone. We're not expecting any fancy upgrades here like the iPhone X, but OP still offers a fast face unlock feature utilizing the front-facing camera. We're also expecting some software tricks that will hide the notch.
OnePlus 6 Specs & Features
The bigger 6.2-inch screen and notch aren't the only exciting aspects of this phone. And while we're not sure exactly what's coming yet, we have a good idea. That's because countless leaks are sharing information, and because technology is only improving so much each year. There's only so many changes they can make compared to devices like the Galaxy S9.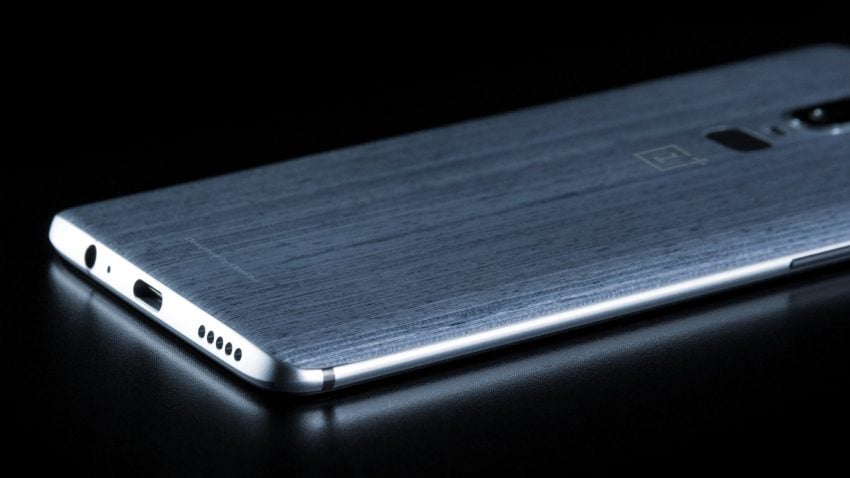 Above, you're seeing another leak of the OP6 from Evan Blass on Twitter. This reveals what looks like a premium wood back, built-in, instead of a snap-on case like we've seen in previous years. However, other leaks show a premium phone with glass on the back, not wood. You'll notice the big speaker grill and a 3.5mm headphone jack on the bottom. Aside from those few things, this will be a relatively simple yet powerful phone. Here's what we're expecting in terms of specs and features.
OnePlus 6 Specs (Rumored)
6.2-inch 2560 x 1440 Quad-HD Display (or 1080p)
Snapdragon 845 Processor with 6-8GB of RAM (Same processor as S9)
64 or 128GB of storage, no microSD slot, potentially a 256GB option
12MP and secondary 20MP rear cameras with an f/1.7 aperture, and more
16MP front-facing selfie camera
Android 8.1 Oreo (or Android P beta)
Rear fingerprint scanner, Fast Face Unlock, more
3,500 mAh battery with fast Dash Charging (or 3,300 mAh again)
3.5 mm headphone jack, BT 5.0, NFC, 4G LTE, alert slider
more
As you can see, everything above is pretty expected. From the bigger screen, the latest processor, to more RAM. The only thing we don't know yet is how much RAM, the storage amounts, and if OnePlus will add a bigger battery. Considering the screen is bigger, the usual 3,300 mAh battery they've used the last few years might not be big enough. We'll have to wait and see.
And if you were wondering, yes, it will have a 3.5mm headphone jack. For those keeping track, this phone matches the Galaxy S9+ across the board on just about everything. Well, aside from the variable aperture camera.
The company will even release an official OnePlus 6 Marvel Avengers special edition handset in India. We don't think this will be available in the USA, sadly.
OnePlus 6 Price & Other Details
Last but not least we want to quickly mention the price. That's because OnePlus is popular for offering impressive flagship phones for half the price of the competition. When Samsung and Apple want $700-$900 for phones, and OnePlus has something comparable for $399 or $449, people take notice.
We're expecting the same thing here in 2018, although don't be surprised if the price increases like it did the last two years. The OnePlus 5 was only $479, while the newer OnePlus 5T hit shelves for just $499 last year. Easily undercutting most of the competition.
Adding a bigger screen and the latest specs mean we could see something closer to $539 for the 64GB model, but we'll have to wait and see. That said, OnePlus might surprise us and keep the price at $499 for the 64GB model, $539 for 128GB, and $639 for the 256GB OnePlus 6. We're not sure. That's just a guess, but don't be surprised if the prices are similar to that.
Either way, a better, faster, improved OnePlus 6 with a notch on the screen will arrive on May 16th. We'll have to wait for more information about the premium wood back design shown in leaks, storage information, and if the company can make any groundbreaking changes to the camera. Stay tuned for more details, hands-on videos, and a full review as soon as it's available. While you're here, take a look at how the OP6 compares to the LG G7 in our slideshow above. These are two of the best phones available this summer.
OnePlus 6 vs LG G7: What You Need to Know
OnePlus 6 vs LG G7: Display
First things first, you'll want to consider the screen on these phones. Thankfully, the choice should be somewhat easy.
The OnePlus 6 will likely have a 6-inch Quad-HD AMOLED display. Or, a 1080p AMOLED from Samsung. Some reports and rumors state it will arrive on May 16th with a 6.1-inch screen. If so, it's probably the exact same screen as the G7. However, a few rumors even say its packing a 6.28-inch screen. So, close to the Note 8 in size.
That's because the LG G7 ThinQ has a 6.1-inch 3120 x 1440 Quad-HD FullVision screen. It's tall and skinny like the Galaxy S9 or Pixel 2 XL. In fact, they're very similar in overall shape. Both phones use this new long and skinny screen ratio, with nearly no bezels.
However, no bezels mean there is a notch at the top like the iPhone X. This unnecessary notch houses the sensors, improved front-facing camera, and the earpiece. And while it's smaller than the iPhone notch, and customizable (you can hide it with software) it's still a notch that some won't like. The problem is both phones have the notch. So deal with it, or buy the Galaxy S9+.