LG G8 ThinQ Release Date Breakdown
This LG G8 release date guide will tell you everything you need to know about LG's latest phone. In February LG officially announced the new LG G8 and upcoming V50. After a short wait, the LG G8 release date is set for April 11th. Here's all the pre-order details, pricing, shipping information and more for potential buyers.
On February 24th in Spain at Mobile World Congress LG surprised everyone with by announcing both phones. However, in typical LG fashion, they didn't launch the phones right away as Samsung or Apple does. This sleek phone full of neat features and improvements is finally here, and we have all the details.
LG G8 ThinQ Release Date
First things first, when can you buy the LG G8? Well, that depends on where you live. LG recently confirmed and released it on March 15th in South Korea, but that's all. For everyone else around the globe and in the United States, the LG G8 global release date is April 11th.
After nearly two months of waiting LG just confirmed its G8 will be available for pre-order starting March 29th in multiple regions, and from most US carriers. Then, it'll hit shelves a few weeks later.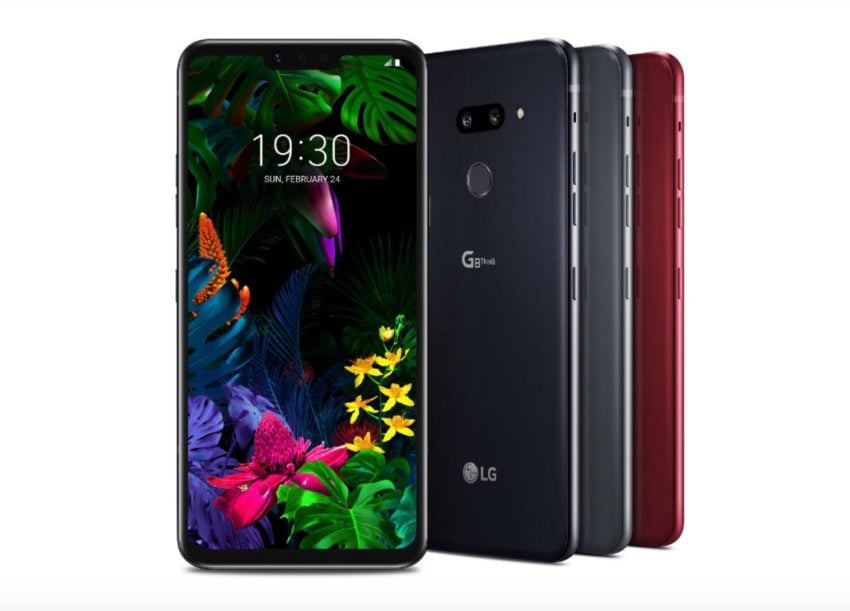 It looks like you'll be able to get this phone almost everywhere, too. We're seeing announcements and an April 11th launch date from AT&T, Best Buy, B&H, Sprint, T-Mobile, U.S. Cellular, Verizon, and Xfinity Mobile, to name a few.
How Much is the LG G8?
Considering it must compete with three new Galaxy S10 phones, including a budget model, the price will be very important for its success. Today we learned the LG G8 will be $819 depending on where you buy it.
The LG G8 comes with a big, vibrant screen, new sound on display technology, great cameras and 128GB of storage. It's only $69 more than the budget Galaxy S10e, putting it in a decent position to move. Furthermore, we're ALREADY seeing LG G8 deals and sale pricing from Verizon and T-Mobile. In fact, you can get it from T-Mobile for $619. It's already $200 off before it even went on sale.
LG G8 ThinQ Specs & Features
The G8 is almost identical to the LG G7 from 2018, only with a few notable changes here and there. This phone still has plenty to offer and is a great alternative to the Pixel 3 XL, expensive Galaxy S10, or even the iPhone Xs. Here's what you'll get from LG's G8.
LG G8 Specs
6.1-inch 3120 x 1440 Quad-HD Full-Vision Display
8-Core Snapdragon 855 Processor with 6GB of RAM
128GB storage with microSD expansion
Android 9 Pie with LG UI
12-Megapixel f/1.5 main camera, 16 MP f/1.9 wide-angle lens
8-Megapixel front selfie camera f/1.7 and ToF sensors
Hi-Fi Quad DAC, Boombox Speaker, Google Assistant button, FM Radio
3,500 mAh battery with fast and wireless charging (up from 3,000 on G7)
IP68 Water & dust resistant, USB Type-C
Crystal Sound OLED Speaker (the entire display)

Platinum Gray, Black, Blue, and Red color options
As you can see, the LG G8 ThinQ has everything one would want from a high-end smartphone in 2018. Well, aside from maybe getting rid of the notch in the screen or putting the fingerprint scanner inside the display.
One aspect of the specs that's really exciting is the new Crystal OLED sound speaker. LG is using the entire screen as the earpiece for phone calls, which doubles as a forward-facing speaker during music and video playback. It'll offer great highs, while the regular extremely loud boombox speaker does the rest.
Then, LG added a ToF sensor array of cameras inside the notch, similar to what Apple offers in the iPhone Xs. Instead of using this just for FaceID unlock, those sensors can see a 3D imprint of your hands for some truly unique new hand gestures. Basically, touch-free controls.
Where to Buy the LG G8 ThinQ (Carrier Support)
So far we're not hearing a lot of information from carriers or stores about where and when you can buy the LG G8. Now that the company confirmed a launch date we expect more announcements to roll in.
For now, we've heard from AT&T, Best Buy, B&H, Sprint, T-Mobile, U.S. Cellular, Verizon, and Xfinity Mobile, to name a few. Originally we thought Sprint would pass it up and wait for the V50, but they'll offer both phones this year. Basically, stay tuned for more details.
Other LG G8 Release Details
It's worth noting that while the LG G8 doesn't have a beautiful bezel-free screen like the Galaxy S10 or a fingerprint sensor inside the screen, it's still a great phone that costs less than the competition. If there's one thing LG does pretty well, it's they release excellent phones that fly under the radar, then price them a few hundred less than Samsung.
The LG G8 has stunning sound along with a new speaker system that uses the entire screen. Powerful new Face and Hand unlock technology. Hands-free gesture controls that look pretty futuristic. It runs the latest software and has powerful hardware and cameras.
We also really like the fact that LG improved all of these areas, added a substantially bigger battery, and managed to keep the back completely flat. There's no bulge for the cameras.
The LG G8 ThinQ might not be the biggest nor the best, but when you see the $900 price tag for the Galaxy S10 and LG's phone is under $800 and on sale, you'll have a tough choice to make. Stay tuned for more details.