Madden 16 Demo Release Hopes Sacked By EA
"Will there be a Madden 16 demo release?" and "When is the Madden 16 demo coming?" are two of the biggest Madden 16 questions on Twitter this month and EA finally responded with a confirmation about the Madden 16 demo that fans aren't happy about.
Up until last year EA offered a Madden demo about two weeks before the release date, which left some fans hoping for a Madden 16 demo today, two weeks before the Madden 16 release date hits stores.
After weeks of questions EA finally responded, confirming that there is no Madden 16 demo release coming for Xbox One, PS4, PS3 or Xbox 360. Instead EA suggests users try the EA Access Madden 16 trail to get a feel for the new game.
[contextly_sidebar id="1QpmgO6IVgX4qvm4JrXpnzU8zsbYs2Xu"]
The problem with this solution is that there is no PS4 EA Access subscription that allows gamers to play the new Madden 16 game early on PlayStation.
@WordSmith317 No demo this year. But if you have an XBox One you can get it 5 days early on #EAAccess

— EA SPORTS Madden NFL (@EAMaddenNFL) August 12, 2015
With the Xbox One gamers can subscribe to EA Access for $4.99 a month or $29.99 a year and play Madden 16 early and FIFA 16 early as well as other EA games early. This subscription also includes access to more than 10 older games in the vault and 10% off digital purchases on the Xbox One of EA games and EA in app purchases like coins for MUT packs.
You can check out our guide to playing Madden 16 early if you want to get in on the action now that there is no Madden 16 demo on the way.
Although some gamers may bristle at paying for early access, the Madden 16 trial included with EA Access is not a limited Madden 16 demo, it is a full version with all modes and features. Your progress in this carriers over to the Madden 16 release date as well.
One thing we learned last year when using the EA Access early play is that it is an easy way to get an edge on friends and other online players who will need to spend some time learning the new features and commands that EA Access players already mastered.
The early Madden 16 release for EA Access members includes a 10 hour trial. This pauses when you exit the game, but you can only play for 10 hours during the five days of early access. You will not need to install the Madden 16 game when the release date arrives as it is already on your console.
The Madden 16 release date is August 25th and the early EA Access Madden 16 release is on August 20th. Expect it to arrive around 9 AM Pacific.
Madden 16 Release: 10 Important Details
Madden 16 Release Date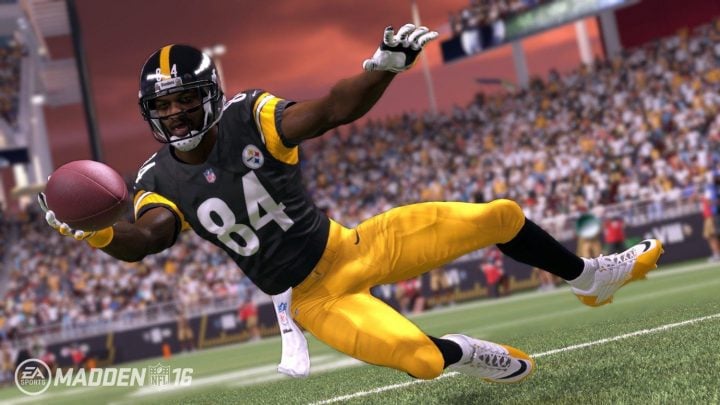 The Madden 16 release date is the same across all consoles and it arrives at the same time on disc and digital so you don't need to worry about where you buy the game from if you want to play right away.
EA Sports confirmed the Madden 16 release date for August 25, 2015. The timing is no surprise considering the new Madden game arrives every year, but this is the date you need to mark on your calendar as the start of Madden Season.
If you order Madden 16 digitally you can pre-load the game, which means you can download it to your console before the release and start playing right at 12:01 AM Eastern on Tuesday August 25th.
You can pre-order the game for release day delivery or walk into any store that sells games on the Madden 16 release date to pick the game up without a pre-order.

As an Amazon Associate I earn from qualifying purchases.