Madden 16 Release: 10 Important Details
Here's what you can expect from the Madden 16 release in 2015 from new Madden 16 features to important Madden 16 release date details and everything in between.
As gamers prepare for a new Madden game with upgrades and added realism we want to share the confirmed information about Madden 16 and what you can expect when it comes to the most important Madden 16 release details.
Update: Added new information about the Madden 16 demo, early play of Madden 16 on Xbox One and midnight Madden 16 release date events on August 13th. 
The Madden 16 release spans the entirety of the new game from the physical release date to key changes to the game.
Madden 16 is available on Xbox One, PS4, PS3 and Xbox 360. There is no Wii U or PC version of Madden for the second year in a row.
One common complaint from gamers is that EA charges $60 for a roster update. If  this is something you feel, you can check out the new Madden 16 features and the gameplay videos below to see if there is enough new in Madden 16 to convince you to buy
The biggest focus on the new Madden release that we keep hearing from EA is that the upgrades are about adding realism to football. This includes new throwing and catching options, better in game presentation and even more penalties — which is something gamers requested.
This year gamers also get what is essentially a Fantasy Football mode for Madden 16 called Draft Champions. This is basically Draft Kings meets Fantasy Football meets you playing Madden in short lived, fast paced fantasy matchups where you control the outcome of the league.
Here are the most important Madden 16 release details that you need to know right now.
Madden 16 Release: 10 Important Details
Madden 16 Release Date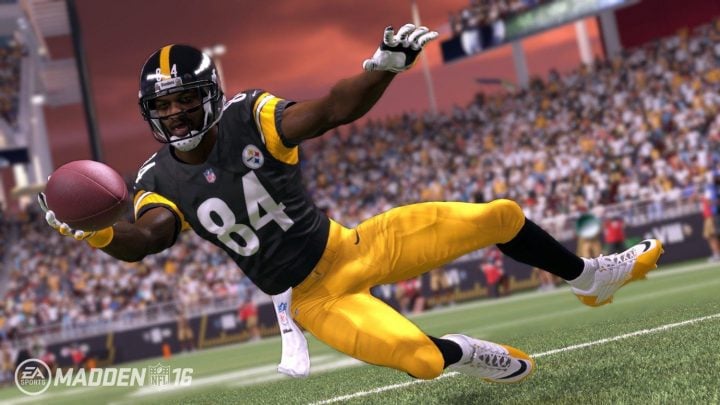 The Madden 16 release date is the same across all consoles and it arrives at the same time on disc and digital so you don't need to worry about where you buy the game from if you want to play right away.
EA Sports confirmed the Madden 16 release date for August 25, 2015. The timing is no surprise considering the new Madden game arrives every year, but this is the date you need to mark on your calendar as the start of Madden Season.
If you order Madden 16 digitally you can pre-load the game, which means you can download it to your console before the release and start playing right at 12:01 AM Eastern on Tuesday August 25th.
You can pre-order the game for release day delivery or walk into any store that sells games on the Madden 16 release date to pick the game up without a pre-order.