Madden 16 Release: 5 Things to Know About Playing Early
The Madden 16 release date is coming fast and we can finally share new information about how you can play Madden 16 early and what limitations that comes with.
EA confirmed an option to play Madden 16 early back at E3 2015, but did not deliver the rest of the details about playing the new Madden game early until August, just a few weeks before the Madden 16 release date lands and delivers new features and updated gameplay.
The public Madden 16 release date is August 25th, but not all gamers need to wait until that Tuesday to play the new Madden game. While we are still waiting for confirmation of a Madden 16 demo, we have new information to share about the early Madden 16 release that will allow some gamers to play five days early.
EA announced a collection of new Madden 16 features including a revamped passing game, the option to play the ball as a defender and many fixes that deliver more realism to the game.
The Madden 16 release arrives on PS4, Xbox One, PS3 and Xbox 360. Not all features will come to the older consoles, and upgraded graphics are available for users who buy the Madden 16 PS4 and Xbox One version.
Early Madden 16 Release Date
The early Madden 16 release date arrives on August 20th with access to the full game five days before the public Madden 16 release date on August 25th.
We do not have a specific early Madden 16 release date start time about when you can download the game and start playing. This is not always at midnight like with a full game release.
Last year this happened in the middle of the day, but it was possible to remotely start the download from a computer or smartphone when logged in to an Xbox One account.
No Early PS4 Madden 16 Release
There is no EA Access for PS4, so you cannot get in on the early Madden 16 release date if you own a PS4.
When EA Access started up the service came exclusively to Xbox One, and currently it is still an Xbox exclusive.
@PlayStation when will ea access come to ps4

— stephen giles (@gilesyV2) August 10, 2015
PS4 Owners are asking Sony and EA for the option to use a PS4 EA Access service, but there are not any current rumors about the arrival of this service on the PS4. EA Access is also not available on the Xbox 360 or PS3.
10 Hour Madden 16 Trial
Last year the Madden EA Access trial only lasted six hours, but this year you get 10 hours to play Madden 16 early.
New player ratings revealed for #Madden16. The 10-hour trial starts for members on Aug. 20. https://t.co/Kmu0Bz5Ocf pic.twitter.com/9e774xLvpN

— EA Access (@EAAccess) August 3, 2015
This only counts the time that the game is running, so you can take breaks and switch to other games. When you are done playing Madden 16 in this early period make sure that you go to the home screen and quit the game to make sure the trial stops.
Once the 10 hours are over you will need to wait for the Madden 16 release date or go through the hassle of making a second profile with Xbox Live and a second EA Access subscription.
Full Game With Progress That Carries Over
This is the full version of Madden 16 that will work when you buy the official version on August 25th. You don't need to pre-order Madden 16 to use the trial and you don't need to buy it digitally to use the trial.
When August 25th arrives you can keep playing digitally without re-downloading and if you buy on a disk you can just pop that in and start playing without downloading the full game.
During the trial you should be able to play Madden Ultimate Team (MUT) and the new Draft Champions modes. EA Access typically delivers access to the full game.
The progress you make in MUT, Draft Champions and in other game modes carries over to the full game. Your skill with the new Madden 16 features will also carry over to allow for better gameplay when you take on your friends who did not play early.
What is EA Access and Why Do I Need It?
EA Access is a paid service that allows users to play EA games early and includes access to many other full games from EA.
EA Access is $4.99 a month or $29.99 for a one-year subscription. If you only want this for early access to Madden 16 and FIFA 16 it is cheaper to pay for two months, but if you will play the free games in the EA Access Vault, a year subscription is much cheaper.
The EA Access Vault includes full playable versions of Dragon Age Inquisition, Titanfall, FIFA 15, Madden 15, Battlefield 4, NHL 15, UFC, Need for Speed Rivals, NBA Live 15, Peggle 2 and Plants vs Zombies.
You can download these to your Xbox One to play at any time while you are an EA Access subscriber.
If you buy EA games on Xbox One digitally you will also get a 10% discount on the game and 10% discount on the in-game purchases like money for Madden 16 MUT packs.
Madden 16 Release: 10 Important Details
Madden 16 Release Date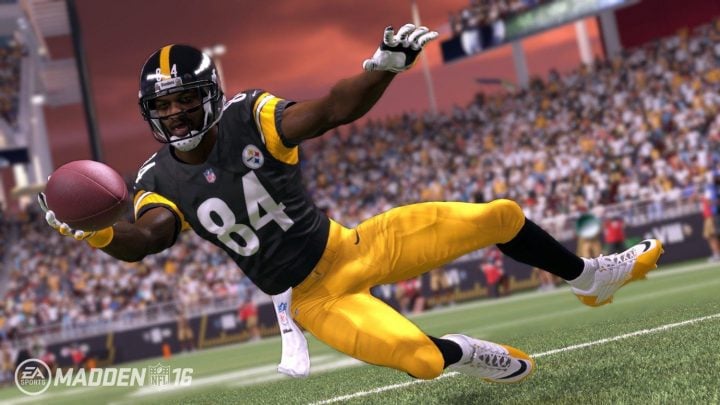 The Madden 16 release date is the same across all consoles and it arrives at the same time on disc and digital so you don't need to worry about where you buy the game from if you want to play right away.
EA Sports confirmed the Madden 16 release date for August 25, 2015. The timing is no surprise considering the new Madden game arrives every year, but this is the date you need to mark on your calendar as the start of Madden Season.
If you order Madden 16 digitally you can pre-load the game, which means you can download it to your console before the release and start playing right at 12:01 AM Eastern on Tuesday August 25th.
You can pre-order the game for release day delivery or walk into any store that sells games on the Madden 16 release date to pick the game up without a pre-order.

This article may contain affiliate links. Click here for more details.