Moshi Galaxy S8 Cases & Galaxy S8+ Cases Add Style & Protection
The Moshi Galaxy S8 cases offer stylish protection that adds to the design of the 2017 Galaxy smartphones. Moshi announced a total of five Galaxy S8 cases today, including three
Moshi announced a total of four Galaxy S8 cases today and one Galaxy S8 screen protector. This includes four Galaxy S8 cases and four Galaxy S8 Plus cases as well as a screen protector option for both.
These options include a snap on case, a transparent snap-on case as well as a leather Galaxy S8 case and a leather Galaxy S8 wallet case.
The new Moshi Galaxy S8 cases will be available to purchase starting in late April at $35 and up.
The Tycho Hybrid snap on Galaxy S8 case is a minimalist case that includes a shock absorbing inner layer bonded to a hard shell exterior that will keep your phone safe. This is only available for the Galaxy S8 and it comes in Metro Black and Blush Pink for $35 in early May.
The Vitros Transparent Snap-on Galaxy S8 Plus case protects your phone from scratches but lets the design and the Galaxy S8+ color you pick shine through. This case is made of a durable polymer with precision cutouts for the camera and fingerprint reader. This Galaxy S8+ case is available in Crystal Clear, Titanium Gray and Orchid Pink for $30 in late April.
The Overture Galaxy S8 wallet case is available for the Galaxy S8 and the Galaxy S8+ that lets you carry cash and cards with your phone. The case includes a stand that can keep the phone propped up to watch movies or make a call. Moshi uses a microfiber interior lining, shatterproof polycarbonate frame and a drop protection. The case is available in Charcoal black in late April. The Galaxy S8 case is $45 and the Galaxy S8+ case is $50.
You can also opt for a leather Galaxy S8 case or leather Galaxy S8+ case that protects the phone and looks great. The case snaps on and is made of a leatherette back while still offering a lot of protection. This leather Galaxy S8 case is available in late April in black for $40 and for $45 on the Galaxy S8+.
Moshi also offers a Galaxy S8 screen protector and Galaxy S8 Plus screen protector option for $40 and $45 respectively. The IonGlass screen protector offers edge-to-edge protection, is made from a tough material and includes a coating to help keep fingerprints off.
You can find these Galaxy S8 cases on Moshi and at Moshi retailers.
9 Galaxy S8 Release Date Tips
Decide Where to Buy the Galaxy S8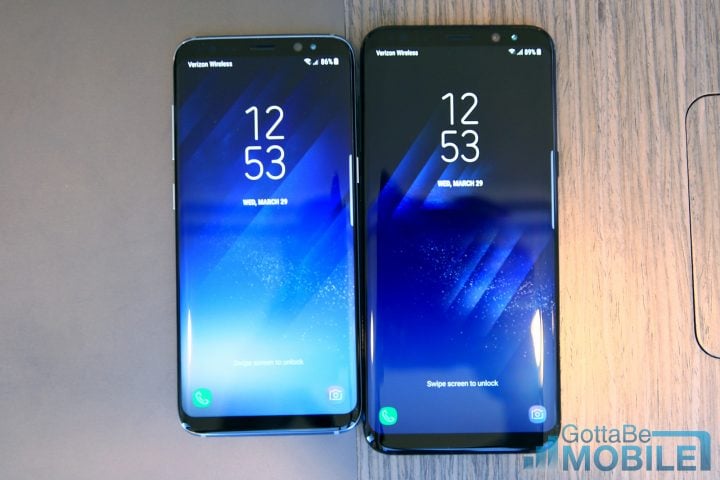 You need to figure out where you are going to buy the Samsung Galaxy S8. This is a hot phone that you will be able to buy at a variety of carriers. You can even switch carriers without much hassle if you want to.
Samsung is not selling the Galaxy S8 directly, so you need to go to a retailer or a carrier. Here's where you can buy the Galaxy S8 and Galaxy S8 Plus.

Verizon
AT&T
T-Mobile
Sprint
US Cellular
Target

Decide now and figure out what you need to know for that specific retailer, including online and in-store options as well as making sure that your account information is up to date and you can log in.

Many retailers will not open early for the Samsung Galaxy S8, and there will not likely be huge lines. If you're coming from the iPhone, it's gonna be easier to buy the Galaxy S8 than the last iPhone you bought on day one.